Earlier today, Amsterdam Pirates Head Coach Ronald Jaarsma changed his starting rotation for this series. Initially, righthander Scott Prins was named as starter for tonight's game, but it was Shairon Martis, also a righthander, who started instead. With that, Prins now probably will be the starter in Saturday's game, but that is not confirmed yet.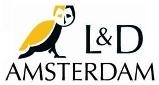 A week ago, it was opponent HCAW that changed its announced starting rotation. Instead of lefthander Jim Ploeger, righthander Lars Huijer then started in Thursday's opener against Curaçao Neptunus. Huijer also was HCAW's starter tonight.
The opener of the final series of the regular season became a pitching-duel between Huijer and Martis. Both gave up only one run in the first seven innings and also the hit-production by both teams was almost equal.
It was Pirates that got a chance to open the score in the top of the first inning. Rachid Engelhardt led off with a double, but then was eliminated at third base trying to advance on a grounder to short by next batter Delano Selassa. The latter moved into scoring position on a grounder by Denzel Richardson, but Huijer then closed with a strikeout.
Martis retired the side in the bottom of the first inning, but then gave up a run in the second at bat. Kevin Dirksen led off with a double and scored on an one-out single by Jules Cremer. Martis then retired the side again in the next three at bats.
Pirates got another baserunner in the third when Rashid Gerard singled with one out, but this time, Lars Huijer struckout the next two batters. He then also retired the side again in the next two at bats.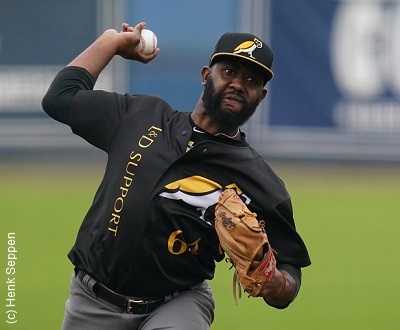 ...Shairon Martis...
...nine solid innings...
(© Photo: Henk Seppen)

Amsterdam Pirates came alongside in the top of the sixth, but failed to take the lead and left three runners behind. With one out, Huijer gave up three consecutive basehits. Rachid Engelhardt and Delano Selassa first singled, then Denzel Richardson followed with a runscoring single that made it an 1-1 score. Selassa and Richardson advanced on a grounder by Sharlon Schoop, then Pirates got the bases loaded when Sicnarf Loopstok walked. The three runners stranded when next batter Kalian Sams flied out, which ended the at bat.

In the bottom of the sixth, it was HCAW that came close to another run, but the team also left two runners behind in scoring position. With one out, Victor Draijer walked and Brendly Martina doubled. Jeandro Tromp followed with a line drive, but that was caught by short stop Sharlon Schoop. A foul pop-fly then ended the at bat.

Both teams got into scoring position again in the seventh inning. For Pirates, Tommy van de Sanden led off with a walk and moved to second base via a sacrifice bunt by pinch-hitter Roelie Henrique. With a runner on second base, Huijer again closed with two strikeouts.

In the bottom of the seventh inning, HCAW also got its lead-off hitter on base, as Quintin de Cuba began with a single. His pinch-runner Linoy Croes then moved to second base thanks to a sacrifice bunt by Jules Cremer. Croes advanced to third on a grounder, but was left behind there.

In the eighth inning, only Pirates got one baserunner. With two outs, Sharlon Schoop singled and stole second base, but stranded. HCAW was then retired in order in its eighth at bat.

In the top of the ninth, HCAW went to the bull-pen and Jasper Elfrink took over from Lars Huijer. The lefthander was greeted with a lead-off single by Kalian Sams. With one out, the veteran stole second base, but a flyout and strikeout followed.

In the bottom of the ninth, Shairon Martis returned to the mound for Pirates. With two outs, he walked Linoy Croes, but then closed with his fifth strikeout.

And with that, the quick-paced game went into extra innings with still more than 45 minutes left before the curfew-time would be reached.

Nick Keur became HCAW's new pitcher in the top of the tenth. The lefthander retired the side. In the bottom of the tenth, Pirates also made a pitching-change, as Mike Groen took over from Shairon Martis. The righthander walked lead-off hitter Max Draijer, but recovered and strongly closed by striking out the next three batters.
Amsterdam Pirates got its next baserunner in the top of the eleventh when Sharlon Schoop led off with a walk. That was followed by the next pitching-change for HCAW, as Stijn van der Schaaf took over from Nick Keur. With one out, the righthander uncorked a wild pitch on his first delivery to Kalian Sams, which brought Schoop to second base. After getting to a 3-1 count, it was decided to walk Sams intentionally to set up a force play and of course pitch around the powerhitter. That brought Tommy van de Sanden in the batter's box and he reached on an infield-hit to short stop Bob van der Meer, who was unable to field the ball correctly and to make an out. That loaded the bases. Shortly thereafter, Schoop scored on a grounder by Roelie Henrique to put Pirates ahead, 2-1. Moments earlier, Henrique drove the ball into deep rightfield, but it ended up in foul territory. With runners now on second and third base, next batter Rashid Gerard hit a pop-fly above the home plate-area. There, catcher Julian Goins got up, turned around and appeared to make a catch. He reached, while standing in the catcher's box, but the ball jumped up from his glove into fair territory. Sams ran home to score, but a foul ball was called. Pirates Head Coach Ronald Jaarsma came out to argue the decision, but after the three umpires got together to discuss the situation, the foul ball was confirmed. Two pitches later, Gerard grounded out and the inning ended.
In the bottom of the eleventh inning, Mike Groen hit Jeandro Tromp with a pitch with one out. Tromp moved into scoring position when Kevin Dirksen grounded out. At second base, Tromp was replaced by pinch-runner Nathan Berkel, but he stranded, as Groen closed the inning and the game with a strikeout.
And with this 2-1 win, Amsterdam Pirates finished in first place in the Top-4 Pool. With that, Pirates became the first team to secure a spot in the best-of-three Wild Card Top Series, as well as the best-of-five Play-Offs. Second place will go to either Curaçao Neptunus or HCAW.