(Story by Marco Stoovelaar; Photos by World Port Tournament, Kitty Dirksen & Marco Stoovelaar)
IN MEMORIAM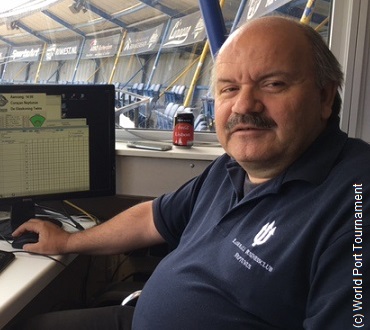 ...Lex Looijen...
(1959 - 2022)
(© Photo: World Port Tournament 2017)

Longtime Neptunus Scoreboard Operator Lex Looijen passed away
Nederlands

ROTTERDAM (Neth.) - Very sad news comes from Rotterdam, as Lex Looijen, the longtime Scoreboard Operator of Dutch baseball-club Curaçao Neptunus, unexpectedly passed away on Monday-morning (June 27) at the much too young age of 62. There were no signs that something was wrong, as the day before, last Sunday, Lex was doing what he has done for many years and what he loved to do, operating the scoreboard at the home-game of the big league baseball-team of Neptunus against HCAW from his location in the scorebox. It was reported that Lex passed away on Monday-morning while doing what he did most, sitting behind his computer, updating the information of the Neptunus baseball-team to prepare for the upcoming series that begins coming Thursday-evening. Details of the funeral and memorial service are not known yet.

It marks the second time this season that Neptunus has to say goodbye to a beloved club-member. On April 26, Jan Kok passed away at age 82. He also was a long contributor to Neptunus, as well as the World Port Tournament.

Alexander (Lex) Looijen was born on October 29, 1959 in Rotterdam. From a young age, Lex became interested in both baseball and softball. He went on to play himself, but didn't play that long. Instead, Lex became an umpire and also started to coach women's softball-teams as well as some youth-teams. And so, Lex became closely involved with baseball- and softball-club Neptunus, where he did his coaching. One of his players in the seventies was Anita Heilker, who some years later became more famous as one of the members of the popular Dutch girl band Dolly Dots. But at Neptunus, he also served as a club-umpire, which he continued to do throughout this season. The parents of Lex also were longtime contributors in several activities of Neptunus. Father Lex Sr. (Lex was named after his father, who was also named Alexander), who passed away in 2013, has been a youth-coach, a team manager of a youth-team and was also involved in groundskeeping in the past. Mother Vera was active in the clubhouse for many years.

Lex umpired both competition-games for lower level teams, as wel as several exhibition games. And he regularly put on the umpiring gear throughout this season to officiate in softball-games. Mostly for lower level teams, but on March 19 of this year, Lex was one of two umpires during an exhibition double-header of the main softball-team of Neptunus against Roef! at the home-site of Neptunus in Rotterdam. Lex worked one game behind the plate, the other in the field. The Neptunus softball-team made its debut in the highest league this season.

Lex has always been interested in computers and programming. He once told that he had to develop the software for a leading company in Rotterdam. Later, he was the co-owner of a computer-shop in his home-city Oud-Beijerland.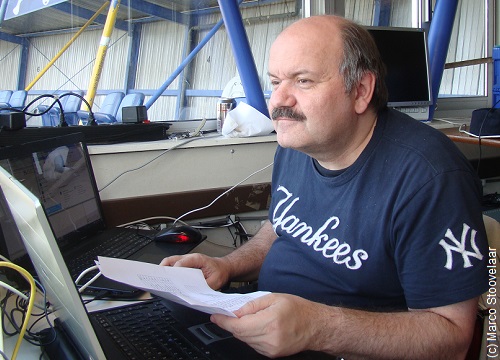 ...Lex in his familiar corner in the scorebox of the...
...Neptunus-stadium during the 2014 season...
...Surrounded by screens and keyboards...
(© Photo: Marco Stoovelaar)

As his knowledge of programming and making computer-software grew, Lex became closely involved in the development of the scoreboards at the Neptunus-site. It was in the eighties, he gave advice and was involved when a new electronic scoreboard was erected behind the leftfield-fence. Back then, the new scoreboard was installed when the World Port Tournament was first organized at the site of Neptunus in 1985. From that moment on, Lex worked on improvements on the scoreboard.

From somewhere in the nineties, when the new (current) stadium was built, Lex also operated the board himself. Several years ago, another new scoreboard was installed. That scoreboard was fully computerized and it was Lex who developed the lay-out and made several improvements and additions. It not only listed the usual line score, balls, strikes and outs, but Lex also created a section to show photos of the players at bat with some statistical information, such as batting average. And Lex showed the ball-strike-sequence, as well as some animated texts to signal what the batter had done (single, double, etc) or information when a pitching-change was made. The scoreboard was (and is) also used for messages, announcements, sponsor-logos during the World Port Tournament and European Cup-tournaments at the site of Neptunus. It earned him the nickname 'Mr. Scoreboard'.

At the same time, Lex started to develop his own play-by-play system and he added several supporting sounds, like a 'strike' or 'out'-call from an umpire. Since 2009, Lex used his play-by-play system for every home-game of Neptunus and during the World Port Tournament, as well as during the European Cup-tournaments that were hosted by Neptunus in 2012, 2015 and 2018. Of course, he built a special website where his play-by-plays could be followed.

Lex never traveled with the Neptunus-team to away-games, but he was there when the team played at home. Lex always was at the site well ahead of the game, as he loved to have some talks before with friends from within the club, or acquaintances from outside. He simply loved to be at the field of Neptunus.

For every home-game of the baseball-team, Lex traveled from his home in Oud-Beijerland to the site in Rotterdam on his bicycle, carrying with him his computer-equipment for operating the scoreboard, as well as his play-by-play system. Regularly that trip from his home to the field took him some one-and-a-half-hour. After the game, he made the same trip back home again. And Lex not only did this when the Neptunus baseball-team played at home. He also traveled back-and-forth when the Neptunus-stadium was used by other teams during the regular season in the past few years. For instance by Storks, which has no light-installation at his home-site in The Hague. Or by Twins Oosterhout when that club also had no lights. He made the same trip daily during tournaments, but sometimes he was offered a ride back home.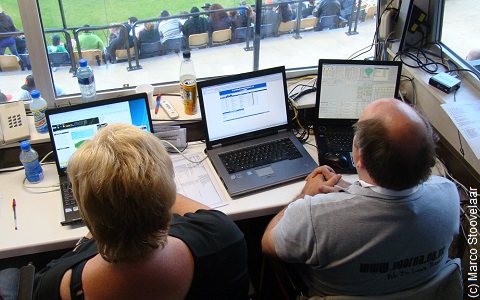 ...Lex looks on during a game of the 2011 World Port...
...Tournament with Official Scorer Francis Speters...
(© Photo: Marco Stoovelaar)

But he also made the trip regularly from his home in Oud-Beijerland to his mother Vera, who lives in Rotterdam to take care of her and do some shopping for her while she was recovering from some health problems. In recent months, Lex mostly stayed at his mothers home after she had returned from the hospital earlier this year.

On game-days, Lex was always present in the board-room both before and after a game. There, he was mostly joined by club-chairman/boardmember Frans van Aalen, public address announcers Karin van Aalen and Hélène van Eijk-Kloos, team-scorers Jan van der Sande (also longtime team manager) and Judith de Heide, team manager (and former coach) Paul van den Oever, club-secretary Karel van Ispelen and of course An Kok and Jacqueline Minning, who arranged everything in the board-room. They are the longtime club-contributors who mostly were/are present in the board-room where the game-officials (umpires, official scorers, commissioners) are welcomed before and after the game. In more recent years, the (new) team's media officer Michel Streur also was in this company. And for many years, former newspaper-reporters Chris Mast and Loet van Schellebeek also were present. Another frequent visitor of these pre- and post-game meetings was former umpire Theo Jansen, who is a member of the groundscrew, but also operates the scoreboard regularly during games of Tridents, the second team of Neptunus. Lex loved to sit there, before and after the game, talking about the game and baseball in general. With that, Lex knew almost all game-officials and almost all game-officials knew Lex.

Some 30 years ago, Lex started collecting Major League baseball-cards. Through the years, he collected many cards of Dutch players who played in both the Minor and Major League. And as he was always working with computers, to underscore his love for this hobby, he built a website to show his collection.

On a private note, in 2011, Lex and I (webmaster Marco Stoovelaar) started a new project together. We both love the history of the sport and our plans were to create an extended website with a lot of (historic) statistical information. Marco provided the content, Lex built the site and accounted for the lay-out. When we began to set up this project, it started with a simple idea and the planning was to launch the site some years later. But that took longer than expected. Simply because the ideas for the site kept coming and that meant that more research had to be done (and was done). And so, after a few years, the original concept and site were completely re-built. And although we already had a lot of information stored, the site is still under development at the moment. Since 2011, Lex and Marco contacted each other frequently to talk about the possibilities for the site, and to discuss new ideas for the site.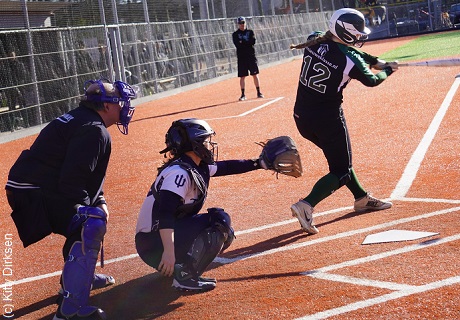 ...Lex is the home plate umpire during an exhibiton-game...
...of the Neptunus softball-team in March of this year...
(© Photo: Kitty Dirksen)

Lex Looijen was one of those club-volunteers and contributors who are always there. Through the years, Lex became very valuable for Neptunus due to his knowledge of the operating system and the handling of the scoreboard in the stadium. If needed, he could operate the board from his home.

And although he was known and loved by many within the club and of course by many game-officials, Lex never put himself up front. He didn't liked it that much when he had to pose for a photo, but luckily, there are several photos of Lex.

But of course, Lex very much liked the many compliments he got regarding 'his' scoreboard. It is frequently mentioned as being one of the most informative, not only in the Dutch big league, but also throughout Europe. And yes, he confirmed that he was proud of that accomplisment.

As the Official Scorers in the Dutch big league know, Lex was always prominent sitting in the scorebox. The right side of the box belonged to Lex. That was simply his domain. There, he was sitting behind at least two screens and several keyboards, surrounded by cables and wires.

When he was at the field, Lex also wore a baseball-cap, either from Neptunus or his favorite Major League-club New York Yankees. And at most games, Lex was mostly wearing either a t-shirt or polo-shirt with a baseball-print (frequently from Yankees, but of course also Neptunus). Always with short sleeves, even on cold days, as he never seemed to be bothered by cold temperatures, even while others would put on an thicker shirt or jack.

And yes, during a game (or thereafter), he sometimes voiced his opinion regarding a scoring or umpiring decision. And of course, he never liked it when Neptunus lost. However, when you spoke to him a few hours later, he could also agree that Neptunus simply hadn't play well that day when it had lost a game. But over the years, Neptunus didn't lose that many games. And so, Lex was able to celebrate several Dutch Championship-titles with 'his' Neptunus-team.

Lex was always cheering for his Neptunus, was always optimistic and smiling with twinkling eyes and was just always good-humored. It was a pleasure to work with Lex during a game or talking to him before and after a game.

Lex will be missed by many of us. Not only from within the Neptunus-family, but also from outside the club.

The webmaster of Grand Slam * Stats & News offers his condolences to Lex's mother Vera, other family and friends and wishes them a lot of strength with this huge loss.

(June 28)