(Story by Marco Stoovelaar; Photo by Henk Seppen)

Starting Pitchers coming series; New player Amsterdam Pirates
Nederlands



AMSTERDAM - Coming Thursday-evening (June 30), the next 3-game series opens in the Top-4 and Bottom-5 Pools of the Dutch big league. For Thursday, rain is predicted. In case a game will be cancelled, it will be made up on Friday-evening.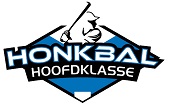 After Sunday's games, the season will be interrupted for two weeks, as the 30th editon of the Baseball Week Haarlem begins on Friday, July 8. The biennial event closes a week later, on Friday, July 15. In 2020, the tournament was cancelled due to the worldwide COVID-19 pandemic.
Participating in the Baseball Week are National Teams of the Netherlands, Cuba, Curaçao, Italy, Japan and the USA.
Next week, on Wednesday, July 6, the Netherlands Team will play an exhibition game against the Netherlands Under-23 Team at the site of L&D Amsterdam Pirates, starting at 7:30 PM.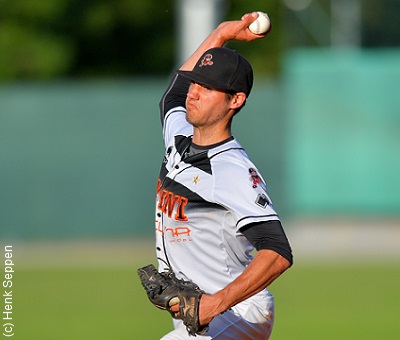 ...Nicola Garbella pitching for Rimini...
...during the 2017 European...
...Champions Cup-tournament...
(© Photo: Henk Seppen)

L&D Amsterdam Pirates confirmed that it has added righthanded pitcher/outfielder Nicola Garbella to its roster. The American-born Italian player will be with the team for the remainder of the season. This season, the 29-year old Garbella played for Nettuno 1945 in the Italian Serie A1, where he was a teammate of Dutch outfielder Victor Draijer. He recently returned to the Netherlands and now plays for HCAW in the remainder of the season.

After the lefthanded hitting Garbella played in college for Cal State Northridge in 2014, he made his debut later that year in the Italian Second Division, playing for Grosseto. Since 2015, Garbella has played in the highest Italian league for Parma (2015-2016), Rimini (2017-2018), Nettuno City (2019), San Marino (2020-2021) and Nettuno 1945 (this year). This season, Garbella was 0-2 and pitched in 11 1/3 inning. Last year, the righthander was 7-1 with one save.

In 2018, Garbella participated with the Italian National Team in the Baseball Week Haarlem in Haarlem and the Super6 Baseball in Hoofddorp. He is currently also on the roster of the Italian Team for the upcoming Baseball Week.

The regular season in the Dutch big league resumes again on Thursday, July 21.

The Top-4 Pool ends on Sunday, August 7, the Bottom-5 Pool ends on Sunday, July 31. While the Top-4 Pool plays its final series, the two best teams from the Bottom-5 Pool will meet in the best-of-three Wild Card Qualifier to decide whom they will meet in the best-of-three Wild Card Bottom Series. That Series is scheduled August 11-14. On those dates, the two best teams of the Top-4 Pool will face each other in the best-of-three Wild Card Top Series.

The winners of the Wild Card Top Series then will meet the winners of the Wild Card Bottom Series in the best-of-five Play-Offs (August 18-28). The winners of those series advance to the Holland Series (first game September 15). The losing teams of the Wild Card Bottom Series will play a best-of-five Play-Off (August 18-28) for fifth and sixth place.

Most starting pitchers have been announced for the upcoming series, except for two teams.

L&D Amsterdam Pirates has not yet decided its rotation for its series against HCAW, but probably will do so later on Wednesday-evening.

The starters of Curaçao Neptunus have not been announced yet. However, at Neptunus, the club's thoughts are not on the upcoming series at the moment. Instead, there is much sadness, as the Rotterdam-club has to cope with the unexpected passing of its longtime beloved Scoreboard Operator Lex Looijen last Monday-morning at age 62. The webmaster of Grand Slam * Stats & News wishes the Neptunus-club a lot of strenghth.

Beneath are the announced starters for the games in the upcoming series. As always, these assignments can change on game-days.

(June 29)

Rosters
Live play-by-play & live-streams
TOP-4 POOL
Roster
L&D AMSTERDAM PIRATES (4-2) (17-6-1)
vs.
HCAW (3-3) (20-4)
Roster
Game-info
#
Starting Pitchers Pirates
G
#
Starting Pitchers HCAW
Date, Time & Site
to be decided
1
45
LHP Jim Ploeger (4-2)
Th. June 30, 7:30 PM, Amsterdam (1)
to be decided
2
39
RHP Lars Huijer (6-0)
Sa. July 2, 2:00 PM, Bussum (2)
to be decided
3
7
RHP Dennis Burgersdijk (7-1)
Su. July 3, 2:00 PM, Amsterdam (1)
(1) - Loek Loevendie Ballpark, Sportpark 'Ookmeer', Amsterdam; (2) - Rob Hoffmann Vallei, Sportpark Zanderijweg, Bussum
TOP-4 POOL
Roster
TWINS OOSTERHOUT (2-4) (12-11-1)
vs.
CURAÇAO NEPTUNUS (3-3) (21-3)
Roster
Game-info
#
Starting Pitchers Twins
G
#
Starting Pitchers Neptunus
Date, Time & Site
11
RHP Koen Postelmans (4-4)
1
15
RHP Juan Carlos Sulbaran (7-1) (*)
Th. June 30, 7:30 PM, Oosterhout (3)
10
LHP Ryan Huntington (4-5)
2
not yet announced
Sa. July 2, 2:00 PM, Rotterdam (4)
6
RHP Simon Gross (3-4)
3
not yet announced
Su. July 3, 2:30 PM, Oosterhout (3)
(3) - Sportpark 'De Slotbosse Toren', Oosterhout; (4) - Neptunus Familiestadion, Sportpark Abraham van Stolkweg, Rotterdam
(*) - starter for Thursday-evening is not yet confirmed
BOTTOM-4 POOL
Roster
HOOFDDORP PIONIERS (2-1) (7-16-1)
vs.
SILICON STORKS (1-5) (2-22)
Roster
Game-info
#
Starting Pitchers Pioniers
G
#
Starting Pitchers Storks
Date, Time & Site
38
RHP Koen van 't Klooster (1-1)
1
16
RHP Darryl Jamoena (0-9)
Th. June 30, 7:30 PM, Hoofddorp (5)
35
RHP T'sean Martina (2-1)
2
25
RHP Twan Naessens (0-5)
Sa. July 2, 1:30 PM, The Hague (6)
6
RHP Yassir Lachkar (1-3)
3
31
RHP Mike van der Berg (2-7)
Su. July 3, 1:00 PM, Hoofddorp (5)
(5) - ETO Ballpark, Sportpark Pioniers, Park21, Hoofddorp; (6) - Sportpark 'Kijkduin', The Hague
BOTTOM-4 POOL
Roster
DSS/KINHEIM (3-3) (11-13)
vs.
QUICK AMERSFOORT (1-2) (6-17-1)
Roster
Game-info
#
Starting Pitchers DSS/Kinheim
G
#
Starting Pitchers Quick
Date, Time & Site
3
RHP Martijn Schoonderwoerd (0-0)
1
52
LHP Jhan Rifaela (1-1)
Th. June 30, 7:30 PM, Haarlem (7)
to be decided
2
19
RHP Wally Vrolijk (1-3)
Sa. July 2, 2:00 PM, Haarlem (7)
to be decided
3
5
RHP Stijn Bruins Slot (2-6)
Su. July 3, 2:30 PM, Amersfoort (8)
(7) - Pim Mulier Stadion, Pim Mulier Sportpark, Haarlem; (8) - XL Lease Park 'Dorrestein', Amersfoort