(Story by Marco Stoovelaar; Photos by Henk Seppen)

Roster Netherlands Baseball Team announced for Baseball Week Haarlem
Nederlands



NIEUWEGEIN - The roster of the Netherlands Baseball Team for the upcoming 30th edition of the Baseball Week Haarlem was officially announced on Thursday (June 30). The Kingdom of the Netherlands, as the team is called in international tournaments, is one of six participating teams in the biennial tournament. The others are National Teams from Cuba, Curaçao, Italy, Japan and the USA. The tournament opens on Friday, July 8 and ends on Friday, July 15.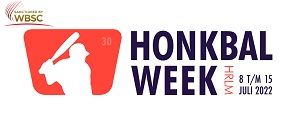 The Netherlands plays its first game on Friday-evening (July 8) and then meets European arch-rival Italy, starting at 7:30 PM. Earlier on the day, the first game is played between Curaçao and Japan, starting at 3:30 PM. Daily, a game will be played at 3:30 and 7:30 PM. On four days (July 10, 12, 13 and 14), three games are scheduled. The first game then will begin at 12 PM.
Complete schedule Baseball Week Haarlem
The Netherlands Team will be headed again by Evert-Jan 't Hoen, who is the Manager since 2018. Except for the Premier12 in 2019 and the Global Olympic Qualifier last year, when Hensley Meulens was the Manager. During these events, 't Hoen was the Bench Coach.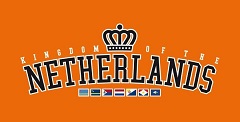 Amongst the 24 players on the Orange-roster is powerhitter Wladimir Balentien, who played eleven seasons in Nippon Professional Baseball (NPB), the Japanese Major League, for Tokyo Yakult Swallows and Fukuoka SoftBank Hawks. In 2013, Balentien wrote history, as he broke the single-season homerun-record of the legendary Sadaharu Oh. In 1964, Oh set the original record by hitting 55 homeruns. That record was tied in 2001 when Tuffy Rhodes also hit 55. But in 2013, Balentien set a new record with 60 homeruns.

In 2007-2009, Balentien played in the Major League for Seattle Mariners and Cincinnati Reds. Balentien is one of two players in the Orange Team with Major League-experience. The other is righthanded pitcher Shairon Martis, who played for in part of three seasons for Washington Nationals and Minnesota Twins. Since 2020, Martis is one of the pitchers of reigning Dutch Champion L&D Amsterdam Pirates. Balentien retired from Japanese baseball in January.

It will mark the first time that Wladimir Balentien can be seen during an event in the Netherlands. He last played for the National Team during the 2017 World Baseball Classic. Balentien made his debut in 2004, first in a Pre-Olympic Tournament in Nettuno (Italy), then in the following Olympic Games in Athens (Greece).

Regarding Balentien, Rick van den Hurk, the new Technical Director of the Royal Netherlands Baseball and Softball Association (KNBSB), said in a press release, published on Thursday: ,,Obviously he is one of the most successful hitters to ever play for the Kingdom Team and to add him to this roster is a huge honor. He has performed great in Japan and has played all over the world. We are really looking forward to welcoming him here.''

In the same press release, Netherlands Team Manager Evert-Jan 't Hoen stated that reaching the Final of the Baseball Week of course is the goal. But he also wants to see as many players in action as possible, as he underscores that the Baseball Week also is a showcase for these players en route to the World Baseball Classic, which will be organized again in 2023.

L&D Amsterdam Pirates and Curaçao Neptunus, who last year faced each other in the Holland Series, both have eight players on the current Orange-roster. Three players come from HCAW, one from Twins Oosterhout. Two players play abroad: RHP Mike Bolsenbroek (Germany) and IF Kevin Josephina (Italy). Two players played in Mexico this year, but are currently without a club. In february, outfielder Wladimir Balentien signed a contract in Mexico and played for Saraperos de Saltillo, but was released on May 25. Infielder Juremi Profar also signed a contract in Mexico in February. He then played for Bravos de Léon, but was released on May 3.

Three players on the roster will make their debut in the Netherlands National Team, being pitchers Ryan Huntington and Chris Stuart and infielder Kevin Josephina.

Lefthanded pitcher Ryan Huntington made his debut in the Dutch big league last year, playing for Hoofddorp Pioniers. This season, the Aruban-born Huntington pitches for Twins Oosterhout.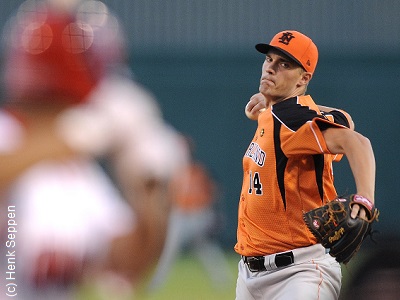 ...Dennis Burgersdijk makes his comeback...
...In 2012, he pitched for the Orange Team...
...during St. Petersburg International Baseball...
(© Photo: Henk Seppen)

Curaçao-born infielder Kevin Josephina played professionally in seven seasons (2014-2019, 2021). He played in Rookie League and Single-A in the organization of the Atlanta Braves. This year, Josephina plays in the Italian Serie A1 for UnipolSai Fortitudo Bologna. There, he currently hits .406 (28-for-69) with eight doubles and two triples and 23 runs batted in.

Chris Stuart pitched for San Jacinto Gators in this years college-season. The team of San Jacinto College plays in Region XIV of the National Junior College Athletic Association (NJCAA). The lefthander had a good season and was 11-3 with a 3.10 ERA. Stuart appeared in 17 games (all starts) and struckout 106 batters in 78 1/3 inning. With San Jacinto, Stuart reached the NJCAA D1 Baseball World Series, but was eliminated in the Elimination Round.

In 2019, Stuart played in three games for L&D Amsterdam Pirates in the Dutch big league. He then played for HCAW in 2020 and 2021, appearing in one and eight games respecively. This season, he again is on the roster of the Bussum-club, but hasn't played yet for the team.

During the Baseball Week, Huntington, Josephina and Stuart also will play in their first international game, as will pitcher Dennis Burgersdijk. But he already made his Netherlands Team-debut in 2012 when he participated in the St. Petersburg International Baseball Tournament in Florida (USA). However, no games against other countries were played there.

Three players on the current roster made their debut last year. Pitcher Mike Groen and outfielder Jiandido Tromp then participated in the Olympic Qualifying Tournament in Mexico and the European Championship in Italy. During this last event, pitcher Aaron de Groot made his debut. Earlier this month, Tromp sustained an injury during the European Champions Cup-tournament in Germany where he participated with Curaçao Neptunus. He has not played since then in the regular season.

Seventeen of the 24 players on the roster will play in their first Baseball Week Haarlem.

The roster looks as follows:

Pitchers (11):
Mike Bolsenbroek (Heidenheim Heideköpfe, Germany), Dennis Burgersdijk, Lars Huijer, Chris Stuart (all HCAW), Mike Groen, Shairon Martis, Franklin Van Gurp (all L&D Amsterdam Pirates), Aaron de Groot, Kevin Kelly, Juan Carlos Sulbaran (all Curaçao Neptunus) and Ryan Huntington (Twins Oosterhout).

Catchers (2):
Sicnarf Loopstok (L&D Amsterdam Pirates) and Dashenko Ricardo (Curaçao Neptunus).

Infielders (6):
Kevin Josephina (Fortitudo Bologna, Italy), Dwayne Kemp, John Polonius (both Curaçao Neptunus), Juremi Profar (no club), Sharlon Schoop and Delano Selassa (both L&D Amsterdam Pirates).

Outfielders (5):
Wladimir Balentien (no club), Roger Bernadina, Jiandido Tromp (both Curaçao Neptunus), Denzel Richardson and Kalian Sams (both L&D Amsterdam Pirates).

Coaching Staff:
Evert-Jan 't Hoen (Manager), Wim Martinus (1B Coach), Ben Thijssen (3B Coach), Tjerk Smeets (Hitting Coach), Robin van Doornspeek (Pitching Coach).

Supporting Staff:
Harmen Bakker (Strength & Conditioning Coach), Quintijn van der Roest (Physical Therapist), Louie-Jay Sienders (Bullpen Catcher), Niels van Weert (Team Manager), Seb Visser (Media Officer).

(June 30)