(Story by Marco Stoovelaar; Photo by Henk Seppen)

Former Netherlands Team Manager Pat Murphy named Manager of Milwaukee Brewers
Nederlands



MILWAUKEE, Wisconsin (USA) - Pat Murphy is the new Manager of Milwaukee Brewers, the club officially announced on Wednesday (November 15) via X (formerly known as Twitter). He was officially introduced as 20th Manager of Milwaukee on Thursday. Also introduced then was Rickie Weeks, who was named Associate Manager, as the successor of Murphy. In 1987 and 2000, Pat Murphy was Manager of the Netherlands National Baseball Team, heading the Orange-squad during an European Championship and an Olympic Games.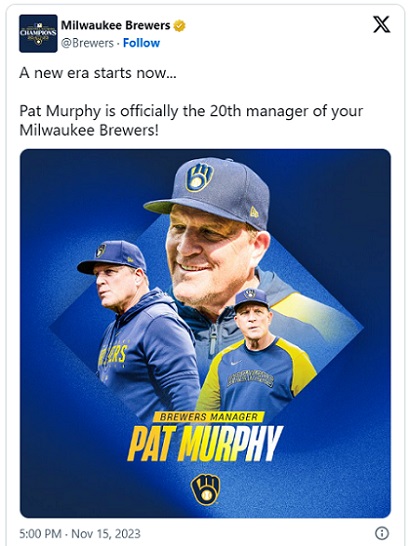 ...The announcement of Milwaukee Brewers on X...
...that Pat Murphy is named as new Manager...

Murphy succeeds Craig Counsell, who earlier this month became the new Manager of Chicago Cubs in what was a surprise move. Counsell was mentioned as a possible (serious) candidate for New York Mets and Cleveland Guardians, but it was also reported that he could stay with Milwaukee. However, when Chicago dismissed Manager David Ross on November 6, Counsell was named as his successor.

It was reported that Pat Murphy, who will turn 65 on November 28, was the only candidate for the vacant position. This season, Milwaukee reached the Play-Offs for the fifth time in the last six seasons and won the title in the National League Central Division for the third time under the guidance of Counsell.
Pat Murphy was Bench Coach of Counsell since November 2015. In May of that year, Craig Counsell was named Manager of Milwaukee after Ron Roenicke was fired. Counsell had played for Murphy at the University of Notre Dame and wanted his former coach as his Bench Coach. At that moment, Murphy was a Minor League Manager in the San Diego Padres-organization for whom he had worked since 2010. In 2015, he was Manager of Tulsa Drillers, San Diego's Triple-A team and when Milwaukee wanted to hire Murphy as Bench Coach, the Padres gave no permission. The next month (June), Murphy was named interim Manager of San Diego's Major League-team when Bud Black was fired. Led by Murphy, San Diego was 42-54. When the 2015 season, it was announced that Murphy would not return as Manager. Shortly thereafter, he was named Bench Coach of Milwaukee.
Murphy played baseball at Florida Atlantic University, then played professionally for four years as pitcher in the organizations of San Francisco Giants (1982) and San Diego Padres (1983), in Australia (1984) and in an Independent League (1985-1986). Murphy then was the baseball and American football Head Coach of Fighting Scots, the teams of Maryville College (1983) and Claremont-Mudd-Scripps (1985), a joint intercollegiate program of three colleges in California, whose nickname is Stags. Wellknown Bill Arce was the longtime baseball-coach of these California Stags with whom he participated in the Haarlem Baseball Week. Hereafter, Murphy was the Head Coach of Notre Dame Fighting Irish in 1988-1994 and Arizona State University Sun Devils in 1995-2009. As college-coach, Murphy was 947-400 with two ties. Murphy led Arizona four times to Pac-10 Championships. He also led Arizona to four College World Series.
In May 1987, Pat Murphy was named Manager of the Netherlands Baseball Team for the first time and at age 27, he was one of the youngest Managers in history. In that year, Murphy was assisted by Harry van der Vaart (1B Coach) and Leen Volkerijk (Pitching Coach). Murphy made his debut during the World Port Tournament in Rotterdam (Netherlands), where the Orange-squad won two of its six games.
Shortly after the WPT, the team was more successful during the European Championship in Spain. There, the Netherlands remained unbeaten in the Preliminary Round to qualify for the Final against Italy in what then was a best-of-five. The Netherlands won the first two games, but Italy won the next two to force a deciding fifth game. In that game, the Netherlands dominated and recorded a big and convincing 16-1 victory in 6 1/2 inning. With that, the Netherlands not only captured the European title, but also qualified for participation in the 1988 Olympic Games in Seoul (South Korea). Due to commitments at Notre Dame, Murphy was unable to return in 1988 and was succeeded by Tom Petroff.
However, thirteen years later, Pat Murphy does get the opportunity to coach the Netherlands during the Olympic Games. In April 2000, Murphy is named Orange-Manager for the second time as the successor of Jan Dick Leurs. In August, he leads the team during the Haarlem Baseball Week. The team wins three of its five games. In a thriller against the USA, the Netherlands loses 9-8 in 10 innings.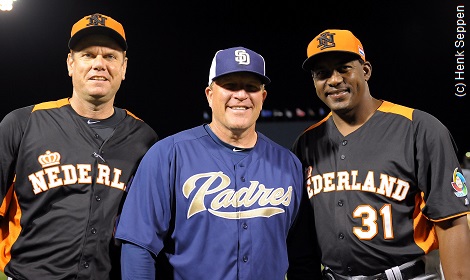 ...Pat Murphy with Robert Eenhoorn (left) and...
...Hensley Meulens before an exhibition game of the...
...Netherlands Team against San Diego Padres before...
...the Semi-Final of the 2013 World Baseball Classic...
(© Photo: Henk Seppen)

In September, the Netherlands participates in the Olympic Games in Sydney (Australia). In the week preceeding the event, the team plays four exhibition games. In that series, the Orange Team wins 4-3 against the USA, which is compiled entirely of professional players and is led by legendary Major League Manager Tom Lasorda (Los Angeles Dodgers). One of the players on the Orange-roster was Hensley Meulens, who later not only went on to also become Manager of the Netherlands Team, but also became a Major League Coach. As Hitting Coach and Bench Coach, Meulens was a member in the staff of Manager Bruce Bochy at San Francisco Giants in ten seasons (2010-2019), winning the World Series three times. Thereafter, Meulens was Bench Coach of New York Mets (2020) and Assistant Hitting Coach of New York Yankees (2022). Since this year, he is the Hitting Coach of Colorado Rockies. During the Olympics in Sydney, Meulens played a major role in the game against Cuba. Thanks to his double, the Netherlands won 4-2, handing Cuba its first ever Olympic loss in history.

Besides Meulens, also on the Olympic roster for the Netherlands were nine players who went on to become Head Coach in the Dutch big league, being Johnny Balentina, Michael Crouwel, Robert Eenhoorn, Rikkert Faneyte, Evert-Jan 't Hoen, Eelco Jansen, Ferenc Jongejan, Raily Legito and Ralph Milliard. Eenhoorn, Faneyte and Milliard had played in the Major League in previous years. Eenhoorn and Faneyte also played for Murphy during the 1987 European Championship. Eenhoorn succeeded Murphy as Manager of the Netherlands Team and 't Hoen is the Manager since 2018. Meulens was Manager of the team during the World Baseball Classic in 2013, 2017 and 2023. Jongejan is the current Head Coach of the Netherlands National Softball Team. Also playing in the team in 2000 was Sharnol Adriana, who also became a Minor League-coach.

Also playing for the Netherlands then were two future all-time record-holders, being Dirk van 't Klooster and Rob Cordemans, who respectively became the All-Time Basehit-leader and All-Time Strikeout-leader. This year, Van 't Klooster was the 1B Coach and Hitting Coach in the staff of Head Coach Mervin Gario of Amsterdam Pirates, which captured the Dutch Championship-title on October 22. One player on the Olympic roster in 2000 is still active, which is pitcher Erik Remmerswaal, who plays in the second team of Hoofddorp Pioniers in the First Division for some seasons now. Next year, he will be on the mound again and also will be the team's Pitching Coach in the staff of Head Coach Ronald Stoovelaar, who in 1987 was one of the players on the preliminary Orange-roster and participated in practice sessions led by Murphy. Other players from the 1987 team and later turned to coaching were Eric de Bruin, Gerlach Halderman, Marcel Joost, Hans Lemmink, Bart Volkerijk, Eric de Vries and Eenhoorn and Faneyte. De Bruin is the current longtime Manager of the Netherlands Under-18 Team. In 1988, De Bruin, Eenhoorn, Faneyte, Halderman, Joost, Stoovelaar, Volkerijk and De Vries all participated in the Olympic Games. Since 2014, Eenhoorn is the General Director of professional soccer-club AZ. Other players from the 2000 team who went into coaching were Patrick Beljaards, Ken Brauckmiller, Rob Cordemans, Percy Isenia and Orlando Stewart. During the 2000 seaon, Murphy, who coached at third base himself, was assisted by Charles Urbanus (Bench Coach), Brian Farley (1B Coach) and Bernie Beckman (Pitching Coach). In 2011, Farley was the Manager of the Netherlands and guided the team to the title in the World Championship in Panama, defeating Cuba in the Final.

(November 16)