(Story by Marco Stoovelaar)

No sports activities through April 6; All clubs closed
Nederlands



THE HAGUE (Neth.) - On Sunday (March 15), the Dutch Government announces new measures regarding the spread of the coronavirus (COVID-19). The measures were announced during a press meeting today by Bruno Bruins, Minister for Medical Care and Sports, and Arie Slob, Minister for Primary and Secondary Education and Media.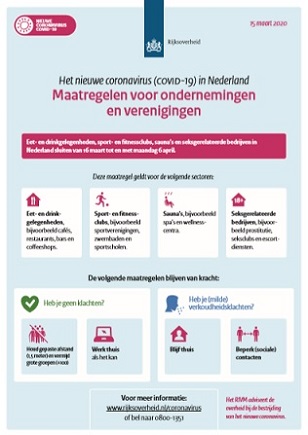 Effective Sunday, March 15, 6:00 PM through Monday, April 6, all sports-clubs, fitnessclubs, as well as restaurants will be closed!
Effective Monday, March 16, all schools and children's day-care facilities will close through Monday, April 6. An exception will be made for children of parents who work in hospital, police, fire-departments and public transport.
Everyone in the Netherlands is asked to keep distance from each other, when possible, of at least 1½ meter.
All earlier announced measures are extended through Monday, April 6.
Announcement Dutch Government (in Dutch) on March 15
The measures mean that all exhibition games and tournaments in baseball and softball that were scheduled for April 3, 4 and 5 have been cancelled. On Friday, Tex Town Tigers already announced that it had cancelled its annual J.C.J. Mastenbroek Tournament, which were scheduled for these dates. Now, the Brabant Cup for baseball (April 4-5) and softball (April 5) is no longer on the schedule.
On Friday, April 3, the first games were scheduled to be played in the regular season of the baseball 'Overgangsklasse' (second highest league) to be followed by more games on April 4 and 5. As all sport-facilities will be closed through April 6, the start of this season will be delayed.
This league was the first to start its regular season this year. Other leagues will open a week later, in the weekend of April 10-12. As the moment, the Dutch big league baseball is scheduled to open on Thursday, April 16.
In softball women, the seasons in the Second Division, Third Division and Fourth Division were scheduled to open on April 6. The First Division has its first games on April 11. The two highest leagues, Golden League and Silver League, are currently scheduled to open on April 18.
The highest division in men softball (First Division) was to open on April 10. The Second Division has April 8 as first day. The start of the season in the Third Division also will be delayed, as its opening day was April 5.
(March 15)
Related Articles:


International Mastenbroek Tournament in Enschede also cancelled. (March 13)


KNBSB cancels all exhibition games through March 31. (March 12)
Schedules Exhibition and Regular Seasons Baseball Major League & Overgangsklasse
Schedules Exhibition and Regular Seasons Softball Golden League & Silver League
Headlines