DVH again wins Dutch championship!
Nederlands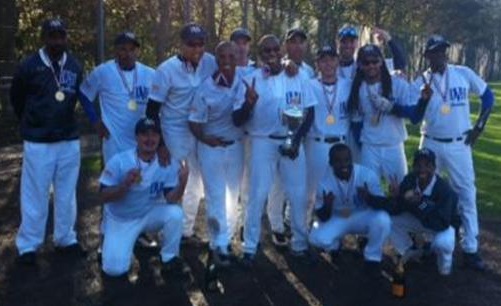 ...DVH - men softball champion 2011...
(© Photo: DVH)

THE HAGUE (Neth.) - The Men Softball Team of DVH again captured the Dutch championship-title on Saturday, October 15, by winning 2-1 vs. Storks in the all-deciding third game of the Holland Series. It was the fourth try to play this game, which finally could be played today. A weekend ago, on both Saturday and Sunday, as well as last Wednesday, the game rained out.

The game was decided by three errors in the fifth and sixth inning, which cost Storks the win, as they were leading 1-0.
Storks opened the score in the second inning off Tony Moyo. Mike den Braven walked and moved on a sacrifice bunt by Steven Ketting, then scored on a hit by Rob van der Vlist. This was all Moyo would allow, as only one more player of Storks would reach in the remainder of the game. Moyo struckout 17 batters, walked one and gave up only two hits, while being supported with a solid defense that committed no errors and that was the difference in the game.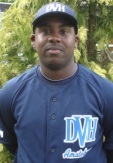 ...Osandrick Statia...
...winning run...
(© Photo: DVH)

In the fifth inning, DVH came alongside off Czech hurler Ales Jetmar, who struckout 14, walked one and gave up three hits. In this at bat, Anthony Beaumont singled and advanced on a sac-bunt by Franklin van Willigenburg, then scored when an error was made on a hit by Jesus Flores.

In the sixth inning, Osandrick Statia reached on an error by Jetmar. The speedy Statia then moved on a grounder by Randy Lo-A-Tjong, but continued running towards third base. This led to an errant throw to third, enabling Statia to score the go-ahead run.

In the seventh inning, Kenny Dame represented the tying run when he got on second base with one out in the bottom of the seventh inning, but Tony Moyo then closed the game with two strikeouts.

By winning the Dutch champion, DVH again qualified for participation in next years European Cup-tournament. Storks will participate in the Cup Winners Cup.

(October 17)