USA and Samoa eliminated in Championship Play-Offs
Nederlands

AUCKLAND (New Zealand) - On the first day of the Play-Offs, which was Day 8 of the World Championship, the first two teams were eliminated on Saturday. This leafs six teams in contention for the final on Sunday.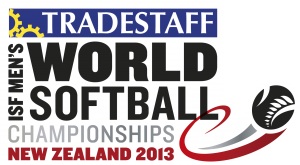 In the opening game, Samoa became the first to be eliminated, which was more or less expected. They faced the strong team of Japan, which won 4-2.
The next game ended in a surprise, as the USA became the second team to be eliminated, losing with a big 9-2 score to Argentina. Four years ago, the USA finished in fourth place. Because of the elimination, the USA will finish in its lowest ranking ever on a World Championship. Since the first Championship in 1966, the Americans never finished lower than fourth place.
Later in the day, reigning champion Australia lost its first game of the event, as New Zealand came from behind and turned a 2-0 deficit into a 5-4 win in 10 innings. With the loss, Australia now will meet Japan on Saturday and faces elimination when the game is lost.
Venezuela ended the day with another upset, beating Canada, 3-1. Canada will meet Argentina in another elimination game.
Venezela is playing against New Zealand on Saturday with the winner of this game advancing to the final.
The winners of the Japan vs. Australia and Argentina vs. Canada games will play against each om Saturday-evening to close the second day of the Play-Offs. The loser of this game ends in fourth place, while the winner meets the losing team of the Venezuela vs. New Zealand match-up in the bronze medal on Sunday. The winner of this last game becomes the second finalist.
today's games:
Game 57: Japan vs. Samoa
In the first game today, Japan won 4-2 vs. Samoa, which therefore was eliminated. For Samoa, it marked the end of a good tournament. Four years ago, the team didn't participate in the World Championship in Canada, but in 2004, Samoa also reached the Play-Offs. Japan, which finished in sixth place in 2009, struck in the first inning with three runs. Naoaki Kawada led off with a single and advanced on sac-bunt. Next, Hikaru Matsuda was hit by a pitch and Masateru Matsuoka followed with an RBI-single. After a strikeout, Yohei Ono singled in the next run, then a force play-grounder by Tadaaki Saeki made it 3-0. Samoa narrowed the deficit to 3-2 in the second inning. Lead-off hitter Duane Jerard was hit by a pitch and replaced by pinch-runner Aaron Knight, who then advanced on a single by Gerard Long and scored on a sac-fly by Gene Robinson. Next, a single by Kallan Compain made it 3-2. Japan then added an insurance run in the fifth inning when Naoaki Kawada singled, moved on a sac-bunt, stole third base and scored on a single by Matsuoka.
Game 58: Argentina vs. USA



...Manuel Godoy...
...Grand Slam...

In the next game, Argentina won big vs. the USA. Trailing 2-1, Argentina rallied for eight runs in the fourth inning to win 9-2 and eliminated Team USA, which four years ago finished in fourth place. Argentina then ended up in seventh position. The USA took a 2-0 lead in the first inning when Chase Turner doubled with one out and Matt Palazzo followed with a 2-run homerun. But that was to be it for the Americans. In the home of the first inning, Argentina got one run back when Fernando Petric D'Agostino led off with a single, moved on a grounder and scored on a single by Bruno Motroni. Argentina then struck with eight runs in the fourth inning to take a commanding lead. With one out, Francisco Sabate reached on a bunt-single, then the bases got loaded when Nicolas Bittor walked and Gustavo Guerrini singled. A walk for pinch-hitter Santiago Carril then tied the score at 2-2. D'Agostino added a 2-run double and that marked the end for pitcher Joshua Johnson. But new pitcher Gerald Muizelaar then walked Pablo Montero, followed by an RBI-single by Bruno Motroni that kept the bases loaded. Manuel Godoy then accounted for the offensive highlight when he hit a grand slam homerun.

Game 59: New Zealand vs. Australia



...Jeff Goolagong...
...2 HRs...

Next, an exciting game followed between Australia and New Zealand, respectively the gold and silver team of four years ago. The two teams played a game which was worthy of being the tournament's finale, as it took 10 innings to decide it. It was New Zealand that won 5-4 to hand Australia it's first loss of the event. With the loss, Australia now faces Japan on Saturday and faces elimination in case of a loss!
The two teams were well up to each other, both offensively and pitching-wise. Adam Folkard went the distance for Australia, struckout 16 batters and gave up nine hits. Three New Zealand-hurlers struckout 14 batters and gave up 10 basehits. In this 'down-under' match-up, the Aussies opened the score in the second inning when Jeff Goolagong led off with a homerun. Australia then made it 2-0 in the fourth inning when Goolagong again led off with a homerun! In the home of the fourth inning, New Zealand came alongside when Tyson Byrne singled and Brad Rona followed with a homerun. After Australia left two runners in the top of the 5th, the Kiwis then took a 3-2 lead in the home half when Rhys Casley led off with a single and scored on an one-out single by Nate Nukunuku, which was followed by a line drive double play. Australia tied the score in the top of the 7th. Mark Harris, Michael Tanner and Joel Southam all singled to bring in a run and put runners on first and third base. But then Tanner was picked off third base and a strikeout ended the inning. As New Zealand was held scoreless in the home of the 7th, the game went into extra innings. Australia had runners at first and third base with one out in the top of the 8th, but then two strikeouts followed. Moments later, New Zealand got the bases loaded with no outs and then two strikeouts and a groundout ended their at bat. In the ninth, both teams were retired in order, then the 10th inning was decisive. Australia re-took the lead in the top half when tie-break runner Joel Southam advanced on a wild pitch and scored on a sac-fly by Cameron Bint, but New Zealand answered with two runs. With Tyron Bartorillo running at second base, a fly-out and foul-out (on a bunt) followed. Next, Brad Rona doubled to bring in the tying run. Donny Hale was then walked intentionally to set up a force play. But then, Ben Enoka drove the ball into rightfield for a single and Rona was able to score the winning run when an outfield-error followed.

Game 60: Canada vs. Venezuela
Venezuela began the play-Offs good with a 3-1 win against Canada, which won bronze four years ago in front of a home crowd. Venezuela then finished in fifth place. Today, Venezuela opened the score in the first inning. Iran Paez and Arturo Acacio led off with walks, then Edwin Linares followed with an RBI-single to take a quick lead. Acacio also tried to score, but was thrown out at the plate and the inning ended when the next two batters struckout. Venezuela increased the lead to 3-0 by scoring twice in the fourth inning when Edwin Linares led off with a single and Rafael Flores followed with a homerun. Canada scored its lone run in the home of the fourth inning. Brad Ezekiel then singled and scored on an one-out triple by Stephen Mullaley, who stranded at third base.

(March 8)