DVH, Hoofddorp Pioniers win Super Cup, ESF Cup
Nederlands

AMSTELVEEN (Neth.) - DVH and Hoofddorp Pioniers captured the Super Cup and ESF Cup respectively on Saturday, August 30 on the final day of the European Super Cup Men Softball Tournament, which was staged in Amstelveen (Netherlands). It marks the first time that these Cups were won by Dutch clubs since the new format was introduced in 2012. It also marks the first time since 2006 that both European Cups (back then the European Cup and Cup Winners Cup) were won by two Dutch clubs in the same year.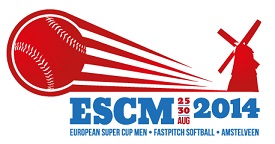 It has been a good year for Dutch Men Softball. By winning these two trophies, the Netherlands again has the two best men softball-teams in Europe. Earlier this year, the Netherlands National Team won the Bronze Medal at the European Championshipin Havlíčkův Brod (Czech Republic) to qualify for next years World Championship in Whitehorse (Canada).
Dutch European Cup Winners
Year
Site
Winner
1990
Prague (Czech Rep.)
Hilversum
1991
Hilversum (Neth.)
Antillian Stars
1992
Hilversum (Neth.)
Antillian Stars
1993
Uithoorn (Neth.)
Antillian Stars
1994
La Force (France)
Alphians
1995
Alphen a/d Rijn (Neth.)
Alphians
1997
Uithoorn (Neth.)
Alphians
1998
Forlě (Italy)
Alphians
2002
Chomutov (Czech Rep.)
Storks
2006
Prague (Czech Rep.)
Storks
After the 2011 season, the European Softball Federation (ESF) decided to combine the European Cup and Cup Winners Cup into one big tournament, which got the name Super Cup. In the new format, up to 18 teams participate in several pools. After the preliminary round, the top-teams move into a new pool playing for the Super Cup, while the remaining teams form a pool playing for the ESF Cup.

In 2012, the first edition of the new tournament was held in Prague (Czech Republic) with four pools of four teams each. Hørsholm Hurricanes (Denmark) captured the Super Cup, winning 7-2 in the final against Lupi Roma (Italy). Dutch teams Spikes and Storks followed in third and fourth place, while DVH ended in seventh position. The ESF Cup was won by another Danish team, Amager Vikings, which defeated Chicaboo's (Belgium) 5-3 in the final.

Last year, in Castions di Strada (Italy), it was Lupi Roma (Italy) that won the Super Cup after winning 6-4 in the final against Hørsholm Hurricanes (Denmark). Two Dutch teams participated, being DVH and Storks, who finished in fifth and sixth place respectively. Chicaboo's (Belgium) won the ESF Cup, winning 7-5 in the final vs. Tempo Praha (Czech Republic). Fourteen teams participated, who were split into two pools.

This year, in the third edition, 18 teams participated, including four from the Czech Republic. The participants were Ballerup Vandals, Hørsholm Hurricanes, Stenløse Bulls (all Denmark), Borgerhout Squirrels, Brasschaat Braves, Chicaboo's (all Belgium), Cavigal Nice (France), Czech Team Under 23, Havlíčkův Brod, Radotín Praha, Spectrum Praha (all Czech Republic), DVH, Hoofddorp Pioniers, Quick Amersfoort (all Netherlands), Magos de Tenerife (Spain), MRKI Medvedi, Span (both Croatia) and Pro Roma (Italy). The were divided over three pools of six teams each. The top-3 of each group qualified for the Super Cup, the rest formed the pool for the ESF Cup.
Dutch Cup Winners Cup Winners
Year
Site
Winner
2004
Prague (Czech Rep.)
Thamen
2006
Haarlem (Neth.)
EHS
2007
Liberec (Czech Rep.)
EHS
2008
Havlíčkův Brod (Czech Rep.)
EHS
2011
Prague (Czech Rep.)
Spikes
The two winners of last year, Lupi Roma and Chicaboo's (and finalists of the year before) were left empty-handed this time. Both teams qualified for the Super Cup-pool, but finished in seventh and eighth place respectively.

In the preliminary round, Brasschaat Braves (Group A) and Hørsholm Hurricanes (Group B) remained unbeaten with a 5-0 record. In Group C, Spectrum Praha and Chicaboo's ended in a tie with a 4-1 record. Spectrum ended in first place, as it had won 4-0 vs. Chicaboo's.

The three group-winners were joined in the Super Cup-pool by Pro Roma, Radotín (Group A), DVH, Havlíčkův Brod (Group B), Chicaboo's and Bulls (Group C).

Organisor DVH ended in second place in Group B with a 4-1 record, losing only to Hørsholm. The team, led by Head Coach Norman Ames, registered four comfortable shutout-victories in its first four games, then lost 3-2 on two errors in the bottom of the seventh inning to Hørsholm to conclude the prelimary round.

Hoofddorp Pioniers ended in fifth place in Group C with a 2-3 record, while Quick Amersfoort was 1-4 and also ended in fifth place in Group A. In Group B, Magos de Tenerife was fifth with a 1-4 record. Nevertheless, it were these teams that dominated the second round of the event, which was the ESF Cup Pool.

From Thursday (Day 4) on, the teams were split into the two new groups. DVH opened the second round (Super Cup) with a 7-0 win vs. Chicaboo's, then shutout Brasschaat 14-0 in the evening to reach the semi-final on Friday. Hoofddorp Pioniers and Quick Amersfoort both began with a shutout-loss. Hoofddorp was beaten 7-0 by Vandals, while Quick lost 12-6 to Magos.
Final Standings Super Cup 2014
#
Team (country)
1
DVH (Netherlands)
2
Hørsholm Hurricanes (Denmark)
3
Stenløse Bulls (Denmark)
4
Havlíčkův Brod (Czech Rep.)
5
Brasschaat Braves (Belgium)
6
Spectrum Praha (Czech Rep.)
7
Pro Roma (Italy)
8
Chicaboo's (Belgium)
On Friday, Quick won 6-1 vs. Squirrels and shutout MRKI 10-0, while Hoofddorp won 13-3 vs. Span and 6-4 vs. the Czechs U23 to advance to the semi-finals for the ESF Cup. Magos de Tenerife, which initially had withdraw from the event, became the first finalist by winning 8-4 vs. Vandals. Hoofddorp Pioniers eliminated Quick by winning 4-1 and had to face Vandals in the bronze medal game on Saturday. Hoofddorp then scored twice in the first inning. Jarrod McDonnald led off with a double, then scored when Glennsig Polonius reached on an error. A triple by Eldrick Dijkhoff then made it 2-0. Quick got one run back in the third inning, thanks to a single by Niek Nieuwenhuizen, but Hoofddorp added two more runs in the fifth at bat when Glennsig Polonius and Eldrick Dijkhoff hit back-to-back homeruns on two consecutive pitches off of starter Ondřej Nemeć.

In the Super Cup-round, DVH won 3-1 vs. Hørsholm on Friday-evening to reach the final. After losing to the Danish team in the preliminary round, DVH this time left the field victorious. DVH opened the score in the first inning when Jerome Haretuku doubled in James Harris. Two runs were added in the third at bat. With one out, Anthony Beaumont tripled and scored on a following double by Tomáš Benda, who then scored himself on a passed ball. Winning pitcher Adam Folkard struckout 15 batters and gave up only five runs to Hørsholm, which scored its lone run in the fifth inning.

On Saturday, Hoofddorp Pioniers played two extra inning games to capture the ESF Cup. First, the team met Vandals in the bronze medal game and won 6-5 in eight innings to reach the final. Pioniers initially took a 4-0 lead in the first inning, but Vandals came alongside by scoring twice in the first and second inning. Hoofddorp re-took the lead in the fifth inning when Emeron Lourens scored on an error, but Vandals tied the score again when Jacob Mortensen led off the seventh inning with a homerun. In the top of the eighth inning, Hoofddorp took the lead for the third time when tie-break runner Emeron Lourens again scored on a fielding error.
Final Standings ESF Cup 2014
#
Team (country)
1
Hoofddorp Pioniers (Netherlands)
2
Magos de Tenerife (Spain)
3
Ballerup Vandals (Denmark)
4
Quick Amersfoort (Netherlands)
5
Czech Under 23 (Czech Rep.)
6
MRKI Medvedi (Croatia)
7
Borgerhout Squirrels (Belgium)
8
Span (Croatia)
In the ESF-final, Hoofddorp again won with a 6-5 score, but this time needed ten innings to defeat Magos. Pioniers turned an 1-0 deficit into a 2-1 lead in the fourth inning thanks to a 2-run homerun by Eldrick Dijkhoff, but Magos came alongside in the fifth when Carlos Javier Zarelli homered off of Angel Brunken. In the eighth and ninth inning, both teams scored one run each. In the eighth, a single by Glennsig Polonius made it 3-2 in favor of Pioniers, but Magos tied the score moments later. In the ninth, Pioniers took a 4-3 lead thanks to a single by Randy Lo-A-Tjong, but again the Spanish opponent came alongside. Pioniers then struck with two runs in the top of the 10th inning. Tie-break runner Dč Flanegin then moved on a passed ball and scored when a throwing error followed when Jeremy Regales struckout. The latter then stole second base with two outs and scored an insurance run when Jarrod McDonnald followed with a triple. Magos was able to score one more run in its tenth at bat, but this time Pioniers held onto the lead to win the ESF Cup.

In the bronze medal game for the Super Cup, Hørsholm won 6-2 vs. Stenløse Bulls to reach the final and face DVH for the third time in this tournament. And DVH again was the better team in the final. The Amstelveen-squad scored all runs in the third inning off of starter Martin Holmberg. With one out, Rien Smulders struckout, but reached on a passed ball. Juan Carlos Macias Jarnes then singled and the bases got loaded when James Harris walked. A single by Anthony Beaumont then brought in two runs and Tomáš Benda then followed with another 2-run single to give DVH a 4-0 lead. The third inning was the lone inning in which DVH was productive, as it registered all of their basehits (three) also in this at bat. After Benda's hit, Valdemar Terkelsen took over the pitching and silenced DVH. However, the team came close to adding a run in the fourth and fifth inning. In the fourth, Adam Folkard led off with a walk and moved to third base on two wild pitches, but stranded there. In the fifth, Benda reached second base on an error with two outs, but also was left behind. Winning pitcher Adam Folkard struckout 14 batters and gave up only two basehits to win his fifth game of the tournament.
Individual Awards Super Cup 2014
Award
Winner
Team
Best Hitter
Frederik Terkelsen Brask
Hørsholm
Best Pitcher
Adam Folkard
DVH
Most Valuable Player
Jerome Haretuku
DVH
Individual Awards ESF Cup 2014
Award
Winner
Team
Best Hitter
César Lopez
Magos
Best Pitcher
Angel Brunken
Hoofddorp
Most Valuable Player
Huemul Mata Carbajal
Magos
Adam Folkard was one of the prime pitchers who participated in the event. The righthander's pitching speed has been recorded at 136,79 km per hour and he is recognized as the hardest thrower in fastpitch softball worldwide. Last year, he won the Bronze Medal with Australia at the World Championship in Auckland (New Zealand). Folkard, who is known as the best pitcher worldwide, struckout 85 batters in 35 innings during the event.

The tournament featured several more top-pitchers, including Argentinean Roman Godoy Herbel (Brasschaat), who in July captured the championship-title at the World Junior Championship in Canada, Argentinean Sebastián Gervasutti (Roma), who has played in Argentina, New Zealand, Australia, Guatemala, USA, Venezuela, Mexico, Dominican Republic and in several European countries, including Netherlands, Czech Roman Matuska (Radotín), who played several seasons in the Dutch big league, Danish Martin Holmberg (Hørsholm), who also played in the Netherlands, Jorge Segura Bonilla (Chicaboo's) from Guatemala, who in May participated in the Central American and Caribbean Games in Colombia, Jeremy Manley (Hørsholm), who won the world championship-title a year ago with New Zealand and Jarrod McDonald (Hoofddorp) from New Zealand.

Besides the best players from Europe, the teams also includes some top-players from around the world, including Campbell Gibson (New Zealand, Havlíčkův Brod), Jerome Haretuku (New Zealand, DVH), James Harris (Australia, DVH), Joshua King (New Zealand, Havlíčkův Brod), Alexis Marquez (Venezuela, Chicaboo's), Huemul Mata Carbajal (Argentina, Magos), Maximiliam Montero (Argentina, Roma), Bruno Motroni (Argentina, Roma), Joshua Niu (New Zealand, Havlíčkův Brod) and Andy Rosario Sejas (Dominican Republic, Roma).

The Dutch teams participating in the tournament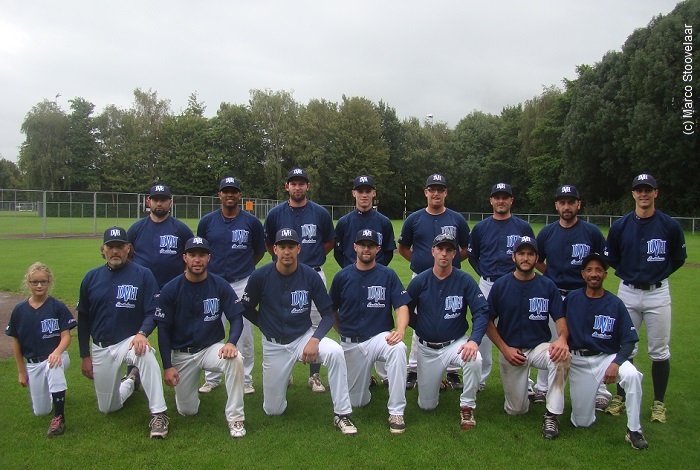 ...DVH (Amstelveen)...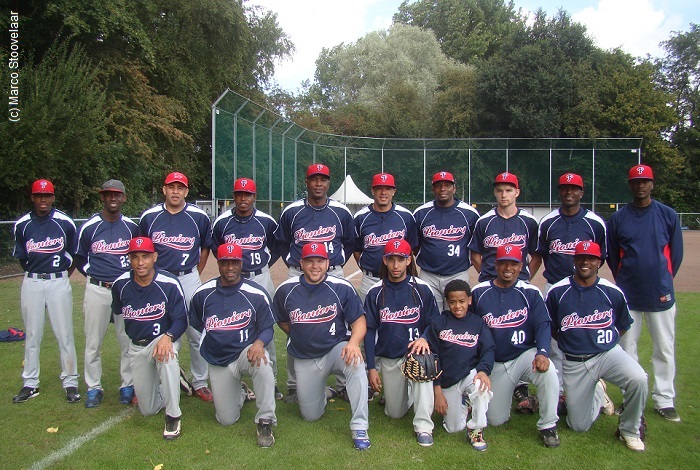 ...Hoofddorp Pioniers (Hoofddorp)...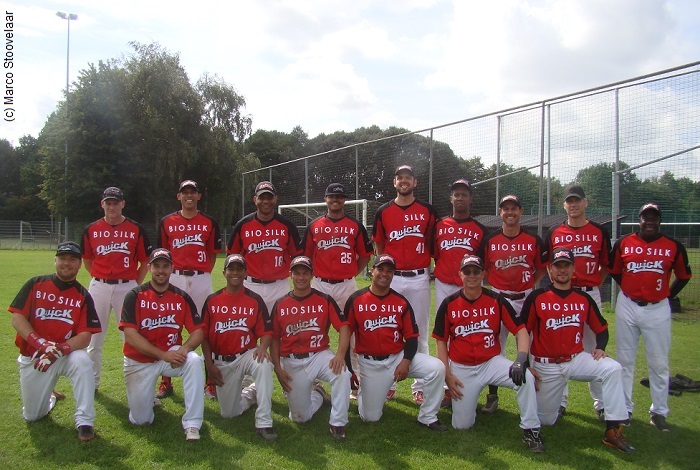 ...Quick Amersfoort (Amersfoort)...
The Umpires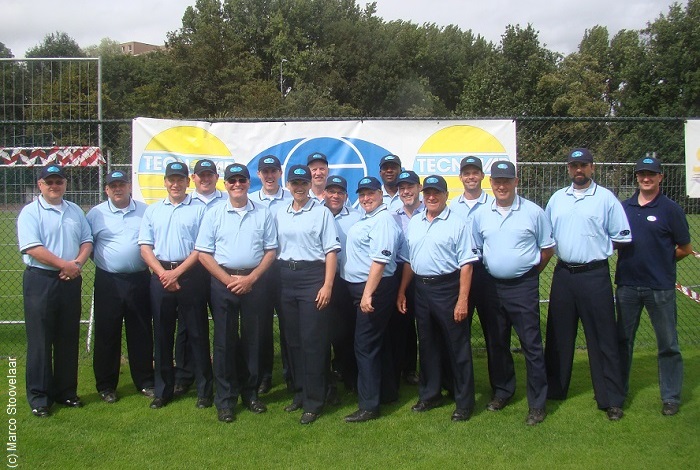 ...The Umpires...
...Pavel Vychodsky (Czech Republic), Peter Vonk (Netherlands), Harald Schmidt (Germany),...
...Arjan de Wever (Netherlands), Ian Brown (Canada), Franck Lautier (France),...
...Mariana Atanasova (Bulgaria), Bob Milosavljevic (Croatia), Giuseppe Laudani (Italy),...
...Sabrina Fabrizi (Italy), Louis Rohan (Netherlands), Roberto Valentinis (Italy),...
...Richard Silva (USA), Jens Jakobsen (Denmark), Louis Vischschoonmaker (Belgium),...
...Jiří Dostál (Czech Republic) and Joeri Tobback (Belgium, Asst. Umpire-in-Chief)...
...Not in the picture are François Mays (France) and Angelo Nearco (Italy)...

...Idelgardo Raap hitting for Hoofddorp...

...Belgian umpire Louis Vischschoonmaker...

...Czech umpire Jiří Dostál has a chat with...
...Randy Lo-A-Tjong of Hoofddorp Pioniers...

...Italian umpire Sabrina Fabrizi sits behind catcher...
...Krystof Effenbeck of Ballerup Vandals...

...Brasschaat-pitcher Roman Godoy Herbel...

...Brasschaat Braves (Belgium) vs. Stenløse Bulls (Denmark)...

...Daniel Cerný hitting for Czech Under 23...
...Catcher is Gaetan Uyersprot; Umpire is Angelo Nearco...

...Eddy Russo pitching for Borgerhout Squirrels...
...At left is 3B Nicky cachard...

...Danish umpire Jens Jakobsen...

...Italian umpire Angelo Nearco...

...Bulgarian/Dutch umpire Mariana Atanasova...

...Jiří Korćak (Czech U23) steals 2nd base...

...Sebastián Gervasutti pitching for Roma...

...The DVH-groundcrew did a fine job this week...

...After it rained, the fields were made playable again...

...The tournament souvenir-stand...

...Arnold Whitfield with DVH-coach Cardy Brown...

...Bulls-pitcher Kim Hansen...

...Mike den Braven played for the Hurricanes...

...3B Tim Verbrugge played for the Bulls...

...Dutch umpire Arjan de Wever...

...Kenny Dame also played for the Hurricanes...

...Jeremy Manley pitching for Hørsholm Hurricanes...

...Hørsholm-catcher Anders Hansen & Dutch umpire Peter Vonk...

...There were dark clouds and rain in the morning...
...on the final day of the event...

...In the afternoon, the weather cleared...
...and the sun shined in a blue sky...

...1B Dč Flanegin, P Angel Brunken and 2B Glennsig Polonius...
...playing for Pioniers in the ESF-final...

...Jarrod McDonald pitched in relief for Pioniers...
...in the ESF-final...

...Adam Folkard was the winning pitcher for DVH...
...in the Super Cup-final...

...DVH celebrates the winning of the Super Cup...
...moments after ending the final...

...The Super Cup and ESF Cup...



...Organizing Committee Chairman Caroline Theunissen...
...addresses teams and spectators...

...Ami Baran, Secretary General of the ESF...
...thanks the organising club...

...Best Pitcher (ESF Cup) Angel Brunken gets his award...
...from Conny Chwojka (Chief Technical Commissioner)...

...Best Hitter (ESF Cup) César Lopez (Majos)...
...received his award from Rienette Hamers (Scoring Director)...

...ESF Cup MVP Huemul Mata Carbajal (Magos)...
...with Pavel Prachař ((Umpire-in-Chief)...

...Ballerup Vandals (Denmark) gets the Bronze Medal...
...handed out by Joeri Tobback (Assistant Umpire-in-Chief)...

...Magos de Tenefire (Spain) receives the Silver Medal from...
...Organization-Secretary Marjan de Groot...

...More medals for Magos...



...The Gold Medals for Hoofddorp Pioniers are handed out by...
...Joost Comperen (KNBSB Boardmember) and Ami Baran...

...ESF Cup-winner Hoofddorp Pioniers...



...Conny Chwojka handed out the Best Pitcher (Super Cup)...
...Award to Adam Folkard of DVH...

...Rienette Hamers handed out the Best Hitter (Super Cup)...
...Award to Frederik Terkelsen Brask of Hørsholm...

...Pavel Prachař handed out the MVP-Award (Super Cup)...
...to Jerome Haretuku of DVH...

...Stenløse Bulls (Denmark) gets the Bronze Medal...

...which are handed out by Joeri Tobback...

...More medals are waiting...
...and so is the Super Cup...

...Marjan de Groot and Caroline Theunissen hand out the...
...Silver Medals to Hørsholm Hurricanes (Denmark)...

...Time to honor Super Cup-winners DVH...

...Joost Comperen and Ami Baran hand out the medals...

...More medals for DVH...



...DVH Head Coach Norman Ames thanks the organization...
...the sponsors and the spectators...

...Joost Comperen hands out the Super Cup to DVH...

...Celebration time...

...Norman Ames gets showered...

...But his Assistant Cardy Brown also was in the middle of it...

...Super Cup-winner DVH...

...Time for champaign...

...More celebrations...

...Norman Ames drinks champaign from the Super Cup...

...DVH and Hoofddorp Pioniers, winners of the Super Cup and ESF Cup...
...Two Dutch winners for the first time since 2006...
(© All photos: Marco Stoovelaar)