Bill Gates new Head Coach of Tex Town Tigers
Nederlands

ENSCHEDE (Neth.) - Bill Gates is the new Head Coach of Tex Town Tigers, the club announced on Saturday-evening, October 1. No, unfortunately for the club (and for Dutch softball), this is not the wellknown American multi-billionaire. We're talking about William Gates, who is born and raised in Sydney (Australia) and he will lead Tex Town Tigers in the 2012 season.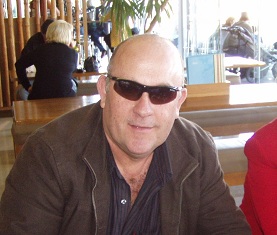 ...Bill Gates...
...New Head Coach TTT...

Bill Gates is a very successful softball coach in Australia, who has been active 'down under' for more than 20 years. In his coaching career, he guided five teams of New South Wales to a National Championship, three times the Under-16 Girls consecutively (2003-2005) and twice the Under-19 Girls Team. On two occassions, his team was a runner-up in the championship.

Gates also has been an Assistant Coach for the Under-19 National Team and has worked together closely with Karen Marr, the current Pitching Coach of the Dutch National Softball Team, who is also from Australia.

Gates will be assisted by Rob Hassink, who also was with the team during several games this season, either as a Head Coach or Assistant Coach. Hassink was one of several coaches, who led the team after it separated with American Coach Meagan Hartung early in the season. The latter stepped down on April 29 after the team lost its first six games.
Since then, Rob Hassink and Stanley Kock were the two coaches, who led the team in the remainder of the season. During the European Cup-tournament in Italy, the team was led by its former Head Coach Monti VanBrunt, who was assisted by Michael Bastian. In the final, Tex Town Tigers shutout Oolders Omaco Sparks Haarlem 6-0 to win the Cup for the second year in a row.
The goals for 2012 are reaching the Play-Offs again and successfully defend the European title. This season, Tex Town Tigers finished in fifth place, missing the Play-0ffs for the first time after five years. In 2008 and 2009, the team was Dutch champion.
(October 3)