Sparks Haarlem prolonges Dutch championship!
Nederlands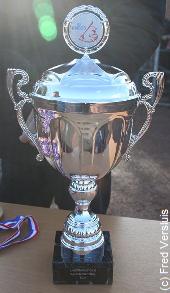 ...The Championship Trophy...
(© Photo: Fred Versluis)

SANTPOORT (Neth.) - Oolders Omaco Sparks Haarlem on Saturday, October 8, won 11-3 in six innings vs. Iber Lengua Terrasvogels to complete a 3-game sweep and capture its second consecutive championship title.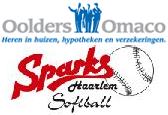 Sparks Haarlem initially failed to hold onto a 3-0 lead, as Terrasvogels came alongside, but then rallied for five runs after a 15-minute rain delay in the fifth inning and added three more runs in the sixth to end the game prematurely due to the run-difference. The championship is the 19th in history for the club, including 11 by its predecessor HHC.
This years Holland Series was the tenth in history between Sparks Haarlem and Terrasvogels and the first since 2007. Four years ago, Terrasvogels had swept Sparks Haarlem 3-0. With this years win, Sparks Haarlem and Terrasvogels now each have won five when facing each other. Terrasvogels has won 18 of the 34 Holland Series-games played against Sparks Haarlem.
It was the eighth championship Sparks Haarlem captured through the Holland Series, which was first played in 1982. The team won six of these titles on the road. The only titles that were won in a home game were captured in 2006 and 2010.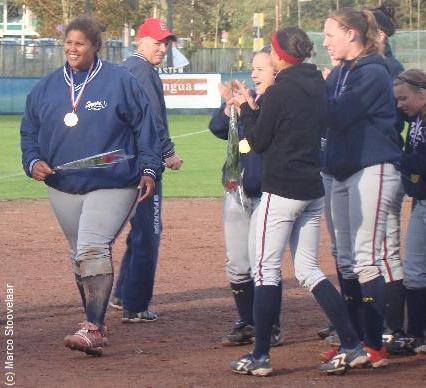 ...Debby Connor is being named MVP...
(© Photo: Marco Stoovelaar)

Debby Connor was named Most Valuable Player of the Holland Series, resulting in an unique situation. On September 11, her brother Wesley Connor was named MVP of the baseball Holland Series, when he captured the Dutch championship title with L&D Amsterdam Pirates. It marks the first time in history that two relatives were named Holland Series MVP in the same season.

Another unique fact happened today, as Areke Spel was a member of a championship team for the fourth year in a row! In 2008 and 2009, she won the Dutch title with Computer SOS Tex Town Tigers, then last year and this season captured the championship with Sparks Haarlem. For Marloes Fellinger, who returned into action during the Play-Offs, this was her seventh Dutch championship with the club since her first season in Haarlem in 2002. Rebecca Soumeru celebrated her fifth Dutch championship as player of Sparks Haarlem. She missed the 2006 championship, as she was playing in Italy in that season.

Initially, it didn't appeared that the game could be played today. On Friday, it rained heavily in the area, making the field unplayable. But as it dried up during the previous night, the field was worked on and became playable again. However, shortly before the game was about to begin, a brief, but heavy, rainshower appeared to spoil today's game after all. But, the rain passed by and the game could start as scheduled. In the fifth inning, when Sparks Haarlem had the bases loaded and the score was tied at 3-3, the game was interrupted by rain. After a 15-minute delay, the game resumed and then Sparks Haarlem rallied for five runs to take a definitive lead.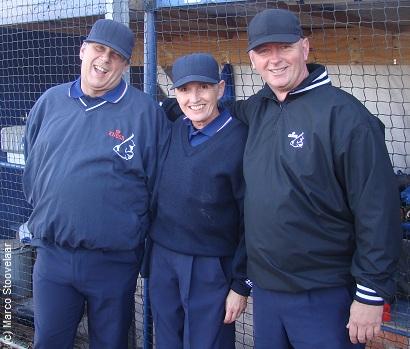 ...Retiring umpire Carolien Stadhouders with her...
...colleagues Peter Vonk (left) and Rob Veldkamp...
(© Photo: Marco Stoovelaar)

Today's game was led by Home Plate Umpire Carolien Stadhouders, who officiated in her last game on top-level. The veteran umpire, who was named Umpire of the Year in 1995 and 1999, will not leave the playing field entirely. She will work with new and talented umpires in the future, which means that she might accompany them as an umpire in games on a lower level. In 18 seasons on the big league-level, Carolien Stadhouders officiated in hundreds of games and became a well respected and liked umpire.

Also internationally, she earned her wings. She was assigned to three Olympic Qualifying Tournaments, was an umpire during the 2000 World Men Championship and officiated in two Women World Championships in 2002 (Canada) and 2010 (Venezuela). During last year World Championship, her international qualities were underscored, as she was the Home Plate Umpire in the final in Caracas (Venezuela). Carolien also worked on six European Championships (three women, three men), nine European Cup-tournaments and one World Junior Championship.

After completion of the game, and between handing out the silver and gold medal, Carolien Stadhouders was recognized by members of the board of both Terrasvogels and Sparks Haarlem.

The handing out of the medals was done by Dutch National Team Head Coach Craig Montvidas and Pitching Coach Karen Marr. After the game and during the medal-awarding, there was general amazement to the fact that no member of the board of the Dutch Federation was in attendance to hand out the Championship Trophy. Umpire Commissioner Bert Loggen led the Awards Ceremony and he did a fine job.
---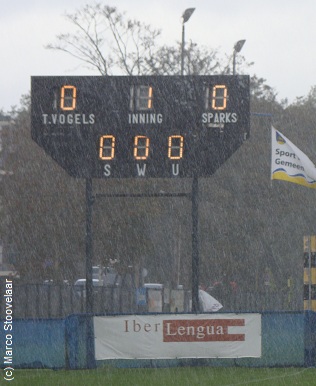 ...It briefly rained heavily...
...just before the game...
(© Photo: Marco Stoovelaar)

Sparks Haarlem took an early 3-0 lead in the first inning off starter Kate Vanderham, who gave up only one basehit, but that combined with four free passes led to the runs. With her first delivery, she hit lead-off hitter Chantal Versluis, who then stole second base. Next batter Saskia Kosterink then appeared to be eliminated at first base on her sacrifice bunt, but she was ruled safe as 1B Umpire Peter Vonk stated that 2B Meike Witteveen was off the base when she received the throw. Versluis advanced to third base on the sac-bunt and then the bases got loaded when Areke Spel also was hit by a pitch. Next, Debby Connor singled to bring in two runs and give Sparks Haarlem a 2-0 lead. A walk then followed for Julie Owen to load the bases again and then the three runners were all awarded a next base when an illegal pitch was called. Another basesloaded situation followed when next batter Virginie Anneveld also walked. Ginger de Weert was then brought in to relief Vanderham and finished the inning with three outs. First, Connor was forced out at home on a grounder by Shannah van der Kaaij, then Michelle van Driel struckout and Celine van Roon flied out.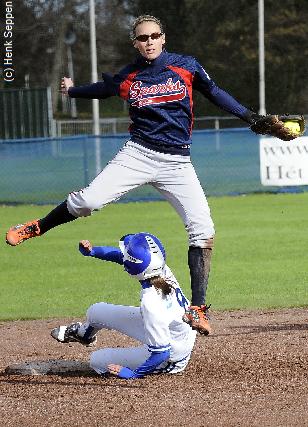 ...Solange Starrenburg steals 2nd base...
...in the first inning...
(© Photo: Henk Seppen)

Terrasvogels immediately got two runs back off Sparks-starter Dagmar Bloeming. Meike Witteveen led off with a walk and advanced to third base on a single by MarisŤla de Wind, who herself moved on an outfield-error. Witteveen then scored the first run on a passed ball and De Wind scored when Solange Starrenburg followed with a single. Next, Starrenburg stole second base, but was unable to advance on an infield-hit by Kate Gentile. But then, the inning ended when Anouk van den Heuvel grounded into a double play and MariŽlle Vleugels grounded out.

After taking over in the first inning, Ginger de Weert threw three fine innings. Starting with the three outs during her pitching in the first at bat, De Weert retired 12 of the 13 batters she faced through the fourth inning. She only gave up a 2-out single to Virginie Anneveld in the third inning. But things changed in the fifth at bat.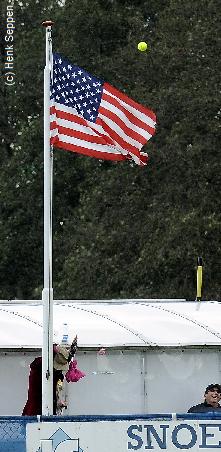 ...Kate Vanderham's HR...
...lands on a dug-out...
(© Photo: Henk Seppen)

After giving up the two runs in the first inning, Dagmar Bloeming got four more baserunners in the next three at bats. In the second inning, she walked Eva de Bruin with one out and gave up a single to Meike Witteveen with two outs, but the two were left behind. In the third inning, Solange Starrenburg led off with a single and stole second base, but then three outs followed. But then, in the fourth inning, Kate Vanderham led off with a towering homerun over the centerfield-fence hitting the roof of the dug-out of the field beyond. With the homerun, Terrasvogels tied the score at 3-3, but then the next three batters were retired.

In the fifth inning, Sparks got the bases loaded with one out. Saskia Kosterink led off with a single, then Areke Spel flied out. Kosterink was then caught stealing, but that was reversed as batter Debby Connor walked. Next, a hit by Julie Owen then ended in an outfield-error. Connor then almost passed Kosterink, who was waiting on second base, and Connor almost was passed herself by Owen who was running towards second base. But then Kosterink was able to advance to third base in time, with Connor reaching second and Owen getting back in time on first base. After all this action, rain interrupted the game. After a 15-minute delay, the game resumed with pinch-runner Ardine Schemmekes at second base for Connor and then Sparks re-took the lead when Kosterink scored on a wild pitch.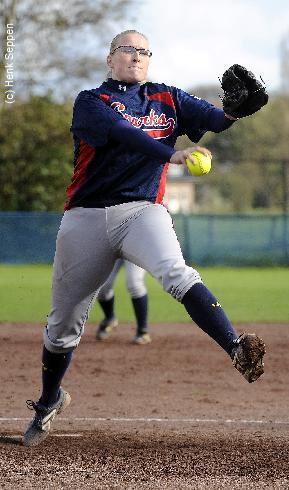 ...Winning pitcher Dagmar Bloeming...
(© Photo: Henk Seppen)

Virginie Anneveld followed with a 2-run single that made it 6-3 and that led to another pitching change. Kate Vanderham returned as pitcher, but she started by hitting Shannah van der Kaaij, then gave up a single on the rightfield-line by Michelle van Driel that loaded the bases. Hereafter, pinch-hitter Marloes Fellinger also singled to bring in another run, scored by Silea Bos who had taken over as pinch-runner for Anneveld. MariŽlle Vleugels then became the third pitcher in this at bat and saw Chantal Versluis hit a sacrifice fly that increased the lead to 8-3. Another flyout ended the inning, but Sparks had taken a commanding lead.

In the sixth inning, Sparks Haarlem added three more runs off Vleugels. Areke Spel led off with a single and Debby Connor followed with a double. With one out, the bases got loaded when Virginie Anneveld walked. Shannah van der Kaaij then followed with a force play-grounder, but Spel beat the throw to home and scored. Singles by Michelle van Driel and Celine van Roon then gave Sparks two more runs and made it an 11-3 score. Connor scored on Van Driel's single and Anneveld on the hit by Van Roon, which kept the bases loaded. Next, Chantal Versluis hit the ball into short leftfield where it appeared to drop for a basehit. On the hit, Van der Kaaij left for home and went to score, but in the meatime leftfielder Eva de Bruin made a fine catch. Terrasvogels then accurately appealed at third base, as Van der Kaaij never had returned to the base when the ball was caught and she was ruled out by Umpire Rob Veldkamp.

After giving up the homerun in the fourth inning, Dagmar Bloeming recovered fine and retired the last nine batters she faced. In the sixth inning, a line drive by Kate Vanderham to 1B Shannah van der Kaaij ended the game, as the mercy-rule came into effect due to the run-difference.

Players of Sparks Haarlem then erupted on the field to celebrate the championship.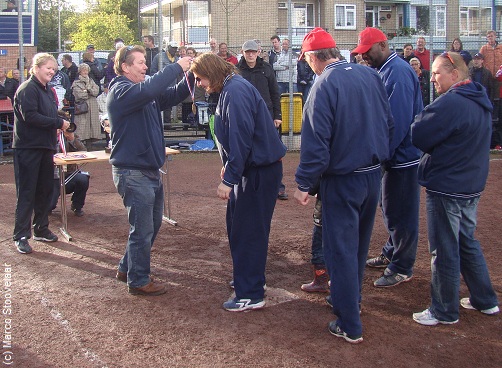 ...Craig Montvidas and Karen Marr hand out the...
...Gold Medals to the staff of Sparks Haarlem...
...Left to right: Bench Coach Jacqueliene de Heer,...
...1B Coach Marcel Schippers, Head Coach Juni Francisca...
...and Physical Therapist Sandra Nypels...
(© Photo: Marco Stoovelaar)

Hereafter, it was up to Umpire Commissioner Bert Loggen to take the microphone and address the teams and the spectactors in closing the big league-season. First, the players and staff of Iber Lengua Terrasvogels were handed out the Silver Medal. Of course there was disappointment within the team, that was plagued by several injuries in the last few weeks (Marije Schoenmaker missed the entire Series, Dana Horeman was unable to play today), but in the end, everyone involved had a good feeling with the Silver Medal. The team, which had several new players and a new Head Coach, had three goals this season, which were reaching the Holland Series, reaching the European Cup final and securing European play for next season. All three goals were accomplished by the team, which was led for the first time by Head Coach Tim Verbrugge.

Next, it was time to honor retiring umpire Carolien Stadhouders, who got a nice applause from players, coaches and fans. Nina van Huissteden, vice-president of Terrasvogels, and Sandra Nypels, president of Sparks Haarlem, personally thanked Carolien on behalf of their clubs.

Bert Loggen then continued by bringing forward players and staff members of Oolders Omaco Sparks Haarlem to receive the Gold Medalds, which were handed out again by Dutch National Team Head Coach Craig Montvidas and his Pitching Coach Karen Marr.

Hereafter, Loggen announced that Debby Connor was named the Most Valuable Player of the Holland Series.

And then it was time to hand out the Championship Trophy to team-captain Areke Spel.

And so, the 2011 season came to an end. Another exciting softball season is in the books. The 2012 season has started!

(October 8)

...Umpire Carolien Stadhouders clearly is...
...in thoughts moments before starting...
...her last game on the top-level...
(© Photo: Marco Stoovelaar)

...Solange Starrenburg steals second base in 1st inning...
...Chantal Versluis jumps up and Julie Owen covers...
...Umpire Rob Veldkamp looks into the action...
(© Photo: Fred Versluis)

...Kate Vanderham is mobbed after...
...tying the score with a homerun...
...in the fourth inning...
(© Photo: Henk Seppen)

...Saskia Kosterink is caught stealing and called out by...
...Umpire Rob Veldkamp in the 5th inning after being tagged by...
...MariŽlle Vleugels, but the call is reversed as the batter walks...
(© Photo: Fred Versluis)
...A lot of action on the basepaths in the fifth inning after the walk-reversed out-call...
...At left, Debby Connor moves back when Saskia Kosterink leaves 2nd base after an apparent flyout turns into an error....
...While Saskia moves to 3rd base (photo right), Debby reaches 2nd base, but batter Julie Owen, who ran towards 2nd,...
...quickly has to return to first base, while Short Stop Anouk van den Heuvel and Umpire Peter Vonk check the action...
(© Photos: Fred Versluis)

...With the bases loaded in the 5th inning, the game is...
...interrupted by rain for 15 minutes...
(© Photo: Marco Stoovelaar)

...Ardine Schemmekes comes in as...
...pinch-runner when the game...
...resumes after the rain-delay...
(© Photo: Fred Versluis)

...Moments later, Ardine Schemmekes (14) and Julie Owen (7) score on a...
...single by Virginie Anneveld. Catcher Kate Gentile looks at the situation...
...and Shannah van der Kaaij tells the runner what to do...
(© Photo: Fred Versluis)

...After scoring, Julie Owen is greeted by Shannah van der Kaaij...
(© Photo: Henk Seppen)

...The inning ends with a flyout by Solange Starrenburg...
(© Photo: Henk Seppen)

...In the 6th inning, Debby Connor doubles...
...2B Meike Witteveen barely misses tagging her out...
(© Photo: Henk Seppen)

...Later in the at bat, Debby Connor scores the 10th run...
...for Sparks Haarlem on a single by Michelle van Driel...
(© Photo: Henk Seppen)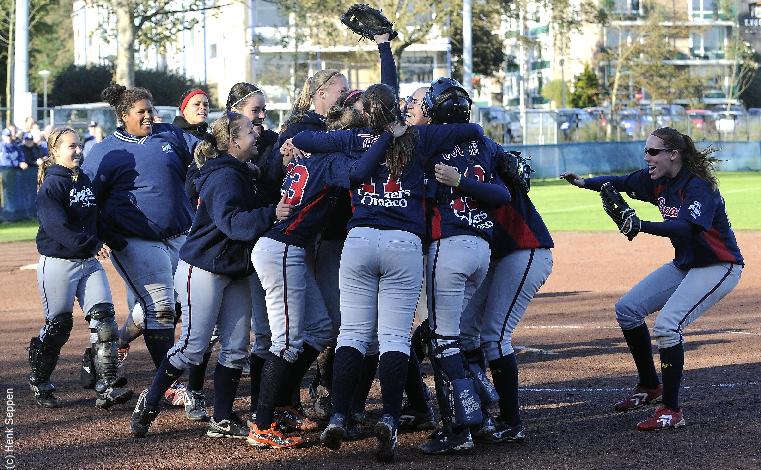 ...At 4:42 PM, the game ends and Sparks Haarlem erupts in celebration...
(© Photo: Henk Seppen)

...Players of Terrasvogels congratulate Sparks Haarlem with the title...
(© Photo: Fred Versluis)

...Debby Connor opens the champaign...
(© Photo: Fred Versluis)
...Karen Marr and Craig Montvidas hand out the Silver Medals to players and staff of Iber Lengua Terrasvogels...
...At left, MarisŤla de Wind and Kate Gentile get their medal, at right Coaches Tim Verbrugge and Helen Kuyper...
(© Photos: Marco Stoovelaar)
...Terrasvogels' Vice-President Nina van Huissteden (left) and Sparks Haarlem's President Sandra Nypels...
...honor retiring Umpire Carolien Stadhouders; standing at right is Dutch Team Head Coach Craig Montvidas...
(© Photos: Fred Versluis)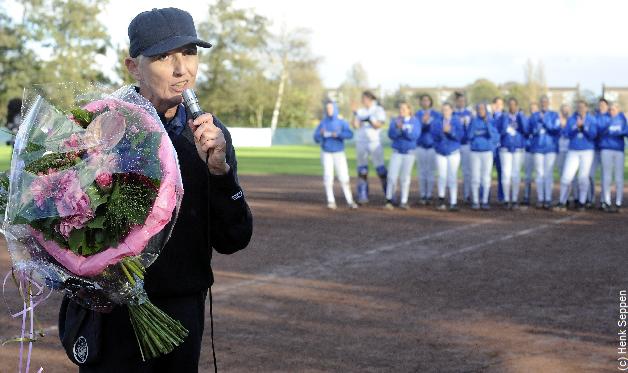 ...Umpire Carolien Stadhouders thanks all players, coaches and...
...colleagues she worked with through the years...
(© Photo: Henk Seppen)

...Craig Montvidas hands the Gold Medal to...
...Beau van Gelder, to be followed by Ardine Schemmekes,...
...Chantal Versluis, Virginie Anneveld and Saskia Kosterink...
(© Photo: Marco Stoovelaar)

...While the players are being decorated...
...Wouter Hoos, the scorekeeper and announcer...
...of Sparks Haarlem awaits his turn...
(© Photo: Marco Stoovelaar)

...Virginie Anneveld with her Gold Medal...
(© Photo: Marco Stoovelaar)

...Head Coach Juni Francisca gets his medal...
(© Photo: Marco Stoovelaar)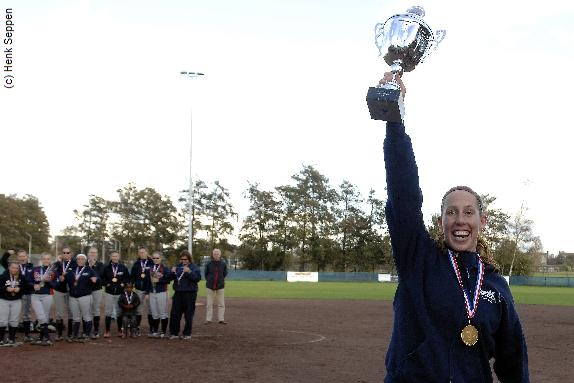 ...Team-captain Areke Spel shows the Championship Trophy...
(© Photo: Henk Seppen)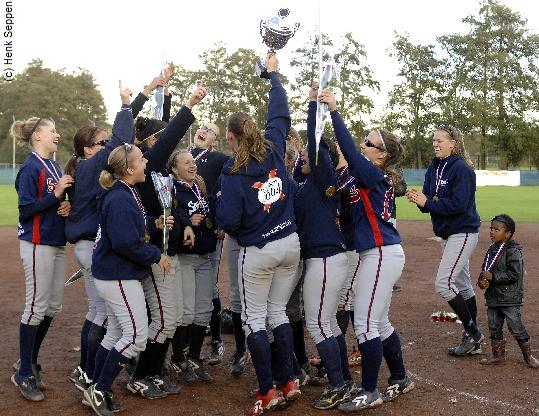 ...The team celebrates the championship...
(© Photo: Henk Seppen)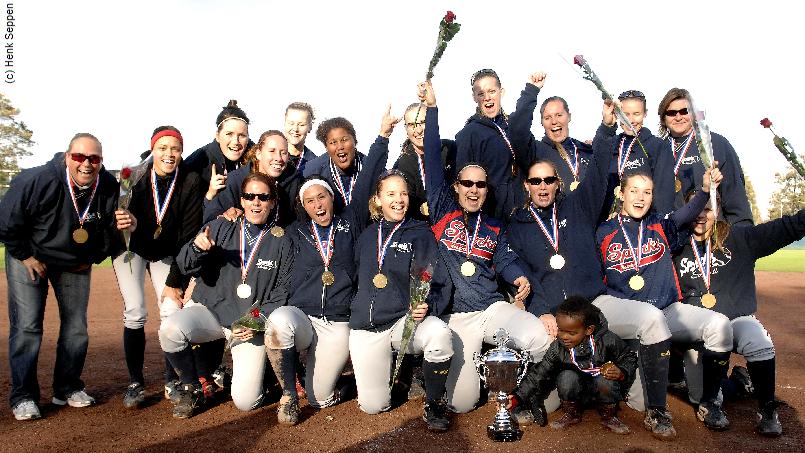 ...Oolders Omaco Sparks Haarlem - Dutch Softball Champion 2011...
(© Photo: Henk Seppen)