Softball-teams close additonal rounds
Nederlands



SANTPOORT / HAARLEM / DE BILT (Neth.) - The teams in the Dutch big league on Saturday closed the additional rounds that followed the regular season. The top-4 played four games in which was shown that they really didn't matter. In the Play-Downs, another double-header was played which had no influence on the final standings.

The additional round again was played with mixed feelings. Last year, it was introduced for the first time to determine the final ranking of the top-4 in order to set up the combinations for the following Play-Offs. But as the teams keep their won-loss record of the regular season, things didn't change. That meant that the final ranking was reached on the first day of play in this round last Saturday, which followed a rainout the week before. While the Play-Offs now were set, the games of the second round (which were make-up games played last Sunday) and in the third round (today) had to be played according to the schedule. Therefore, it was frequently said that the additional round had no function and the Play-Off combinations simply have to made up after completion of the regular season, as it was done through 2009. However, when the season formula was discussed for last season as well as this season, clubs opted to play more games and so the additional round was introduced.

Today, Iber Lengua Terrasvogels met Olympia Haarlem and started with a 7-4 loss, but then won Game 2, 6-2. Oolders Omaco Sparks Haarlem narrowly won 1-0 vs. Alcmaria Victrix, followed by a 9-0 win.

The Play-Downs are being played to determine the team that relegates as well as the one that has to play a Promotion/Relegation Play-Off. But as the league existed of seven teams this season after Euro Stars withdraw before the competition started, the only decision that had to be made was the team that had to play in the mentioned Play-Off series. That decision also was reached on the first day of play, meaning last weeks and today's games had no influence anymore. Tex Town Tigers won 1-0 and 6-1 vs. Centrals, which will be the team that faces UVV of the 'Overgangsklasse' in the best-of-five series to determine which of the two teams will play in the highest league next year. With the two wins, Tex Town Tigers (which captured the European Cup a few weeks ago) finished in fifth place overall.

On Saturday, September 17, the best-of-five Play-Offs will open with two double-headers. Reigning champion Oolders Omaco Sparks Haarlem opens at home vs. Olympia Haarlem, while Iber Lengua Terrasvogls hosts Alcmaria Victrix. Both double-headers start at 2 PM.

Also starting on Saturday is the best-of-five between Centrals and UVV at De Bilt, also starting at 2 PM.
---

Iber Lengua Terrasvogels vs. Olympia Haarlem
At Santpoort, Olympia scored four runs in the third and three in the fourth inning to take a 7-0 lead in Game 1 vs. Terrasvogels, which commited four errors.

In the third, Olympia hit three basehits, including a 2-run double by Maranca Ham and an RBI-single by Rosanne de Vries, while another run was scored on an error. Marit Molenaar and Elena Leon led off with walks, then the error was made on a grounder by Laura Burggraaf, resulting in the first run. With one out, Dinet Oosting singled, then Ham followed with her double and De Vries with her single.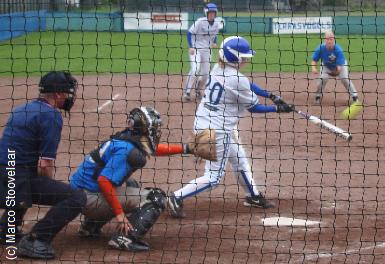 ...Rebecca Duindam connects for her 3-run triple...
(© Photo: Marco Stoovelaar)

In the fourth inning, Olympia added four hits, including a 2-run triple by Dinet Oosting and an RBI-single by Maranca Ham. Gwen Brinkman led off with a single and Marit Molenaar reached on an error, then the bases got loaded when Elena Leon also singled. After a double play, Oosting hit her triple and Ham followed with her single to make it 7-0. In the remainder of the game, Olympia added only two more basehits and in the end had the same total of hits Terrasvogels registered.

Terrasvogels got three runs back in the fifth inning. The bases got loaded when Dana Horeman walked, Eva de Bruin singled and Lotte Holvast also walked. Next, Meike Witteveen doubled to clear the bases and make it 7-3. The fourth run was added in the seventh inning when Eva de Bruin led off with a single and scored on an one-out single by MarisŤla de Wind.

In Game 2, Olympia held an 1-0 lead when Terrasvogels rallied for six runs in the sixth inning. In the first inning, Olympia opened the score when Elena Leon reached on an error and scored on a wild pitch.

In the sixth inning, Terrasvogels scored six runs on seven hits. With one out, MariŽlle Vleugels doubled and Anouk van den Heuvel walked. The bases then got loaded when Marije Schoenmaker singled. Next, the first run was scored on a single by Floor Roest, then pinch-hitter Rebecca Duindam tripled to bring in three more runs. Moments later, she scored herself on a single by Meike Witteveen. With two outs, Solange Starrenburg also singled, then Kate Gentile brought in another run with a single. The bases then got loaded again when MariŽlle Vleugels walked, but the three runners were left behind when a flyout ended the at bat. In the top of the seventh, Olympia scored its second run on a solo-homerun with two outs by Elena Leon.
---
Alcmaria Victrix vs. Oolders Omaco Sparks Haarlem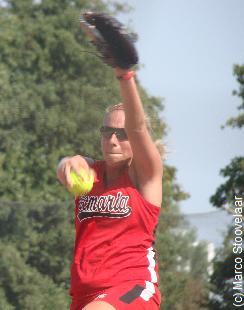 ...Femke van Dusschoten...
...11 StrikeOuts...
(© Photo: Marco Stoovelaar)

At Alkmaar, Sparks Haarlem won only 1-0 in Game 1 against Alcmaria Victrix. The lone run was scored in the second inning when Chantal Versluis and Julie Owen hit back-to-back triples with one out off Femke van Dusschoten, who had a good outing and struckout eleven batters, while giving up five hits.

In this game, Sparks had changed its batting order. The regular top-four batters were switched with the bottom part of the order and now were listed from the fifth spot on.

In Game 2, the batting order was reversed again, but Sparks played without its regular lead-off batter and short stop Chantal Versluis, as rookie Beau van Gelder was the short stop in this game.

Sparks decided the game with a 4-run rally in the first at bat without hitting a basehit (!), as Alcmaria-starter Malou van Dusschoten walked six batters and an error also contributed. Julie Owen, Areke Spel, Shannah van der Kaaij and Debby Connor, the first four batters, all walked to produce the first run. A force out on a grounder by Michelle van Driel then led to the second run. With two outs, two runs were scored a throwing error on a grounder by Celine van Roon and that made it 4-0. Hereafter, the bases were re-loaded when Silea Bos and Beau van Gelder also walked. Jessie van Aalst was then brought in as new pitcher and ended the inning by striking out Julie Owen.

Sparks Haarlem added two runs in the fourth inning thanks to a double by Debby Connor and a wild pitch. Three more runs were then scored in the fifth inning on a 2-run double by Shannah van der Kaaij and an error.
---

Centrals vs. Tex Town Tigers
At De Bilt, Tex Town Tigers decided the first game vs. Centrals in the seventh inning. Nadine Marinus led off with a single, moved on a wild pitch with one out, then reached third base on a bunt-single by Marije ten Thij, then could score the lone run when an error followed.

In Game 2, Tex Town Tigers scored the first run in the first inning when Merel Oosterveld led off with a bunt-single and scored on a wild pitch. The team added a run in the third inning when Lynn Dollekamp led off with a single and scored on a 2-out single by Jenna DeLong.

In the third inning, Centrals got one run back when Laura Bakker reached on an error and scored on a double by Marina Gusman Brown.

Tex Town Tigers added two runs in the fourth inning when Marit van Vulpen walked and Myrthe Smid singled and then both scored on a double by Marije ten Thij. In the fifth, TTT made it 5-1 when Jenna DeLong scored on a wild pitch, then the last run was scored in the seventh when DeLong led off with a triple and scored on a sacrifice fly by Mieke Smit-van der Zwaan.

(September 10)