Sparks Haarlem, Terrasvogels open Play-Offs with wins
Nederlands


HAARLEM / SANTPOORT (Neth.) - Reigning champion Oolders Omaco Sparks Haarlem and Iber Lengua Terrasvogels opened the best-of-five Play-Offs on Saturday with victories. Sparks Haarlem shutout Olympia Haarlem twice with scores of 4-0 and 8-0, while Terrasvogels shutout Alcmaria Victrix 4-0 in their rainshortened opener. The game was halted in the bottom of the fifth inning and therefore is a valid game, but Game 2 had to be canceled, as the field had become unplayable after a short but heavy rainshower. The game was re-scheduled for Sunday-afternoon.

Sparks Haarlem will continue its series next Saturday at Olympia Haarlem, while Terrasvogels will then travel to Alcmaria Victrix, but first have to play their make-up game.

The Play-Off system was first introduced in 1982 and as there were no Play-Offs in some years, this is the 25th time Play-Offs follow the regular season. This year, in both the Play-Offs and Holland Series, double-headers are being played which is the first time since 1994. Double-headers were only played in the Play-Offs in 1991, 1992 and 1994.

This years Play-Offs also mark the seventh time in history that all four teams are coming from the same province, being Noord-Holland. The last time this happened was in 1995 when Amsterdam Pirates, HCAW, Sparks and Terrasvogels played for the Dutch championship.
---
Oolders Omaco Sparks Haarlem vs. Olympia Haarlem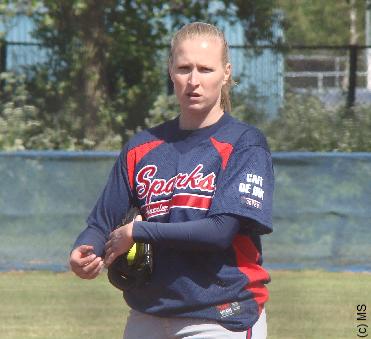 ...Dagmar Bloeming...
...Six perfect innings; one-hitter...
(© Photo: Marco Stoovelaar)

At Haarlem, Sparks Haarlem gave up no runs against Olympia Haarlem in the first two games of the first inter-city Play-Off since 2004. It marks the sixth time in Play-Off history that two teams from the same city faced each other and each time Sparks was involved, while Olympia has been involved now for the fourth time. In 1984, HHC (the predecessor of Sparks Haarlem) played a best-of-3 against DSS in the first Play-Off between two teams from the same city. It the took until 1998 for the next one to take place when Sparks Haarlem met TYBB in a best-of-three in the first round, then advanced and met DSC '74 (the predecessor of Olympia Haarlem) in the next best-of-three. In 2003 and 2004, Sparks and DSC '74 met each other in a best-of-five. Sparks has won five of these series, except the one in 2003 when DSC '74 won the series 3-2 and went on to become Dutch champion. A year later, Sparks swept DSC in three games. For Sparks, this is its 18th consecutive Play-Off appearance in a row.

When Play-Off appearances of HHC and Sparks Haarlem are combined, this marks the 23rd time that the team participates, while this is the fifth for Olympia Haarlem, but first under its new name.

Game One started 10 minutes later than scheduled, as two of the three umpires were stuck in traffic on their way to Haarlem. But once the game started, Sparks-pitcher Dagmar Bloeming dominated, struckout 10 batters and gave up only one basehit. The National Team-pitcher was throwing a Perfect Game for six innings, then gave up a lead-off single in the seventh that ended it.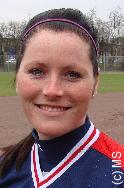 ...Marloes Fellinger...
...Comeback...
(© Photo: MS)

Making her comeback (again) in the Sparks-team was veteran player Marloes Fellinger, who played both games at third base. There, she filled in for Virginie Anneveld, who currently is sidelined with a hamstring-injury. She sustained the injury two weeks ago and also didn't play last weekend in the final games of the additional round. Then, Julie Owen played at third base, but today she returned to her regular position at second base, as Fellinger was able to fill in at third base. In her comeback, Fellinger was 3-for-4 with a double and four RBI's.

In the first innings, pitchers Dagmar Bloeming and Amanda Lindsey equaled each other. Bloeming held Olympia off base in the first four innings and Lindsey gave up only one hit in the first three, but then had to leave the game in the fourth due to an injury. In the top of the first inning, Bloeming began with two strikeouts, then a flyout ended the at bat. In the first Sparks at bat, Debby Connor walked with two outs, but was left behind.

In the second and third inning, Bloeming added three strikeouts, while Lindsey gave up a lead-off single in the second inning to Fellinger, but followed with two strikeouts and a grounder.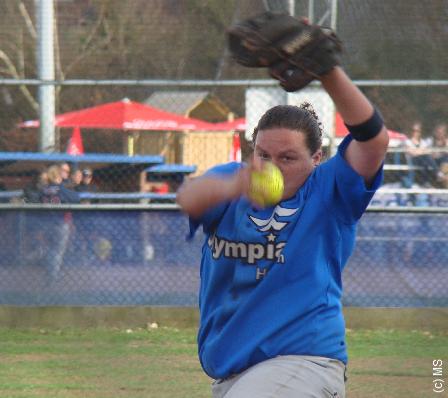 ...Amanda Lindsey...
...Injury...
(© Photo: Marco Stoovelaar)

After Bloeming had retired the side again in the fourth, her teammates struck in the bottom half. Debby Connor led off with a line drive off the wrist of Amanda Lindsey, who therefore was unable to continue as pitcher and left the game. In the hospital, it was diagnosed that she has a severe bruise, but probably will be able to pitch again next Saturday in Game 3. After Connor's single, Rosanne de Vries (who played in rightfield) took over the pitching and gave up a single to Julie Owen Hereafter, Ardine Schemmekes was brought in as pinch-runner for Connor and the bases got loaded when Fellinger walked. After an infield-fly accounted for the first out, Michelle van Driel singled to bring in the first two runs. A walk led to a new runner, then two outs followed, but Sparks Haarlem had taken the lead.

Sparks added its next two runs in the fifth inning. Areke Spel led off with a walk, stole second and advanced on an error, then scored on an one-out triple by Julie Owen. Hereafter, Marloes Fellinger added an RBI-single to make it 4-0.

In the sixth, Sparks Haarlem left the bases loaded, then Olympia got on base for the first time in the seventh inning. Elena Leon led off with a single to end both the Perfect Game and the No-Hitter of Dagmar Bloeming, but with one out, she was forced out on a grounder by Dinet Oosting. After the latter advanced on a wild pitch, the game was interrupted by rain. When the game resumed with two outs, Bloeming ended it with her tenth strikeout.

While the field had become wet because of the rain, it was prepared well enough for the second game to be played and that ended in an 8-0, 4 1/2 inning, mercy-rule win for the home team.

In the first at bat, Laura Burggraaf doubled with one out for Olympia, but was left behind. Then, in the home half, Chantal Versluis led off with a single and Areke Spel walked, but after advancing on a sac-bunt, the two also were left behind.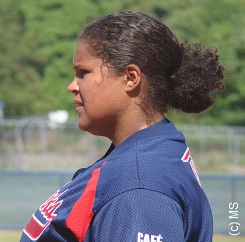 ...Debbby Connor...
...3-run triple...
(© Photo: Marco Stoovelaar)

Sparks-starter Kirsten Scheele then gave up a lead-off single to Rosanne de Vries, who then advanced on a sac-bunt by Lisanne van den Berg. Next, Gwen Brinkman singled, resulting in De Vries being waved home, but there she was thrown out by centerfielder Areke Spel, followed by a strikeout that ended the inning.

In the home of the second inning, Sparks Haarlem rallied for six (unearned) runs (with two outs) on three hits to take a commanding lead. Olympia-starter Rosanne de Vries walked lead-off hitter Shannah van der Kaaij, then gave up a double to Michelle van Driel. Next, Celine van Roon grounded to second baseman Marit Molenaar on which Van Driel took off towards third base, while Van der Kaaij was still there. Molenaar threw the ball to short stop Elena Leon, who went after Van Driel and threw the ball to incoming catcher Dinet Oosting. This all led to two runners on third base, where Oosting tagged out Van Driel, but in the meantime, Van Roon had advanced to second base. A flyout by Silea Bos then accounted for the second out, but then the scoring started. The bases then got loaded when Chantal Versluis walked, then Areke Spel reached on a dropped fly ball, which would have been the third out, but now led to the first run and kept the bases loaded. Debby Connor then followed with a 3-run triple to make it 4-0. After Julie Owen also walked, Marloes Fellinger added a 2-run double and increased the lead to 6-0, before the inning ended with a line out.

In the fourth inning, Olympia left two runners, then Sparks added two runs to make it 8-0. Chantal Versluis led off with a double and Debby Connor walked with one out and was replaced by pinch-runner Beau van Gelder. Julie Owen then followed with an RBI-single and Van Gelder scored on a sacrifice fly by Fellinger.

In the top of the fifth, Kirsten Scheele retired the side to end the game.
---
Iber Lengua Terrasvogels vs. Alcmaria Victrix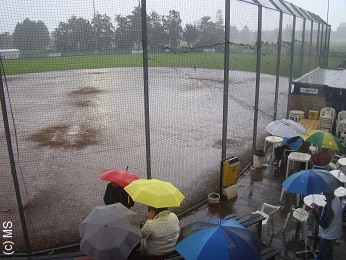 ...Rain interrupted play in the 5th inning...
(© Photo: Marco Stoovelaar)

At Santpoort, Terrasvogels opened its 24th Play-Off in history with a 4-0 shutout-win vs. Alcmaria Victrix in a game that was halted by rain in the bottom of the fifth inning with one out and two runners on base. As a heavy rainshower blanked the playing field it was impossible to resume the game, which then became valid as the home team was leading in the bottom of the fifth inning. But it also meant that Game 2 of the double-header had to be canceled. The game will now be played on Sunday at Santpoort, starting at 2 PM.

For Terrasvogels, this is its 15th Play-Off appearance in a row. The 24 Play-Off appearances of the team are a record. The team only missed the series of 1996.

In the first inning, Terrasvogels-pitcher Kate Vanderham struckout the first two batters she faced, then retired the side with a grounder. In the bottom of the at bat, Alcmaria-starter Femke van Dusschoten hit lead-off batter Meike Witteveen with a pitch, who then moved on a sac-bunt and flyout, but stranded on third base.

Alcmaria got its first baserunner in the second inning. Maiken Rooker led off with a walk and was replaced by pinch-runner Suzanne Meiring, who moved on a sac-bunt, but then was left behind as two grounders followed. With this, Suzanne Meiring made her first appearance of the season after having been sidelined recovering from a leg-injury. Suzanne Meiring was not the lone player Alcmaria had to do without this season. Outfielder Nadia Bron (who played in 12 games) and pitcher Laura Treurniet (six games) have been sidelined for most of the season. Besides that, its Australian catcher Kym Turnell left the team after the regular season, meaning Alcmaria did without her during the additional round and now also during the Play-Offs. In the season, she was the team's second best hitter with .296 and led the squad with 13 runs batted in. Terrasvogels had to do today without Marije Schoenmaker, who sustained a knee-injury during last Thursday's workout.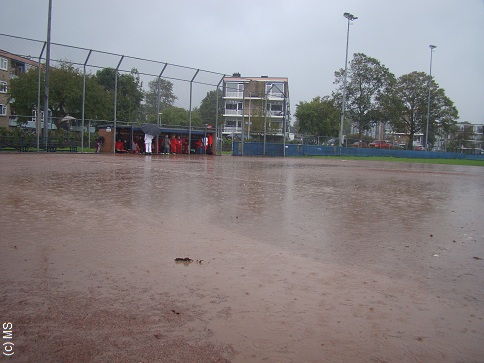 ...The heavy rain turned the field into a swimming pool...
(© Photo: Marco Stoovelaar)

Terrasvogels then struck with three runs in the home of the second inning. MariŽlle Vleugels led off with a double, then scored on an one-out double by Eva de Bruin. Next, Dana Horeman reached on an error with the ball bouncing away at both the first and second baseman, enabling De Bruin to score the next run. With two outs, Horeman scored when a throwing error was made on a grounder by Meike Witteveen to make it 3-0.

After the second inning ended, the game was interrupted by rain for 16 minutes, but then Annemiek de Rover led off for Alcmaria with a double. Her pinch-runner Gabi Obia then advanced to third base on an one-out grounder by Kimberly Jones, but stranded there.

Terrasvogels then left a runner in its third, followed by an one-two-three inning for Alcmaria in the top of the fourth. In the bottom of the fourth, Terrasvogels added a run, but got the bases loaded with no outs. Eva de Bruin led off with a walk, then Dana Horeman reached on an infield-hit and Lotte Holvast also walked. But then, Alcmaria's third baseman Annemiek de Rover made an unassisted double play by first catching a line drive by Meike Witteveen and then doubling up De Bruin. Hereafter, MarisŤla de Wind singled to pitcher Femke van Dusschoten, but after having reached third base, Horeman got in a rundown, which was misplayed, leading to an error and another run.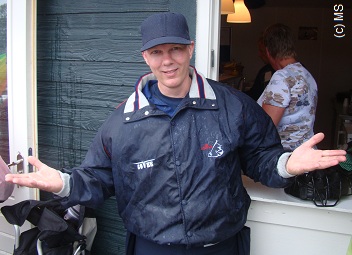 ...Home Plate Umpire Sander Bootsman...
...had only one option when it rained...
...Stop Game 1 and cancel Game 2...
(© Photo: Marco Stoovelaar)

In the top of the fifth inning, Alcmaria left two runners. Maxime van Dalen led off with a single, then appeared to be eliminated at second base on a double play-grounder by NoŽmie Brandjes, who was retired at first base. However, Umpire Ponky Rohan signaled safe at second base, meaning only the batter had been eliminated. Annemiek de Rover then walked and the two runners advanced on a grounder by pinch-hitter Manoa Weijgertse, but then Kate Vanderham followed with a strikeout to end the inning.

The game was then interrupted briefly for the second time by rain, but continued after a 6-minute delay. With one out, MariŽlle Vleugels was hit by a pitch from new pitcher Malou van Dusschoten, followed by a walk for Anouk van den Heuvel. But then, a heavy rainshower led to the third interruption and blanked the field. Moments later, Home Plate Umpire Sander Bootsman could do nothing more than stop the game and cancel the next one.

(September 17)