UVV wins twice vs. Centrals; approaches promotion
Nederlands

DE BILT (Neth.) - UVV, which finished in second place in the second highest division, opened the best-of-five Promotion/Relegation Play-Off on Saturday with two victories on the road vs. Centrals, which closed the big league-season in seventh place. UVV now needs only one victory in the upcoming three games to return to the big league, meaning the place in the highest division is in jeopardy for Centrals. In the opener, UVV won 3-1, then needed eight innings to win Game 2 with a 6-5 score. The series now will shift to the site of UVV in Vleuten, where the coming two games are scheduled for next Saturday with the second game to be played only if needed.

Centrals had added veteran player Cherry Winklaar (who didn't play in the 2010 season) to its roster for this series, while Wishelen van Heyningen was another newcomer after having appeared in two games during the Play-Downs. Earlier, in the regular season, Amber Dammers and Maaike van Aarle, who both retired after last season, came back and played respectively in one and two games. During both the Play-Downs, as well as in this series, Centrals has to do without its American pitcher Samantha Skillingstad, who returned home after completion of the regular season due to an injury.
---

Game One
UVV was immediately off to a good start in the first inning and threatened to score right away. Kayleigh Adelina led off with a double off Eva Voortman, then advanced on a sac-bunt by Floor van Dijk. After a flyout, Voortman hit next batter Cintia de Groodt, who was replaced by pinch-runner Felicity Pique. After the latter had stolen second base, UVV left two runners in scoring position, as a foul-out followed.

UVV-pitcher Donna Kerr struckout two batters in the first inning and allowed one baserunner, as she hit Marina Gusman Brown with a pitch.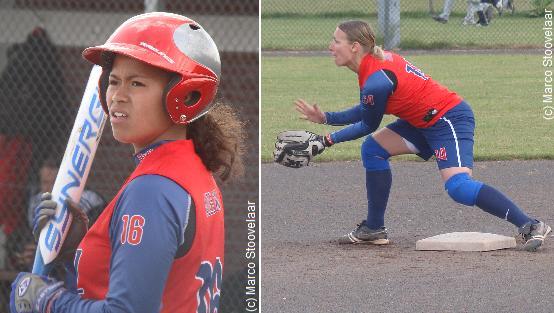 ...Kayleigh Adelina & Mirjam Boode...
...four basehits each for UVV today...
(© Photos: Marco Stoovelaar)

In the second inning, Nikki Harte led off for UVV with a bunt-single, but then two strikeouts and a groundout followed. After Kerr retired the side in the second Centrals-at bat, UVV's lead-off hitter Kayleigh Adelina led off the third with a walk, but stranded at second base. Centrals was then retired in order again (two batters were eliminated after a bunt) in the home of the third.

In the top of the fourth inning, UVV opened the score. Natalie van der Wijst became UVV's fourth lead-off hitter in a row to reach base when she doubled. She then moved to third base on a sac-bunt by Nikki Harte and scored when an error was made on a 2-out grounder by Ylaine van de Hove. In the home of the fourth, Jasmin Carlson led off for Centrals with a walk, but then was caught stealing, followed by two strikeouts.

After both sides were retired in order in the fifth, UVV added a run in the sixth inning. With two outs, Nikke Harte walked, then veteran player Mirjam Boode singled, which moved the runner to third base. Next, a wild pitch enabled Harte to score the second run for UVV.

Centrals got one run back in its sixth at bat, but failed to take over the lead, as it left the bases loaded. With one out, Stephanie Ruiter and Eva Voortman singled. Jasmin Carlson then also singled, which was followed by a throwing error, leading to a run and runners on second and third base with only one out. Next, Marina Gusman Brown was walked intentionally to set up a force play. The three runners then were left behind, as an infield-fly and groundout followed.

In the top of the seventh inning, UVV added an insurance run. Lead-off hitter Kayleigh Adelina reached on an error, moved on a wild pitche and stole third base. After a pop-out, she scored on a passed ball to make it 3-1. In the home of the seventh, pitcher Donna Kerr (who gave up only three hits) retired the side, including her ninth strikeout, to seal the win.
---

Game Two
In the second game, UVV outhit Centrals 13-9, trailed twice, but went on to win 6-5 in eight innings. Centrals led 3-0 after three innings and 5-4 after four, but failed to hold onto it, meaning it was left empty-handed for the second time on home soil.

In the first inning, UVV again left a runner at third base. Kayleigh Adelina led off with a single, stole second and advanced on a sac-bunt by Floor van Dijk, but then was left behind. In the second inning, Mirjam Boode doubled with two outs, but also was left behind.


...Donna Kerr...
...Two wins...

Centrals was retired in order in the first inning by Vendy Draha, but then the Czech National Team-pitcher gave up two runs in the second at bat. With one out, Isonette Polonius singled, then scored when Kimberly van der Lee followed with a double. With two outs, Eliza Rikkelman reached on an error, which moved Van der Lee to third base. She then scored when another error was made on a fly by Stephanie Ruiter.

After completion of the second inning, the game was interrupted briefly by rain and when it resumed Kayleigh Adelina tripled for UVV with one out, but again was left on third base.

Centrals added a run in the home of the third to increase the lead to 3-0. With one out, Marina Gusman Brown tripled, then scored when a throwing to home was made on a grounder by Cherry Winklaar, who played in only her second game this season for Centrals. But with Winklaar on second base, a strikeout and groundout ended the at bat.

Trailing 3-0, UVV rallied for four runs in the top of the fourth inning to take a 4-3 lead. Natalie van der Wijst led off with a double, then moved on a single by Donna Kerr, who advanced herself on the throw to home. The bases got loaded when Nikki Harte walked, which led to a pitching change. Eva Voortman took over for Jessica Patterson, but was greeted with an RBI-single by Mirjam Boode. Next, Kerr was forced out at home on a grounder by Ylaine van de Hove, but then an RBI-single by Kelly Platvoet and basesloaded walk for Kayleigh Adelina followed to tie the score. After a strikeout, Misja Koops also singled to give UVV a 4-3 lead, but Platvoet was then eliminated in a rundown when she also tried to score.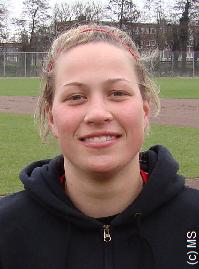 ...Nikki Harte...
...Winning run...
(© Photo: Marco Stoovelaar)

In the home of the fourth, Centrals immediately re-took the lead by scoring twice. Dayanara Lucio led off with a walk, stole second base with one out and then moved on a single by Stephanie Ruiter, who also stole second base. With runners on second and third base, Eva Voortman doubled to bring in the two runners and made it 5-4 in favor of Centrals. Hereafter, UVV's Head Coach Berend Mannessen brought in Donna Kerr to take over the pitching and she closed the at bat.

In the sixth inning, UVV came alongside. Mirjam Boode led off with a single and was replaced by pinch-runner Felicity Pique, who then stole both second and third base and scored on an one-out grounder by Kelly Platvoet to make it 5-5. Centrals left a runner in the home of the sixth. In the seventh, Isonette Polonius and Kimberly van der Lee singled for Centrals with two outs, but Donna Kerr then followed with a strikeout to end the at bat and force extra innings.

In the top of the eighth, UVV took a 6-5 lead. Tie-break runner Nikki Harte (who last season played for Centrals) scored on an one-out single by Ylaine van de Hove, which hit second base and therefore changed direction and that proofed to be the deciding run, as Centrals was unable to come back. In the bottom of the eighth, tie-break runner Dayanara Lucio moved to third on a sac-bunt by Eliza Rikkelman, but then Donna Kerr struckout pinch-hitter Wishelen van Heyningen and Eva Voortman to end the game and secure UVV's second win in the series.

Kayleigh Adelina and Mirjam Boode led the UVV-squad offensively today, as both hit four basehits each in the double-header. In Game Two, Adelina and Boode hit three basehits, as did Donna Kerr.

(September 17)