Game 2 Terrasvogels, Alcmaria postponed again
Nederlands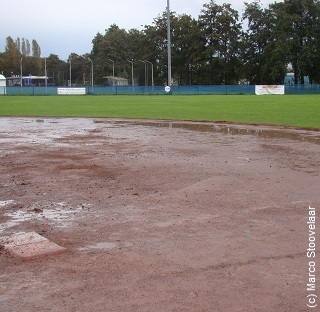 ...Rain made the field unplayable again...
(© Photo: Marco Stoovelaar)

SANTPOORT (Neth.) - Game 2 of the best-of-five Play-Off between Iber Lengua Terrasvogels and Alcmaria Victrix had to be canceled again on Sunday due to weather and field-conditions. The game was re-scheduled for Tuesday-evening, starting at 8:30 PM in Santpoort.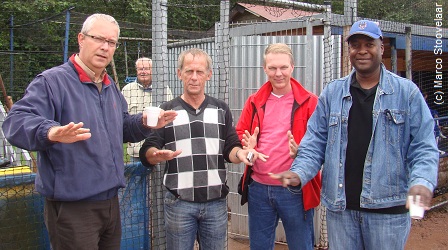 ...HP Umpire Frank Duits, Terrasvogels' Martin de Jonker...
...and umpires Sander Bootsman and Ponky Rohan...
...make it clear: No game today...
(© Photo: Marco Stoovelaar)

On Saturday, Game 1 was stopped because of heavy rain in the bottom of the fifth inning with one out and Terrasvogels leading 4-0, therefore making it a valid game. But as the field became unplayable, Game 2 had to be canceled and was re-scheduled for today.

Today, after rainshowers in the morning, the sun broke briefly and the field was worked on.

The starting time was postponed at least 30 minutes and initially, it appeared as if the game could be played. However, a second rainshower blanked the field again. The 3-man umpiring crew then inspected the field at 2:30 PM and had to cancel the game.

While there was no game, the spectators that came to Santpoort were given a special treat, as the players of Terrasvogels performed two group-slidings in the wet outfield and then called it a day.

...While the sky cleared, players of Terrasvogels perform...
...a group-sliding in the outfield...
(© Photo: Marco Stoovelaar)

...Alcmaria-players Annemiek de Rover, Maxime van Dalen...
...and NoŽmie Brandjes also have fun...
(© Photo: Marco Stoovelaar)
(September 18)