Alcmaria wins marathon to equal Play-Off
Nederlands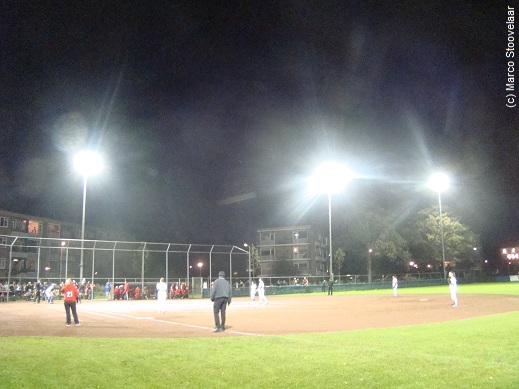 ...After two cancelations, Game 2 was finally played tonight...
(© Photo: Marco Stoovelaar)

SANTPOORT (Neth.) - On Tuesday-evening, Game 2 of the best-of-five Play-Off between Iber Lengua Terrasvogels and Alcmaria Victrix finally could be played after being rained out on Saturday and Sunday. The neutral spectator in Santpoort must have enjoyed a very attractive game, but for the followers of one of the two teams it surely must have been a nailbiter.

The decision in tonight's game fell in the ninth inning shortly before midnight, ending a 3 hours 22 minutes marathon. With this, the game became the longest ever in Play-Off history timewise. The previous longest game in playing time was played on October 4, 2008 when Sparks Haarlem and Terrasvogels played an 11-inning game, which took three hours and eleven minutes. Three players who played in tonight's game, also participated in the previous record-game, being Dana Horeman, Solange Starrenburg (both Terrasvogels) and Anne Blaauwgeers (Sparks Haarlem). Besides these three players, Louis Rohan, tonight's umpire at first base, also was the umpire at first base during the record-setting game in 2008.

The longest Play-Off game in innings was played on Tuesday, September 16, 2003 when Sparks Haarlem and DSC '74 played an 12-inning contest, which lasted 'only' two hours and 24 minutes and was won by DSC '74 (which went on to win the title), 5-0. The game was the fifth in their Play-Off series and became memorable for a number of things. It not only was the longest in innings, but winning pitcher Jocelyn Forest also struckout 17 batters and threw a 12-inning No-Hitter, while losing pitcher Erica Beach also went the distance, struckout 11 and gave up only five hits. Besides that, the game was interrupted in the ninth inning fo 12 minutes due to fog.

In 1987, another marathon was played between HHC and HCAW. That game remained scoreless and was stopped after eleven innings due to rain. In that game, Craig Montvidas was the Head Coach of HCAW. Tonight, Montvidas was in attendance as the Head Coach of the Dutch National Softball Team.

Alcmaria was outhit 18-11, but struck early with two runs in the first inning off Terrasvogels-pitcher Kate Vanderham. The lefthander hit lead-off hitter Kimberly Jones, who then scored when Anne Blaauwgeers followed with a triple in leftfield. With one out, she scored on a grounder by Maxime van Dalen to make it 2-0. Terrasvogels got one run back in the home of the first, but also left two runners. Alcmaria-starter Femke van Dusschoten walked lead-off hitter Meike Witteveen, who then advanced on a single by MarisŤla de Wind, which was followed by an error, enabling Witteveen to reach third base. A single by Solange Starrenburg then led to a run. The two runners moved to second and third base on a grounder, but then a pop-up and groundout followed.

In total, Terrasvogels stranded 15 runners, while Alcmaria left 10 behind. Terrasvogels collected 18 basehits in the game, including four by Anouk van den Heuvel and three each by Meike Witteveen, Solange Starrenburg and Dana Horeman. Alcmaria hit 11 basehits, including four by Anne Blaauwgeers and three by Maiken Rooker.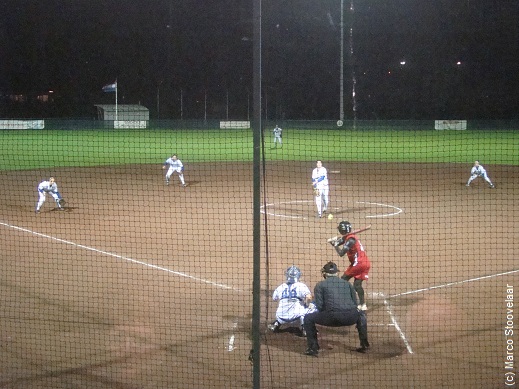 ...Game 2 set a Play-Off record in time played...
(© Photo: Marco Stoovelaar)

Alcmaria added a run in the third inning, but also left three runners behind. With two outs, Anne Blaauwgeers reached on a bunt-single, then advanced to third on an infield-hit by Anne Vlietstra and scored on a following single by Maxime van Dalen. Hereafter, Maiken Rooker also singled to load the bases, but then Jessie van Aalst grounded to third to end the inning.

In the home of the third, Terrasvogels also scored another run with two outs. Kate Gentile then singled, as did MariŽlle Vleugels to put runners on first and third base. Anouk van den Heuvel then also singled to bring in Gentile, but then a strikeout followed.

Terrasvogels again got two baserunners with two outs in the fourth, but they also were left behind. The same happened to Alcmaria in the top of the fifth inning. A crucial play then happened in the bottom of the fifth. Kate Gentile led off with a walk, then advanced to second base on a sacrifice bunt by MariŽlle Vleugels, but then overran the base and was tagged out to complete a double play. Next, Anouk van den Heuvel triple, but was left behind.

In the bottom of the sixth, Terrasvogels scored twice to take a 4-3 lead. Dana Horeman led off with a single and advanced on a sac-bunt by pitcher Kate Vanderham, who entered the batting order as pinch-hitter. She then moved to third base on a bunt-single by Meike Witteveen, who was able to add an extra base when an error followed. After a groundout, Solange Starrenburg singled through the middle to bring in both runners and give the home team the lead. After Starrenburg stole second, she was left behind, as a flyout ended the at bat.

After its lead was turned into a deficit moments earlier, Alcmaria now suddeny was three outs away from a loss, but the team succeeded in coming alongside in the seventh. Anne Blaauwgeers led off with a single, moved on a sac-bunt by Anne Vlietstra and a wild pitch, then scored when an error was made on a bunt by Maxime van Dalen, who herself then got stuck in a rundown and was eliminated. In the home of the seventh, Terrasvogels again got two hits, but didn't score. With one out, Anouk van den Heuvel singled, but was forced out on a grounder by Eva de Bruin. Next, Dana Horeman singled and when De Bruin tried to advance to third base, she appeared to slow down and was called out there in a close play after a throw from rightfielder Maxime van Dalen. And so, the game went into extra innings.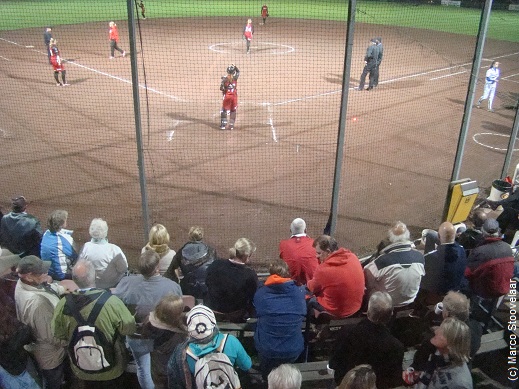 ...Over 200 spectators attended the game...
(© Photo: Marco Stoovelaar)

In the eighth Alcmaria at bat, tie-break runner Jessie van Aalst advanced to third on a sac-bunt by NoŽmie Brandjes. She then scored when next batter Annemiek de Rover, after hitting a grounder, was hit on her back by the thrown ball as she ran inside the field towards first base. After Terrasvogels' Head Coach Tim Verbrugge argued she therefore interfered with the fielding action, the three umpires got together, but they ruled the batter/runner safe, meaning Alcmaria had re-taken the lead. In the home of the eighth, Terrasvogels failed to win the game, leaving three runners on base. With tie-break runner Dana Horeman on second base and one out, Meike Witteveen singled into centerfield. Horeman was stopped at third base, while Witteveen advanced on the throw to home. MarisŤla de Wind then was walked intentionally to set up a force play, but then Solange Starrenburg singled to center to bring in Horeman with the tying run. But with the bases still loaded, a pop-fly and flyout ended the inning, meaning the game continued.

In the top of the ninth, Alcmaria appeared to take a commanding lead by scoring four runs, but in the end, almost was left empty-handed, as Terrasvogels reacted with three of its own. By the way, both teams scored their in this at bat with two outs. Alcmaria-runner Kimberly Jones moved to third on a bunt-single by Anne Blaauwgeers, then Maxime van Dalen walked with one out. After a strikeout accounted for the second out, Jessie van Aalst doubled in two runs and NoŽmie Brandjes followed with a 2-out single to make it 9-5. The inning then ended when the latter (after having stolen it) was picked off third base when batter Manoa Weijgertse walked.

In the bottom of the ninth, Terrasvogels came close to tying it up again, but left two runners. Runner MariŽlle Vleugels advanced on a single by Anouk van den Heuvel, but then two outs followed. Next, Kate Vanderham followed with a 2-run triple to make it 9-7. On the next two batters, Alcmaria's Head Coach Gonny Farley and Assistant Coach Frans van Dusschoten clearly argued the ball-and-strikes decisions of Home Plate Umpire Frank Duits, as it appeared that the batter struckout. But Meike Witteveen walked and MarisŤla de Wind singled to make it 9-8. But then, with runners on first and second base, the game ended when Femke van Dusschoten struckout her eighth batter.

The Series continues next Saturday in Alkmaar where Games 3 and 4 will be played. If needed, Game 5 will then be played on Sunday in Santpoort.

(September 20)