UVV sweeps Centrals, promotes to big league!
Nederlands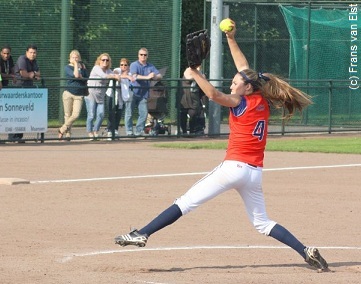 ...Winning pitcher Donna Kerr...
(© Photo: Frans van Elst)

VLEUTEN (Neth.) - UVV, which finished in second place in the 'Overgangsklasse', on Saturday, September 24, won 1-0 vs. Centrals to complete a 3-game sweep in their Promotion/Relegation Play-Off. With this, UVV promoted back to the Dutch big league, while Centrals (which finished in seventh place in the highest division) relegated.

For Head Coach Berend Mannessen, this was another success in his long career that started in the eighties when he was the Head Coach of Hoofddorp Pioniers. In 2009, Mannessen also led DSS to the Dutch big league, which earned him the Coach of the Year Award. He then headed DSS last season, but it then relegated again from the highest league. This year was his first with UVV. But also his last, as he retired after today's game, as Mannessen will becomes involved in the National Team-program.

The game was more-or-less a pitching duel between Donna Kerr (UVV) and Eva Voortman (Centrals). Both teams got only one scoring opportunity and UVV took it to score the lone run in the game.
In the first three innings, Donna Kerr allowed only one baserunner, being a 2-out walk for Dayanara Lucio in the second inning. In the fourth, Centrals came close to opening the score. With one out, Marina Gusman Brown tripled, but then Kimberly van der Lee fouled out and Isonette Polonius struckout. In the end, the triple was the only hit Kerr would give up in this game to Centrals. After giving up the triple, she retired the final eleven batters of the game, including seven with a strikeout. Kerr ended the game with 12 strikeouts.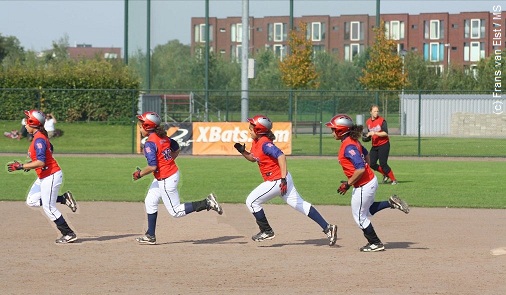 ...Kayleigh Adelina runs towards 3rd base with her triple in the 6th...
(© Photos: Frans van Elst / Montage: Marco Stoovelaar)

Eva Voortman gave up only three hits. After retiring the side in the first and second inning, the lefthander gave up an one-out double to Ylaine van de Hove, who then moved to third on a sac-bunt by Laura Arp, but was left behind as a flyout ended the inning.

In the fourth inning, Voortman gave up a lead-off single to Floor van Dijk, but she was forced out at second base on a grounder by Misja Koops. The latter then advanced on a sac-bunt by Cintia de Groodt, but also was left behind.

After their side was retired in order again in the fifth, UVV decided the game in the sixth. With one out, Kayleigh Adelina tripled. Next, Floor van Dijk grounded to third base, where Adelina was forced back initially to her base, but then was able to score after all when the batter was retired to give UVV the lead.

In the top of the seventh, Donna Kerr retired the side again to secure the win and promotion to the big league.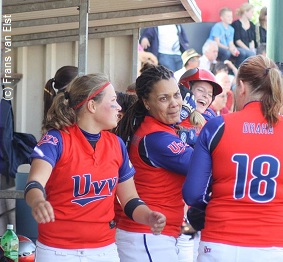 ...Kayleigh Adelina celebrates her...
...run in the dug-out......
(© Photo: Frans van Elst)

With the win, UVV completed a 3-game sweep against Centrals and therefore promoted to the highest division. For Centrals, the loss meant it relegated and will play in the 'Overgangsklasse' in 2012. Centrals played in the big league since 2006 and reached the Play-Offs last season.

For UVV, the promotion means it will make its comeback on the highest level next year for the first time since 1998. The Utrecht-club also played in the big league in 1972 and 1973. Thirteen years ago, UVV finished in 10th and last place with an 8-25 record and three ties to relegate again after only one season.

In 1998, future National Team-player Nina van Huissteden made her debut in the Dutch big league, while playing for UVV. za Also playing for UVV back then were players like Carolien Sins and ZoŽ Sterkenburg, while former National Team-pitcher Karin Brookhuis made one appearance for the squad. But for one player, the return to the big league will bring back memories, as veteran-2B Mirjam Boode, who today celebrated the promotion with the squad, also played for UVV in the big league in 1998. In that season, she made her big league-debut, batted .216 and led the team with 14 runs scored, six triples and one homerun. None of the current active players played against UVV before on the big league-level.

(September 24)

...Mirjam Boode...
...Back to the big league...
(© Photo: Frans van Elst)

...Coach Berend Mannessen...
...He did it again!...
(© Photo: Frans van Elst)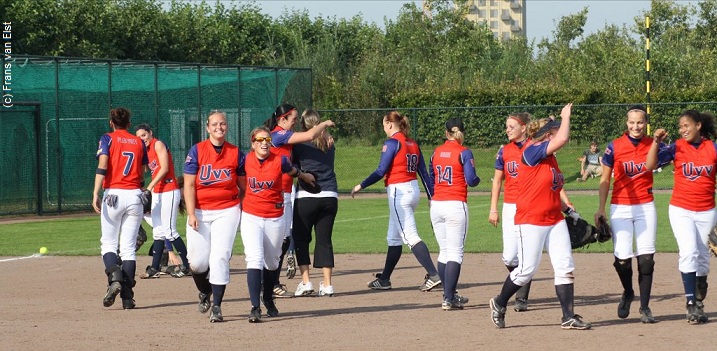 ...Celebration time...
(© Photo: Frans van Elst)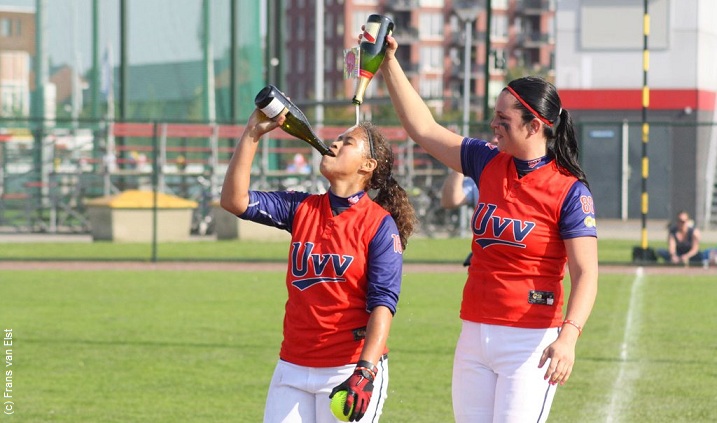 ...Kayleigh Adelina and Ylaine van de Hove celebrate the championship...
...Kayleigh holds the ball she caught for the last out of the game...
(© Photo: Frans van Elst)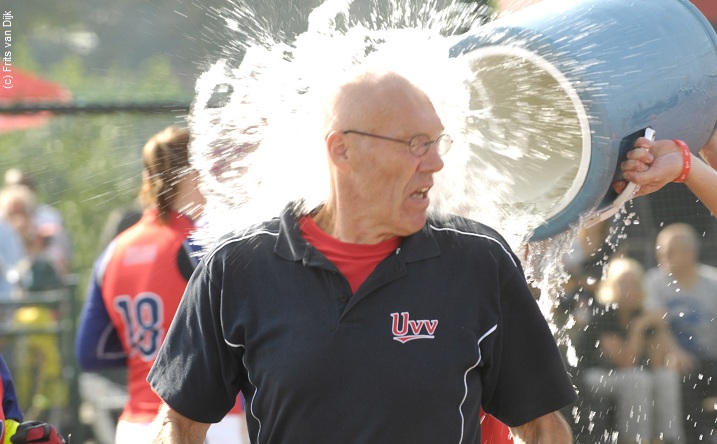 ...Coach Berend Mannessen is showered...
(© Photo: Frits van Dijk)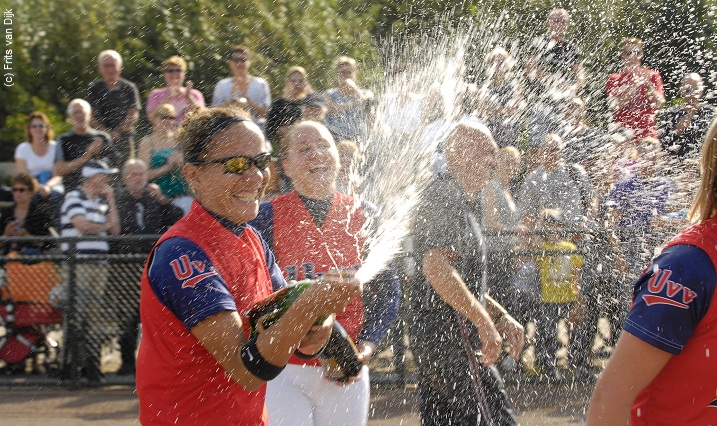 ...Kelly Platvoet uncorks the champaign...
(© Photo: Frits van Dijk)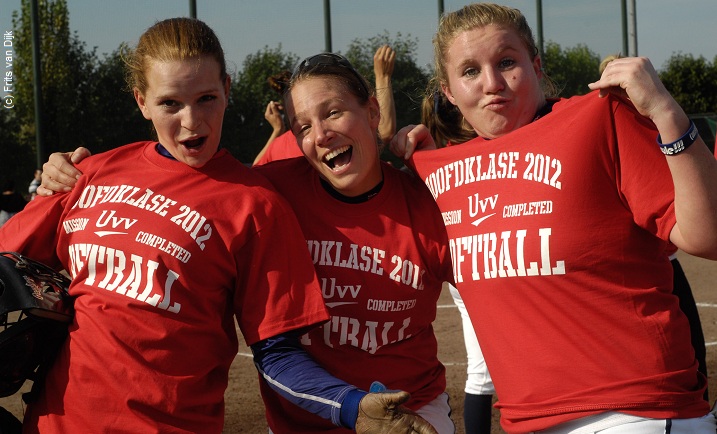 ...Floor van Dijk, Mirjam Boode and Cintia de Groodt show their championshirt...
...Mission Completed...
(© Photo: Frits van Dijk)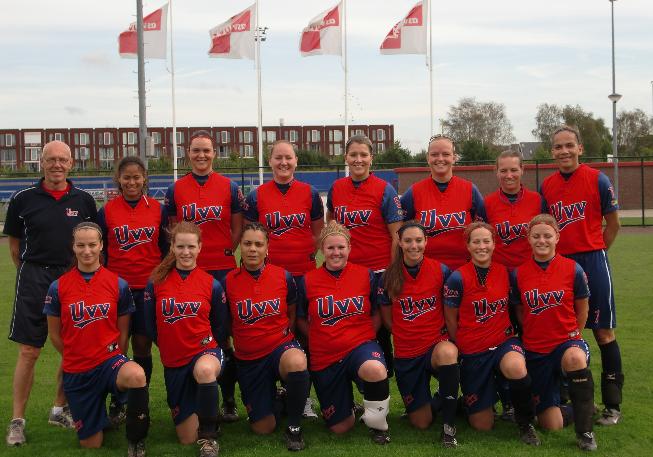 ...UVV - back to the Dutch big league after 13 years...
(© Photo: DaniŽlle Evers)