Hotel Ambassador c.c. Terrasvogels wins tournament again
Nederlands

ENSCHEDE (Neth.) - It was the same team with another sponsor name, but Hotel Ambassador c.c. Terrasvogels on Sunday-afternoon prolonged its title as winner of the annual J.C.J. Mastenbroek Tournament in Enschede. Facing the same opponent in the final as last year, reigning Dutch champion Oolders Omaco Sparks Haarlem, Terrasvogels trailed 3-1 when the last inning started, then rallied for an astounding eleven runs on nine hits to win 12-5. With this, Terrasvogels repeated as winner of the tournament, which is now has won four times in the last six years.
---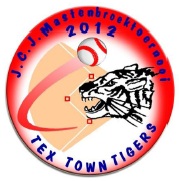 The third and final day of the tournament started with the semi-finals for 5th through 8th place. Olympia Haarlem and Tex Town Tigers both won these games, meaning they played for fifth place later in the day, while SK Joudrs Praha (Czech Republic) and Wesseling Vermins (Germany) would meet in the game for seventh place.

Olympia Haarlem won big vs. Joudrs 19-1 on 16 basehits, including three by Dinet Oosting. The team decided the game in the first inning in which eleven runs were scored, setting a new tournament record. In the at bat, 16 players stepped up to the plate and collected nine basehits. The rally started when Courtney Bures led off with a bunt-single. The bases were then loaded when Lotte Zijlstra reached on an error and Dinet Oosting singled. A grounder by Maranca Ham then produced the first run. Next, Rosanne de Vries tripled in two runs and Laura Burggraaf followed with an RBI-double. With a 5-0 lead and the bases loaded, Courtney Bures hit a 3-run triple in her second at bat in the inning, which marked the end of starting pitcher Lucie Zappova, who is a member of the Czech National Team. Singles by Dinet Oosting, Maranca Ham and Laura Burggraaf then increased the lead to 11-0.

In the next inning, Olympia added eight more runs on seven hits, including a 2-run double by Lotte Zijlstra. Joudrs hit only three basehits off of Ying-Yi Chen.

At the same time, Tex Town Tigers narrowly won 2-1 vs. Wesseling to advance to the 5th place game. The German opponent took an 1-0 lead in the first inning off Martina Lackner, who went the distance in this 7-inning game. The Austrian pitcher walked lead-off hitter Alina Vom Bruck, who then stole second base and advanced on a single by Katharina Szalay. When the latter stole second, a throwing error followed, leading to the run. After being retired in order in the second and third inning, Wesseling stranded two runners in scoring position in the fourth inning.

But in the home part of the fourth, Tex Town Tigers struck with two runs. Nadine Marinus led off with a single and stole second base, then scored the tying run when an error was made on a grounder by following batter Myrthe Smid. A double by rookie Laura Wissink then gave TTT a 2-1 lead. Wesseling treatened to score again in the seventh inning when the first three batters all singled. But then a force play at home followed for the first out. Next, a game-ending double play followed. First, the force out was made at home, then rookie catcher Aafje van Baal succeeded in eliminating the runner at third base by throwing the ball to 3B Marije ten Thij to end the game.

Next on the schedule were the semi-finals for the first through fourth place. As expected, pool-winners Hotel Ambassador c.c. Terrasvogels and Oolders Omaco Sparks Haarlem both won to remain unbeaten and qualify for the final.

Terrasvogels shutout Carrousel (Russia) 7-0 on a combined 2-hitter by Ginger de Weert and Mariëlle Vleugels. Terrasvogels, which collected nine basehits, opened the score in the first inning when Meike Witteveen led off with a single, moved on a sac-bunt by Marisèla de Wind and a single by Ashli Holland, then scored on a wild pitch. In the home of the first inning, Terrasvogels-catcher Floor Roest had to leave the game after being hit by a Russian bat and went to the hospital out of precaution, where a bruise was diagnosed.

Terrasvogels took charge of the game with a 5-run rally in the third inning. Lotte Holvast led off with a bunt-single, moved on two wild pitches, then scored on a passed ball, which brought Meike Witteveen (who had walked) to third base. Ashli Holland then followed with an RBI-triple and scored herself on a passed ball moments later. With two outs, Anouk van den Heuvel singled and Dana Horeman walked and both scored when Solange Starrenburg singled. The seventh run was scored in the sixth inning when Solange Starrenburg led off with a triple and scored on a throwing error.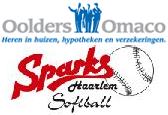 Sparks Haarlem became the second finalist by winning 7-3 vs. Alcmaria Victrix. The team from Alkmaar took an 1-0 lead in the first inning off Rebecca Soumeru when Kimberly Jones doubled and scored on a 2-out single by Maxime van Dalen. But Sparks came alongside in its first at bat when Chantal Versluis led off with a walk, stole second and scored on a single by Areke Spel.
In the third inning, Sparks scored three runs to take the lead. With one out, Nathalie Gosewehr tripled and scored on a sac-fly by Areke Spel. Hereafter Debby Connor walked and Karin Tuk followed with her third homerun of the tournament to make it 4-1. Sparks added three more runs in the next at bat. Beau van Gelder led off with a double and scored on an one-out double by Chantal Versluis. With two outs, an RBI-single by Areke Spel and RBI-double by Debby Connor increased the lead to 7-1. Alcmaria scored only two more runs in the fifth inning off new pitcher Kirsten Scheele on a 2-run double by Anne Vlietstra.
In the afternoon, Tex Town Tigers finished in fifth place by winning 8-0 vs. Olympia Haarlem. For four innings, this game was a pitching duel between Marit van Vulpen (TTT) and Rosanne de Vries (Olympia), as both gave up only one basehit. For Tex Town Tigers, Merel Oosterveld led off the first inning with a single, for Olympia, Maranca Ham led off the second with a basehit. But in the top of the fifth, TTT suddenly rallied for eight runs on four basehits. Lead-off hitter Lynn Dollekamp was hit by a pitch and advanced on a wild pitch, then Kirsten Vierdag reached on an error, which led to the first run. Merel Oosterveld then singled in another run and back-to-back walks with the bases loaded for Nadine Marinus and Martina Lackner led to two more runs. A RBI-single by Kirsten Holshof followed, but despite the fact that the pitcher was in problems, no pitching change was made. And so, the scoring continued on a grounder by Laura Wissink and a single-plus-error by Lynn Dollekamp, that made it 8-0.
Wesseling Vermins claimed seventh place by winning 8-3 vs. SK Joudrs Praha. Joudrs trailed 2-0 after the first inning, then scored once in the second at bat, but left the bases loaded. Wesseling then struck with three runs in the next at bat, highlighted by a 2-run single by Lisa Marie Koellner and added two more runs in the fifth. Joudrs scored only two more runs and remained winless in the tournament.
The tournament then closed with the deciding games for the top-four places.
Alcmaria Victrix finished in third place by winning 4-0 vs. Carrousel. The game remained scoreless in the first three innings, but Alcmaria stranded six runners in this span, including the bases loaded in the first inning. After giving up a lead-off double in the first inning, Alcmaria-pitcher Malou van Dusschoten retired the next eight batters in a row. Alcmaria got the bases loaded with two outs in the first at bat when Anne Vlietstra singled and both Maxime van Dalen and Malou van Dusschoten walked. But the three stranded as a flyout followed.
In the fourth inning, Alcmaria scored its first run when Manoa Weijgertse led off with a walk and scored on a 2-out single by Anne Blaauwgeers. Two innings later, Alcmaria rallied for three runs. Melissa de Greef led off with a single and advanced on a sac-bunt by Maaike Blaauwgeers. Next, Anne Blaauwgeers and Kimberly Jones followed with back-to-back triples and Anne Vlietstra added an RBI-single to make it 3-0.
Malou van Dusschoten went the distance for Alcmaria and gave up only four hits, including two in the fourth inning, but she was supported with a double play in that at bat. She then retired the side in the fifth and sixth inning. In the seventh, she gave up a 2-out triple, but then a flyout ended the game.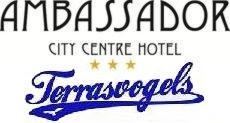 The final between Terrasvogels and Sparks Haarlem had a wild last inning, which turned the game around in favor of Terrasvogels which therefore prolonged its title as tournament-winner. For Terrasvogels, it marked the ninth time that it won the tournament since 1997 (when the event was first played on the current site) and the fourth time in the last six years. Terrasvogels won the event three times in a row in 2001-2003 and two times in a row in 2007 and 2008.
Initially, it appeared that the game went the way of Sparks Haarlem, as the squad lead 3-1 after five innings. Terrasvogels had opened the score in the first inning when Marisèla de Wind homered with one out, but Sparks came alongside immediately in its first at bat when Chantal Versluis reached on an error and scored on a 2-out double by Debby Connor. Sparks then took a 2-1 lead in the third inning when Areke Spel homered with two outs. The reigning Dutch champion then added another run in the fourth inning when Shannah van der Kaaij led off with a triple and scored on a following single by Beau van Gelder to make it 3-1.
In the meantime, starter Dagmar Bloeming held Terrasvogels to only three basehits in five innings. And so, Sparks Haarlem entered the top of the sixth inning with a 3-1 lead and needed three outs to win the game and the tournament. But the inning came out somewhat differently, as Terrasvogels rallied for eleven runs on nine basehits off of Kirsten Scheele, who had taken over the pitching for Sparks. With the eleven runs, Terrasvogels tied a tournament-record, which was set earlier today by Olympia Haarlem. The first nine batters all reached base safely, including seven on a basehit and Terrasvogels led 8-3 before the first out was registered. The rally started when Marisèla de Wind, Solange Starrenburg, Ashli Holland and Mariëlle Vleugels hit four consecutive basehits to produce the first run in the inning and narrowed the deficit to 3-2. A wild pitch then tied the score. And then the rally really started. Terrasvogels took a 4-3 lead when an error was made on a grounder by Anouk van den Heuvel, then added more runs on basehits by Dana Horeman and Lisa Waasdorp, an error on a grounder by Lotte Holvast and a single by Meike Witteveen. With the lead now at 8-3, the first out was registered when Marisèla de Wind flied out. An error on a grounder by Solange Starrenburg then accounted for the next run and Ashli Holland followed with a 3-run homerun (her third of the weekend) to increase the lead to a commanding 12-3. The long inning, in which no pitching change was made, then ended when Anouk van den Heuvel lined into a double play.
Sparks Haarlem was able to get two runs back in the home half of the sixth on basesloaded walks for Chantal Versluis and Areke Spel. But the team had to settle for second place, like it did last year, when it also lost to Terrasvogels. Areke Spel was the batting champion of the event with an .833 batting average.
Final Standings
#
Team
G
W
L
T
P
1
Hotel Ambassador c.c. Terrasvogels
5
5
-
-
10
2
Oolders Omaco Sparks Haarlem
5
4
1
-
8
3
Alcmaria Victrix
5
3
2
-
6
4
Carrousel
5
2
3
-
4
5
Tex Town Tigers
5
3
2
-
6
6
Olympia Haarlem
5
2
3
-
4
7
Wesseling Vermins
5
1
4
-
2
8
SK Joudrs Praha
5
-
5
-
0
Individual Award
Award
Winner
Team
Best Hitter
Areke Spel
Oolders Omaco Sparks Haarlem
(April 1)