Gryphons adds three players
Nederlands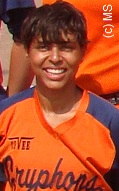 ...Yonina Sint Jago...
(© Photo: Marco Stoovelaar)

ROSMALEN (Neth.) - Gryphons has added three new players to its roster for the 2013 season. Two players left the team from Rosmalen. Gryphons announced its transfers on Thursday, November 1.

During the transfer-period, catcher Floor van Dijk and infielder Sandy Lauwers opted to go to Gryphons. On the final day of this period, a third player joined the club, being righthander pitcher/infielder MariŽlle Vleugels.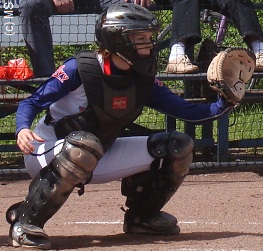 ...Floor van Dijk...
(© Photo: Marco Stoovelaar)

Leaving Gryphons are catcher/infielder Cheryl Hiele and infielder/outfielder Yonina Sint Jago, who both will play for Hotel Ambassador c.c. Terrasvogels next season. Yonina Sint Jago, a member of the Dutch National Team, led Gryphons during the regular season with a .345 batting average (38-for-110) and 21 runs batted in. She scored 20 runs (second best) and led the team with six doubles.

Cheryl Hiele missed part of the season due to an injury and batted .200 (8-for-40), scoring five runs and hitting two triples. In the summer, she was a member of the Dutch Junior Team that captured the European title.

Floor van Dijk played in 32 games for UVV and batted .263 (21-for-80), hit three triples, scored eight runs and had five RBI's. She also was a member of the successful National Junior Team that won the European Championship.

Sandy Lauwers was the second best hitter of Twins with a .282 batting average (31-for-110) and seven RBI's. Her 31 basehits, as well as her 16 runs scored were the best of the team. She also was the lone player of the squad to hit two homeruns.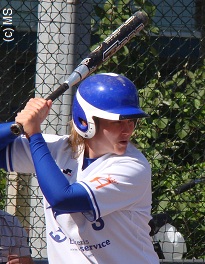 ...MariŽlle Vleugels...
(© Photo: Marco Stoovelaar)

MariŽlle Vleugels batted .324 (33-for-102) for Hotel Ambassador c.c. Terrasvogels, the third highest average of the team. She scored 23 runs and was second best in the team with 29 runs batted in. As a pitcher, she was 12-5 with a 2.45 ERA and struckout 39 batters in 94 1/3 inning, while walking 43 and giving up 100 basehits.

Pitchers Emma Holden and Shannon Galea, who made their debut this season, are listed again on the teamroster of Gryphons for next season. American pitcher Holden was 10-9 with a 3.18 ERA and 98 strikeouts in 112 1/3 inning. Galea, who holds a Maltese passport, was 2-10 with 57 strikeouts in 81 2/3 inning.

The team will be led next season by Wout Isbouts, who took over as Head Coach on August 20, four games before the end of the season. Isbouts succeeded veteran coach Andrť Prins, who will involved again in coaching the Czech National Team in 2013. In the remaining four games, Isbouts was 2-2, leading to a tie for fourth place. The team then won the next two games in a deciding series to reach the Play-Offs in which it was eliminated by Alcmaria Victrix.

In 2013, Wout Isbouts will be assisted by Vera Van De Ven, former pitcher of the Belgian National Team, who also was an assistant coach during the 2009 season. In 2010, she was an assistant coach at Twins.

(November 1)