Bloeming, Timmermans leave Sparks Haarlem to play in Italy
Nederlands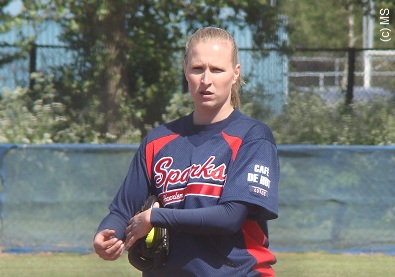 ...Dagmar Bloeming...
(© Photo: Marco Stoovelaar)

HAARLEM (Neth.) - Pitcher Dagmar Bloeming and catcher Nathalie Timmermans will not play in the Dutch big league next season, as the two National Team-players both agreed to play for DES Caserta in the Italian Softball League. The transfers were officially announced and confirmed by Oolders Omaco Sparks Haarlem on the final day of the transfer-period in the Dutch big league, but the coaching staff already knew early October that their pitching ace would be leaving for Italy. Sparks Haarlem did not add a new pitcher to its roster during the transfer-period.

Last month, Sparks Haarlem was dethroned as Dutch champion after losing the best-of-five Holland Series against Alcmaria Victrix. During the regular season, the team lost only three games, all against Hotel Ambassador c.c. Terrasvogels, which then also handed the team a loss in the Play-Offs, before Alcmaria Victrix won the final 3-1.

Also not coming back to Haarlem are outfielder/infielder Silea Bos and infielder/back-up catcher Celine van Roon. The lone new addition to the team is infielder/outfielder Manoa Weijgertse.

Pitcher Dagmar Bloeming was 16-0 this season with an 0.63 ERA, leading the league in both categories and making her a prime candidate to be nominated for Best Pitcher of the season. The righthander, a member of the Dutch National Softball Team, also had three saves and struckout 113 batters in 100 2/3 inning, while walking only 17 batters and giving up 53 basehits.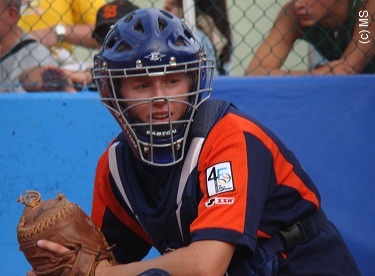 ...Nathalie Timmermans...
(© Photo: Marco Stoovelaar)

Catcher Nathalie Timmermans played in only 13 games for the team this season, as she missed the beginning and end of the season due to her study and playing on an American college. She batted .344 (11-for-32), scored six runs and had eight runs batted in.

This season, pitcher Lindsey Meadows and outfielder Saskia Kosterink played in Italy for Bollate. Last year, both also played in Italy with Meadows playing for Nuoro and Kosterink for Bollate. Also playing in Italy in 2011 were outfielders Nathalie Gosewehr and Linda Hoenderdos, who then also played for Caserta. During this years European Cup Tournament in Enschede (Netherlands), pitcher Femke van Dusschoten was a pick-up player for Caserta.

Silea Bos and Celine van Roon both stopped due to study-reasons, but remain members of Sparks Haarlem, making them available to play if needed. Bos batted .270 (17-for-63) in 33 games, scored 11 runs and had 18 RBI's, while Van Roon batted .242 (16-for-66) in 36 games and scored 14 runs and had five RBI's.

Manoa Weijgertse is coming to Haarlem from Alcmaria Victrix, with whom she won the Dutch championship this season. In 27 games, she batted .174 (8-for-46), scored four runs and had 13 RBI's.

Juny Francisca and Marcel Schippers will return as the coaching-duo next season.

(November 1)