Centrals strengthen roster
Nederlands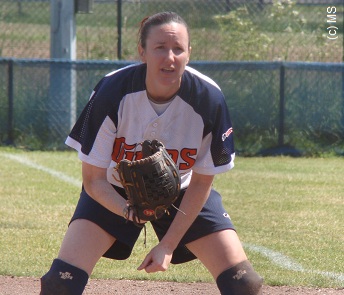 ...Andee Lindgren...
(© Photo: Marco Stoovelaar)

DE BILT (Neth.) - In 2011, Centrals relegated to the second highest division, but at the end of this season, the team returned to the big league after an one-year absence. Centrals finished in second place, then won the best-of-five Promotion/Relegation Play-Off against Twins to become the second team this season to promote. Robur '58 became the first after winning the 'Overgangsklasse'-championship, but declined to play in the highest division, as it is unable to compile a representative team for the big league. The place of Robur '58 is been taken by UVV, which initially relegated, but now will stay in the highest division.

By returning to the big league, under guidance by first year coach Caroline Theunissen, the team needed to strengthen itself for the new season. In the past weeks, Centrals added eight players to its roster, while seven left the team from De Bilt.

1B/Pitcher Andee Lindgren and outfielder Sarah Vandermeiren, two experienced players with big league-experience, will not be back with the team, as they opted to play for Roef! in the Overgangsklasse. Before coming to Centrals, Lindgren played seven seasons in the big league. After her debut with Sparks Haarlem, she played six years for Twins. Vandermeiren played five seasons for Twins.

Three players retired after this season, being Petya Sokolová, Nadia Bron and Jennifer Boutisma. The latter cannot combine playing anymore with her work, while Sokolová wants to focus more on her study. Bron is bothered by a knee-injury and therefore decided to stop.

Catcher Laura Bakker and infielder Jasmin Carlson decided to play in the second team of Centrals, also because of work and study respectively.
| | |
| --- | --- |
| | |
Three of the new players have big league-experience. Outfielder Kayleigh Adelina and infielder Nikki Harte are coming from UVV, with whom they played in the big league this season. After the team relegated, they decided to move to Centrals, but recently it was announced that UVV will play in the big league after all next year. The third player with big league-experience is infielder Morgan Sampson, who comes from Robur '58, with whom she played in the big league in 2009.

Kayleigh Adelina made her big league-debut this season, hitting .253 (24-for-95) with three doubles, one triple and one homerun. She scored 11 runs and had 10 RBI's. In the beginning of the year, she was a member of the preliminary roster of the Dutch National Team, but she withdraw due to study-reasons.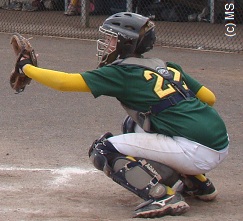 ...Laura van Essen...
(© Photo: Marco Stoovelaar)

Nikki Harte batted .231 (30-for-130) for UVV this season, with 14 runs scored and seven RBI's. She earlier played for Centrals in the big league in 2008, 2009 and 2010 after having made brief appearances in 2006 and 2007.

Catcher Laura van Essen, infielder Donna Hartman (both Amsterdam Pirates) and infielder/outfielder Alma Hooi (Ban Topa) are also coming De Bilt. Coming from Robur '58 are American pitcher Lisa Akamine and catcher Nicolette van Reem. Van Essen is a member of the preliminary roster of the Dutch National Team, while Hartman is a member of the Dutch National Women Baseball Team.

Added to the roster from its Junior-squad were catcher Ashley Spanjer and outfielder/3B Puck van de Kolk, who both already got some playing experience in the main squad this year.

In 2013, Caroline Theunissen returns as Head Coach and will be assisted by Bas Langezaal, who this season was coach of Robur '58. Langezaal succeeds Hans Snel, who stepped down as coach, as he cannot combine it anymore with his work.

(November 2)