Roef! adds experience with Lindgren, Vandermeiren
Nederlands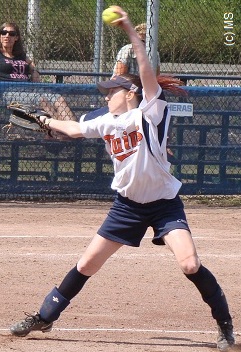 ...Andee Lindgren...
(© Photo: Marco Stoovelaar)

MOERGESTEL (Neth.) - The softball-team of Roef!, which finished in fourth place this season in the 'Overgangsklasse' (second highest league), gained experience, as it added veteran players Andee Lindgren and Sarah Vandermeiren to its roster for the 2013 season. This year, the two played for Centrals, which promoted to the big league, but despite that, they opted to remain playing in the Overgangsklasse.
...Debby Barbé, Sanne vd Meijdenberg, Caroline Sins...
(© Photos: Wouter Heessels, Roef!)
Three players will not be back with the team, being former National Team and big league-player Caroline Sins, Debby Barbé (former member National Junior Team) and Sanne van de Meijdenberg, who all retired. Barbé stopped to focus on her study.

Before coming to Centrals, lefthanded 1B/pitcher Andee Lindgren played seven seasons in the big leagues. After her debut with Sparks Haarlem, she played six years for Twins. Outfielder Sarah Vandermeiren played five season for Twins, before going to Centrals.

Roef! added three more players, one of them being pitcher Samani Lindenborg from Sparta-Feyenoord. Lisette Bennink and Sofie van der Wiel, the other two players who are coming to Moergestel, are members of the Dutch National Women Baseball Team and both played baseball this season for Pink Panthers Zwijndrecht and Meppers Eersel respectively.

Returning to the roster for next season are several players with the necessary experience.

The most experienced is Charlotte Haen, who has played in seven big league-seasons for Twins, while Ilse van Kerkoerle has played in some big league-games for Twins.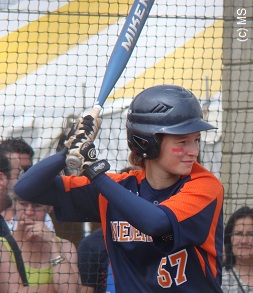 ...Eva van Knegsel hitting...
...during the successful...
...EC Juniors in Rosmalen...
(© Photo: Marco Stoovelaar)

Another returnee is catcher/utility Eva van Knegsel, who this year was a member of the Dutch Junior Team that captured the European title. While playing for the Dutch Junior-squad, she also made her debut in the Dutch big league this season. Eva played in 15 games and (based on her at bats) was the leading batter of the team with a .265 average. She also led the Juniors in at bats (34) and basehits (9).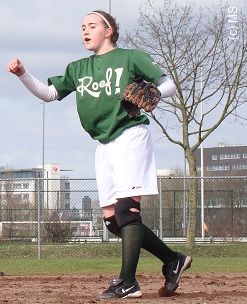 ...Gini Ketelaars...
(© Photo: Marco Stoovelaar)

Roef! has two more players who have been members of the Dutch Junior-squads, being pitchers Amanda van der Linden and Gini Ketelaars, while infielder/outfielder Wies Ligtvoet this year was a member of the Dutch Junior White-squad.

Coaches Jeroen van de Wiel and Nicolas Vlyminckx are returning next season.

(November 2)