Tex Town Tigers to play with young team
Nederlands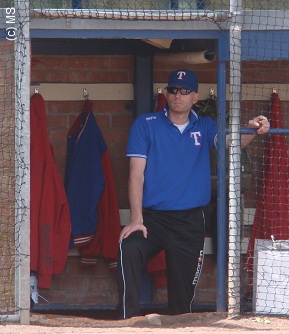 ...Rob Hassink...
(© Photo: Marco Stoovelaar)

ENSCHEDE (Neth.) - Tex Town Tigers again lost some experienced players, as it has done so in the past three years. Therefore, a team filled with young players will participate in the Dutch big league. Most of these youth players will come from within the club.

The young squad will be led by Rob Hassink, who already took over as Head Coach during the regular season, when he succeeded Bill Gates on July 30. Hassink started the season as assistant of the Australian coach.

Only one new player was added to the team for next season, being Maaike Ogink, who played for Neunkirchen Nightmares in the German Softball League.

Seven players has left the team, which managed to climb in the ranking towards the end of the season and finished in a tie for fourth place to force a deciding 3-way series with Gryphons and Olympia Haarlem. Gryphons defeated both Tex Town Tigers and Olympia Haarlem to qualify for the Play-Offs.
| | |
| --- | --- |
| | |
Two players who left are member of the Dutch National Softball Team, being infielder Petra van Heijst and outfielder/2B Merel Oosterveld.

Petra van Heijst returns to Hotel Ambassador c.c. Terrasvogels, where she already played in 2005-2008, before returning to Tex Town Tigers, where she had started her career. This season, she batted .278 (30-for-108) for the Enschede-team with 17 RBI's, five doubles and three triples and was second best of the team with 30 runs scored.

Merel Oosterveld will play for Olympia Haarlem after having played in the Dutch big league for Tex Town Tigers since 2005, winning two national championships. This season, she led the team in hitting with a .434 average, in runs scored (34) and in stolen bases (22), while collecting 16 runs batted in.

Myrthe Smid also will play for Terrasvogels in 2013. The infielder/outfielder, who was a member of the preliminary roster of the Dutch National Junior Team earlier this year, batted .164 (12-for-73), scored 10 runs and had five RBI's and six doubles.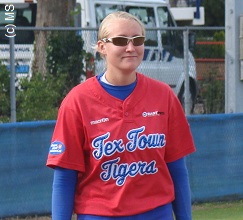 ...Marit van Vulpen...
(© Photo: Marco Stoovelaar)

Pitcher/infielder Marit van Vulpen stopped after the season. This year, she was a member of the successful Dutch National Junior Team that captured the European title. For TTT, she was 2-4 as a pitcher, striking out six batters in 25 innings, while hitting .292 (7-for-24) with three doubles. As a player of the Juniors, she was 0-3 in the big league-competition and batted .143.
| | |
| --- | --- |
| | |
Righthander pitcher Martina Lackner returns back to Austria after having played four seasons for Tex Town Tigers. This season, the member of the Austrian National Team was 7-9 with a 3.53 ERA and struckout 59 batters in 119 innings. Offensively, she batted .280 (23-for-82) with six doubles and two homeruns, scoring 12 runs and collecting 14 RBI's.

Outfielder Kirsten Holshof, who completed her third full season in the big league with TTT, retired. This season, she batted .141 (13-for-92) with two doubles and four triples, scored 14 runs and had 10 runs batted in.

German outfielder Leoni Winter, who made her big league-debut this season, will play this winter in Australia. She batted .167 (5-for-30), playing in 23 games for Tex Town Tigers.

An eighth player can be added to this list, as pitcher Lindsey Meadows left to play for Olympia Haarlem next season. Last year and this season, she played in Italy, but remained available to play for Tex Town Tigers, which she did in both years. Last year, Lindsey Meadows played for Nuoro and this year, she pitched for Bollate. Before that, she was the pitching ace for Tex Town Tigers from 2005-2010 with whom she won two Dutch championships. This season, pitching for Bollate, she was 10-4 with 117 strikeouts in 94 2/3 inning, walking only 15 batters and giving up 57 basehits. Her ERA of 1.11 was third best in the Italian Softball League. As a batter, Lindsey Meadows hit .286 with three homeruns, 12 runs scored and 13 RBI's. This season, she also pitched in four games for TTT and was 3-1 with 22 strikeouts in 21 1/3 inning.

(November 2)