Wins for Sparks Haarlem, Alcmaria Victrix
Nederlands


HAARLEM / ALKMAAR (Neth.) - League-leader Oolders Omaco Sparks Haarlem and Alcmaria Victrix successfully make up earlier rained out games on Sunday. Sparks Haarlem won 8-1 and 7-0 vs. UVV, while Alcmaria Victrix defeated Tex Town Tigers 4-1 and 9-1.
---

Oolders Omaco Sparks Haarlem vs. UVV
At Haarlem, Oolders Omaco Sparks Haarlem won twice via the 7-run difference mercy-rule vs. UVV, winning 8-1 and 7-0.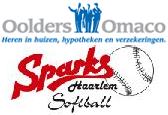 In the first game, Virginie Anneveld singled and scored in the first inning to give Sparks Haarlem an early 1-0 lead. The league-leader then broke open the game in the third by adding five more runs. First, Nathalie Gosewehr led off with her third homerun of the season. With one out, the bases got loaded when Areke Spel and Debby Connor singled and Julie Owen was walked intentionally. The set up for a force play failed, as next batter Shannah van der Kaaij followed with a grand slam homerun to make it 6-0. For Shannah, this was the first big league-homerun in her career.
UVV scored its lone run in the fourth when Kayleigh Adelina led off with a homerun. Sparks Haarlem then reached the 7-run difference in the home of the fifth. The bases got loaded when Michelle van Driel, Celine van Roon and Nathalie Gosewehr all walked. Singles by Virginie Anneveld and Areke Spel then lifted the lead to 8-1 to end the game.
In Game 2, Kirsten Scheele pitched a 2-hit shutout and struckout nine batters. A double by Areke Spel produced the first run in the first inning, then the second run was added in the next at bat on a sac-fly by Nathalie Gosewehr. In the third, Sparks Haarlem doubled the lead on a single by Beau van Gelder and an error to make it 4-0.
The 7-run difference was reached in the sixth inning when three more runs were scored. With two runners on base, Virginie Anneveld doubled in both and then scored herself on a single by Areke Spel.
Line Scores, Box Scores & Play-by-Play
Standings, Schedule & Scores
---

Alcmaria Victrix vs. Tex Town Tigers
At Alkmaar, Alcmaria Victrix moved into second place by winning twice vs. Tex Town Tigers, 4-1 and 9-1 to complete a successful weekend after having won twice on Saturday vs. Hotel Ambassador c.c. Terrasvogels.

In the opener, TTT took an 1-0 lead in the first inning when Merel Oosterveld led off with a single and went on to score on an one-out single by Nadine Marinus. But Alcmaria Victrix reacted with two runs in its first at bat. Anne Blaauwgeers led off with a bunt-single, then Anne Vlietstra singled with one out. The two runners then scored when Kym Turnell followed with another single off Austrian pitcher Martina Lackner.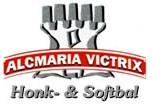 Alcmaria added a run in the second inning. With two outs, Maaike Blaauwgeers tripled, then scored on a single by her sister Anne Blaauwgeers.
The home team scored its fourth run in the sixth at bat. With one out, the bases got loaded when Suzanne Meiring, Malou van Dusschoten and Manoa Weijgertse singled. Maaike Blaauwgeers followed with another single that led to a run, but then Anne Blaauwgeers (who had three hits in her previous at bats) struckout and Kimberly Jones popped out, leaving the bases loaded.
After Tex Town Tigers got only one baserunner from the second through fifth inning, the team (at that moment trailing 3-1) got its biggest scoring opportunity in the sixth at bat off new pitcher Ashley Lanz. Marije ten Thij led with a single and Merel Oosterveld followed with another basehit. A sac-bunt by Petra van Heijst brought the runners into scoring position and then Nadine Marinus walked. But then the inning ended when Lanz struckout Myrthe Smid.
In Game 2, things went much smoother for Alcmaria, which rallied for five runs in the first inning. In the opening at bat, Anne Blaauwgeers led off with a triple and scored on a grounder by Kimberly Jones. Anne Vlietstra then walked and Kym Turnell and NoŽmie Brandjes then followed with singles, leading to the next run. A single by Suzanne Meiring then loaded the bases. Next, the lead was lifted to 5-0 when Manoa Weijgertse hit a 3-run double.
Two runs were added in the second inning on a single by NoŽmie Brandjes and two more in the third thanks to singles by Anne Blaauwgeers (who was 3-for-3) and Kimberly Jones.
Tex Town Tigers scored its lone run in the fourth inning on a triple by rookie Leonie Winters.
Line Scores, Box Scores & Play-by-Play
Standings, Schedule & Scores
(May 6)