Twins relegates; Centrals promotes!
Nederlands

DE BILT (Neth.) - Centrals today won 2-0 and 6-2 vs. Twins to win their best-of-five Promotion/Relegation Play-Off 3-1. With this, Centrals returns to the Dutch big league after an one-year absence. For Twins, the double loss means it relegates from the Dutch big league after having played 27 consecutive season on the highest level since 1986. In that span, Twins played in 16 Play-Offs, reached five Holland Series and won the championship in 1994 when it was led by current National Team Head Craig Montvidas.
---
Game One
Centrals got runners on base in the first and second inning, but it was Twins that threatened to open the score in the third at bat. In the first inning, Eva Voortman reached on an error for Centrals with one out, but stranded at second base. In the second, Stephanie Ruiter led off with a double and moved on a sac-bunt, but then was eliminated at the plate after Eliza Rikkelman struckout on a 2-3 play.
Centrals-pitcher Lindsey VanderLugt, who had retired the side in the first and second inning, began the third with two more outs, but then gave up singles to Imane Issa Allou and Sandy Lauwers. However, moments later, Issa Alou was ruled out for interference on a grounder to short by Femke Duffhues that ended the at bat.
Twins-pitcher Megan Brown then retired the side in the third and fourth inning, but then Centrals struck in the fifth inning. Stephanie Ruiter led off with a single and advanced on a sac-bunt by Jasmin Carlson. She reached third base when Eliza Rikkelman followed with an infield-hit. After Ashley Spanjer took over as pinch-runner at first base, Ruiter scored the opening run when Nadia Bron placed a squeeze sac-bunt.
Twins then left another runner in the top of the sixth inning and Centrals added an insurance run in the bottom half. Lead-off hitter Petya Sokolová was hit by a pitch, but then was caught stealing. Next, Eva Voortman drove the ball into rightfield, resulting in an inside-the-park-homerun to make it 2-0.
The tension arose in the top of the seventh inning when VanderLugt gave up singles to Evelien Vonk and Michelle Haen with one out. But then two grounders ended the game.
---
Game Two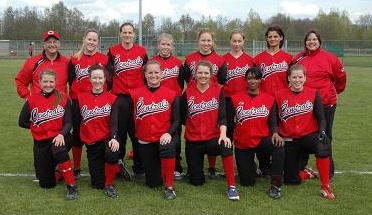 ...Centrals returns to big league...
(© Photo: Centrals)

In the next match-up, Centrals decided the outcome early by scoring six runs in the first two innings. The runs were scored on only three basehits, as the Twins-defense fell apart and committed five costly errors.

Initially, Twins opened the score in the top of the first inning when Lindsey VanderLugt gave up three basehits. Sandy Lauwers and Michelle Haen led off with singles, then advanced on a sac-bunt by Lieke Duffhues. A single by Sophie Bugter then gave Twins an 1-0 lead, but an out at home on a grounder to short and another grounder ended the scoring opportunity.

Centrals reacted with three runs in its first at bat. Petya Sokolová led off with a single and moved on a wild pitch, then Eva Voortman was hit by a pitch. A throwing error then led to runners on second and third base and after a pop-out, two more throwing errors followed on a single by Sarah Van Der Meiren that led to three runs. Van Der Meiren, as well as Centrals' 1B Andee Lindgren played for Twins the last several seasons.

In the next inning, Centrals added three more runs. With two outs, Lindsey VanderLugt walked, then scored on a following triple by Sokolová, who then scored herself on a wild pitch. Next, Eva Voortman reached on an error and went on to score on another error to make it 6-1.

In the next four innings, Megan Brown held Centrals to only two hits, but the damage was been done. Twins was unable to come back into the game and managed to add only one more run in the third inning when Sandy Lauwers led off with a single, stole second base and scored on a throw to second base after Sophie Bugter had reached on a fielder's choice.

Trailing 6-2, Twins did got three more runners in the remainder of the game, but they all stranded. In the top of the seventh inning, VanderLugt began with two strikeouts, then gave up a single to Sandy Lauwers (her third), but followed with another strikeout to seal the faith of Twins, which relegated, while Centrals returned to the big league.

(October 7)