First win Dutch Juniors
Nederlands

SANTPOORT (Neth.) - The Dutch Junior Team on Sunday upset Hotel Ambassador c.c. Terrasvogels on Sunday with a 5-4 come-from-behind victory to register its first win of the season. Terrasvogels won the opener 12-2 on 10 basehits, including a homerun by Ashli Holland and two doubles by Anouk van den Heuvel.

In Game 2, Ashli Holland homered again and Terrasvogels held a 3-0 lead when the seventh inning began. The Dutch Juniors then scored five runs, including two on a single by Maxime van Dalen that tied the score. Terrasvogels scored only more run and was left empty-handed 5-4.
---

In the opener, the Dutch Juniors took a 2-0 lead in the first at bat. Lotte Zijlstra singled with one out and Sophie Bugter walked, then both advanced on a sac-bunt by Eva van Knegsel. A single by Floor van Dijk enabled both to score. The inning ended when the latter was caught stealing. Van Dijk's single was the second and last allowed by Ginger de Weert, who struckout five batters in the remainder of the game.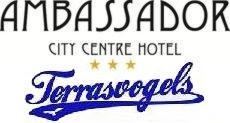 Terrasvogels immediately reacted with three runs in the home half of the first at bat. The bases got loaded when Junior-starter Svenja de Lincel walked Meike Witteveen and Ashli Holland and gave up a single to Lotte Holvast between them. With one out, the bases were cleared when Anouk van den Heuvel doubled.
In the second inning, five runs were added. With one out, Meike Witteveen singled and Lotte Holvast walked. Next, Ashli Holland also walked and while the runners advanced a throwing error towards third base followed, enabling Witteveen to score. A double by Kate Gentile then made it 7-2. Hereafter, Quincey Catsburg took over the pitching and gave up an RBI-double to Anouk van den Heuvel, who moments later scored herself on a single by Lisa Waasdorp.
In the third inning, Meike Witteveen doubled and Ashli Holland hit a 2-out, 2-run homerun to increase the lead to 11-2. The 10-run difference was reached in the fourth inning when MariŽlle Vleugels walked and scored on a 2-out single by Meike Witteveen, who was 3-for-3 and scored three runs.
In Game 2, Terrasvogels held a 3-0 lead when the seventh inning started. In the first inning, Ashli Holland opened the score with a solo-homerun off Dominique Sprengers, but hereafter Terrasvogels stranded several runners and failed to take more distance. In the third inning, Floor Roest and Meike Witteveen led off with singles and moved on a wild pitch, but then a groundout and double play followed. The fifth at bat was a crucial one for Terrasvogels. With one out, MarisŤla de Wind singled, but was caught stealing moments later. Floor Roest then walked and Meike Witteveen reached on an error. Next, Lotte Holvast singled, but Roest was eliminated at the plate trying to score, ending the inning and so the score remained only 1-0.

In the sixth inning, two runs were added. With one out, Kate Gentile walked and scored on a triple by Anouk van den Heuvel, who then scored herself on a 2-out single by MariŽlle Vleugels.
The Juniors were held to four hits by MariŽlle Vleugels in six innings and left four runners in scoring position. In the top of the seventh inning, the game turned the way of the Juniors. NoŽmie Brandjes led off with a single, then appeared to be forced out on a grounder by Sophie Bugter, but an error was made. However, the umpire ruled Brandjes safe, stating that the error was not a 'second handling'. The bases then got loaded when Beau van Gelder reached on a bunt-single and led to a pitching change. Ginger de Weert took over and saw Kimberly Jones groundout, leading to the first run. A single by Noa Brand re-loaded the bases. A strikeout then accounted for the second out, but Maxime van Dalen followed with a single that tied the score. Moments later, Lynn Dollekamp, who ran for Brand, scored the go-ahead run on a wild pitch and Van Dalen went on to make it 5-3 when Floor van Dijk singled.
Terrasvogels got on base quickly with one out in the home half of the seventh inning when Meike Witteveen reached on an error, Lotte Holvast singled and Ashli Holland also reached on an error. This brought up Kate Gentile, who grounded into a force out, which scored Witteveen to make it 5-4. The bases were then re-loaded by walking Anouk van den Heuvel intentionally, but three runners were then left when Quincey Catsburg followed with a strikeout. Catsburg, who took over the pitching in the fourth inning, was added to the roster of the Juniors from the Junior White Team for today's double-header.
Line Scores, Box Scores & Play-by-Play
Standings, Schedule & Scores
(May 13)