Dutch Team concludes successful American Tour with shutout
Nederlands

CLEARWATER, Florida (USA) - The Dutch National Softball Team played its 21st and last game of the American Tour today, Sunday March 18, vs. the University of Maryland and closed the trip with a 6-0 shutout-win. With this, the squad finished the American Tour with a 17-4 record, which is the best ever of all Tours a National Team made since 1967.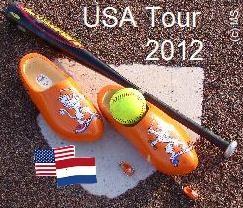 In today's game, the Dutch Team opened the score on a 2-run homerun by Areke Spel, then the team added two more runs in both the sixth and seventh at bat. Rebecca Soumeru started the game, then re-entered in the sixth and completed it. In her six innings, she struckout 10 batters.
On Friday, the team wrote history when it won 6-1 vs. Florida State University to register its 15th win to break a record. In 1977, the Dutch National Softball Team made an American Tour to Arizona and California. That team, then led by Nol Houtkamp, played 23 games during the trip and won 14 of them. With Friday's victory, the total of 14 was topped by the 2012 squad. During the first American Tour in 2008 to California and Hawaii, the Dutch Team won 12 of the 15 games played.
The recordsetting win came on the day that the Royal Dutch Baseball and Softball Association (KNBSB) celebrated its 100th anniversary after being founded on March 16, 1912.
In Friday's game, Dagmar Bloeming was the winning pitcher for the fifth time, while Rebecca Soumeru earned her fifth save of the Tour. Bloeming struckout eight in four innings, then Soumeru added six more for a combined total of 14 strikeouts in this 3-hitter. Saskia Kosterink hit a 2-run homerun in the second at bat of this game.
In total, the Dutch Team hit 16 homeruns during the Trip, hit by Areke Spel (4), Saskia Kosterink (3), Nathalie Timmermans (3), Petra van Heijst (2), Nathalie Gosewehr (1), Lindsey Meadows (1), Merel Oosterveld (1) and Karin Tuk (1).
During the Trip, the Orange squad had a 10-game winning streak, while Rebecca Soumeru had an impressive streak of retiring 38 batters in a row.
For complete and extensive recaps of all 21 games played during this year trip to Tennessee and Florida, please visit the official website of the Dutch National Softball Team.
(March 18)