Alcmaria Victrix qualifies for Holland Series!
Nederlands

SANTPOORT (Neth.) - Alcmaria Victrix qualified for this years Holland Series and surprised almost everyone by winning twice today against Hotel Ambassador c.c. Terrasvogels. In Santpoort, the home team, which was favorite to become the second finalist, suffered two one-run losses and therefore was eliminated, thus ending their season. Alcmaria Victrix won the opener 3-2, then won Game 2 in eight innings, 2-1 to reach the best-of-five final. The Holland Series open on Saturday, September 29 at the site of reigning champion Oolders Omaco Sparks Haarlem, which reached the final a week ago.

It can be labeled as a surprise development that Alcmaria Victrix reached the Holland Series, but during the regular season, the team won four of its six games played against Terrasvogels, while one game ended in a tie. In the first series between the two teams on May 5, Alcmaria won 8-4 and 9-8. A month later, on June 9, the first game ended in a scoreless tie, then Alcmaria won the next game, 5-0. On August 12, Alcmaria took the opener, 2-1, then Terrasvogels won Game 2 with an 8-2 score.

Today, Alcmaria, which frequently got its lead-off batter on base, was the better team and outhit Terrasvogels in both games of the second Play-Off round.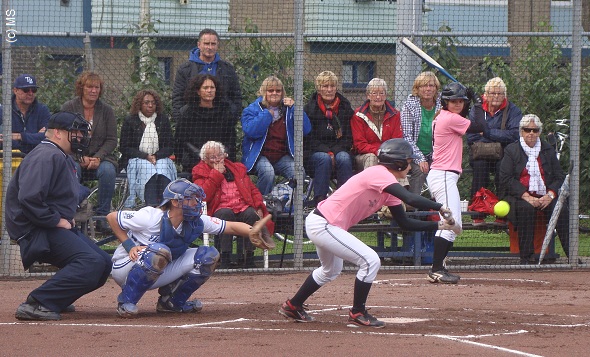 ...Anne Blaauwgeers bunts in the 3rd inning in Game 1...
(© Photo: Marco Stoovelaar)

In the opener, Alcmaria's lead-off hitter Maaike Blaauwgeers reached on an error, but stranded, then the home team got two runners on base when Ashli Holland and Dana Horeman both walked, but they also were left behind. In the next at bat, Jessie van Aalst led off for Alcmaria with a single, moved on a sac-bunt, but also was left. The home team then treatened again to open the score by getting two baserunners. With one out, Allie Crump was hit by a pitch and Lotte Holvast singled with two outs, but again these runners were left behind.

Hereafter, the game turned Alcmaria's way. In the third inning, NoŽmie Brandjes led off with a single, advanced on a sac-bunt by Anne Blaauwgeers and moved to third base on a single by Kimberly Jones. Next, a single down the rightfield-line by Australian Kym Turnell enabled both runners to score and gave Alcmaria a 2-0 lead.

In the top of the fourth, Anne Vlietstra and Suzanne Meiring singled with one out for Alcmaria, but no runs were added. That extra run came in the sixth inning and that proved to be an insurance run. Jessie van Aalst led off with a walk, but was forced out on a bunt by Maxime van Dalen, who then moved on a grounder. She advanced to third base on a single by Suzanne Meiring and scored when NoŽmie Brandjes also singled to make it 3-0.

In the bottom of the sixth inning, Alcmaria almost led slip the lead, as three errors led to two runs. While Terrasvogels scored twice, it didn't had the luck on is side, as line drives by Anouk van den Heuvel and Dana Horeman were caught. The first led off with a line drive, but she became the eleventh batter to be retired in order by Femke van Dusschoten. Next, Ashli Holland reached on an error, then Horeman lined out. A single through the right side of the infield by MariŽlle Vleugels then led to two throwing errors, enabling Holland and Vleugels to cross home plate and narrow the deficit to only 3-2.

In the top of the seventh inning, Alcmaria stranded two runners, then Terrasvogels got the chance to tie the score in its seventh at bat. Allie Crump led off with a double and was replaced by pinch-runner Floor Roest. An attempt of bunting her over then failed, as two strikeouts followed. But then Meike Witteveen singled down the leftfield-line. Roest was held at third base and it remains the question whether she would have a chance at home when she would have been sent to score. With runners at first and third base, reliever Ashley Lanz (who took over in the sixth) then followed with a strikeout to secure the win for Alcmaria, which outhit Terrasvogels 9-4.
...Jessie van Aalst is forced out by Ashli Holland...
...in the 6th inning of Game 1...
(© Photo: Marco Stoovelaar)

In Game 2, Alcmaria collected four basehits, while Terrasvogels had only two. The game remained scoreless for seven innings, so the tie-break brough the decision in the eighth at bat.

Terrasvogels turned a double play in the first inning and Alcmaria left a runner on first base in the second and third inning, then the home team came close to a run in the home of the third. Allie Crump reached on an error and advanced on a sac-bunt and grounder, then tried to score on a wild pitch, but was tagged out at home. Alcmaria got a scoring opportunity in the fourth when Kym Turnell singled with one out and moved to third on a 2-out single by Maxime van Dalen, but then a flyout followed.

While Alcmaria was retired in order in the fifth and sixth inning, Terrasvogels left a runner again in the fourth and sixth. In the top of the seventh, Jessie van Aalst led off with a single and moved on an error, but stranded there. In the bottom of the seventh, Ashli Holland led off with a single, advanced on a sac-bunt by Dana Horeman, but then was eliminated on a grounder to third base by MariŽlle Vleugels.

The decision then fell in the eighth inning. First, Alcmaria's tie-break runner Suzanne Meiring moved to third base on a sac-bunt by NoŽmie Brandjes, then Anne Blaauwgeers walked. A single by Maaike Blaauwgeers then gave Alcmaria an 1-0 lead. After a flyout, Kym Turnell also walked to load the bases. Allie Crump then relieved MariŽlle Vleugels, but walked Jessie van Aalst, leading to the next run, before a strikeout ended the at bat.

In the home of the seventh inning, with Solange Starrenburg being the tie-break runner, Allie Crump walked. The two then advanced on a sac-bunt by Kate Gentile. A sac-fly by Lotte Holvast then led to a run, but a groundout ended the inning and the game, resulting in Alcmaria's second win of the day and thus the clinching of the Holland Series.

(September 22)