Olympia Haarlem moves into second place
Nederlands



HAARLEM / ENSCHEDE / VLEUTEN (Neth.) - Today, most of the country was dressed or colored in orange on this Queen's Day to celebrate the birthday of H.R.H. Queen Beatrix. But on this holiday, there were also three double-headers scheduled in the Dutch Softball big league.

On a sunny day (the first of the season), Olympia Haarlem won 7-0 and 2-1 vs. Twins to move into second place. Gryphons and Tex Town Tigers split their double-header. Gryphons won the opener 7-4 and TTT took Game 2 with a 4-3 score, as both teams registered their second win of the season. Alcmaria Victrix shutout UVV twice, 6-0 and 7-0.

The fourth double-header between Hotel Ambassador c.c. Terrasvogels and Oolders Omaco Sparks Haarlem was moved to last weekend.
---

Olympia Haarlem vs. Twins
At Haarlem, Olympia Haarlem needed only 4 1/2 inning to win the opener vs. Twins with a 7-0 score, but Game 2 ended in a narrow 2-1 victory for the home team. Rosanne de Vries was the winning pitcher in both games and now leads the league with a 5-0 record. Olympia also won twice on Saturday, while Twins also lost twice on Saturday and scored only one run this weekend, as it was shutout three times.

In the opener, Rosanne de Vries gave up four basehits and never ran into problems. Twins got its lead batter on base in the second when Sophie Bugter singled and moved on a sac-bunt by Kimberly Petrovich, but then two grounders followed. In the fifth, trailing 7-0, Twins came closest to scoring a run. Lieke Duffhues and Kimberly van der Lee opened with singles to put runners on first and third base. The latter then stole second base, but the two runners stranded as a foul-out, strikeout and groundout followed to end the game due to the 7-run mercy-rule.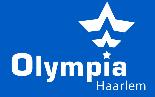 Olympia had rallied for five runs with two outs in the second inning off Femke Duffhues. Maranca Ham led off with a single and moved on a sac-bunt by Rosanne de Vries. After a groundout accounted for the second out, singles by Lisanne van den Berg and Lisette Untied then led to the first run. Marit Molenaar then connected for an RBI-single and Courtney Bures followed with a 2-run double. Next, Lotte Zijlstra also singled to increase the lead to 5-0.
Two runs were added in the fourth inning. Lisanne van den Berg led off with a single and scored when a throwing error followed on an one-out bunt-single by Marit Molenaar, who also was able to score herself.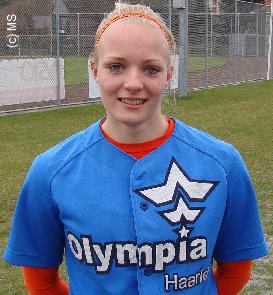 ...Rosanne de Vries...
...4th & 5th pitching-win...
(© Photo: Marco Stoovelaar)

In Game 2, both teams got a lot of baserunners, but in total, only three runs were scored. And that means, that a lot of runners stranded. Twins left 11 runners, including eight in scoring position and including the bases loaded three times. Olympia left nine runners, including six in scoring position and the bases loaded once.

After Olympia had left a runner on third base in the first inning, Twins got the bases loaded with two outs in the second at bat. Lieke Duffhues and Evelien Vonk then walked and in between Kimberly van der Lee reached on an error, by then Chinese pitcher Ying-Yi Chen ended the at bat with a strikeout.

Olympia then opened the score in the third inning by scoring their two runs. With one out, Marit Molenaar walked and Courtney Bures singled. The two runners then advanced on a double steal which was followed by a throwing error, enabling Molenaar to score. Moments later, Bures scored the second run on a single by Laura Burggraaf. With two outs, Maranca Ham also singled, but two runners were left behind.

In the fourth inning, Twins got one run back, but left the bases loaded again. Sophie Bugter led off with a walk and moved to third base on a single by Kimberly Petrovich. Next, the lead runner got into a rundown and was eliminated, while Petrovich advanced to second base. A walk for Lieke Duffhues followed, then Kimberly van der Lee's single was followed by an error that led to a run. The bases got loaded when Evelien Vonk walked. Hereafter, Rosanne de Vries took over the pitching and ended the inning thanks to two pop-flies.

With the score now 2-1 in favor of Olympia, both teams failed to add more runs. For Olympia, Courtney Bures led off the fifth with her third single, but was ruled out for leaving the base too early. Laura Burggraaf and Dinet Oosting then both singled, but in the ended were left on second and third base. In the sixth, Lisette Untied and Marit Molenaar were on second and first base with two outs when Courtney Bures was walked intentionally. That worked, as Twins-hurler Kimberly Petrovich closed the inning with a strikeout.

And so, Twins still had a chance to turn the game around. After leaving a runner on second base in the fifth and sixth inning, they got the bases loaded again with two outs in the seventh at bat. Michelle Haen and Sophie Bugter then singled and Kimberly Petrovich walked, but a flyout then ended the game.

Courtney Bures today batted 4-for-6 and scored twice to become the league's leading hitter with a .556 batting average. She also leads with 13 runs scored and 15 basehits.

Line Scores, Box Scores & Play-by-Play
Standings, Schedule & Scores
---

Tex Town Tigers vs. Gryphons
At Enschede, Tex Town Tigers and Gryphons combined on 18 runs, 30 basehits, 11 errors, 60 baserunners and 27 offensive or defensive changes. 18 of these changes were done by Gryphons' Head Coach Andrť Prins, who is known to execute several changes using his designated player or through re-entry. In the opener, when reading the play-by-play, it might appear that the re-entry rule wasn't used properly, but no illegal moves were made, so everything went according to the rules.

Gryphons got the most baserunners today (33), but was left empty-handed in Game 2. In both games, the teams turned a deficit into a victory.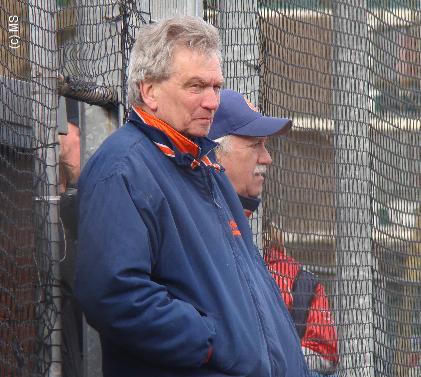 ...Andrť Prins with assistant Wout Isbouts...
(© Photo: Marco Stoovelaar)

In the opener, Tex Town Tigers left the bases loaded in the first inning, then both teams scored a run in the third inning. For Gryphons, Fabienne van Uden singled with one out, moved on an error and a grounder, then scored on a single by Kim Donkers. For TTT, Merel Oosterveld led off with a single and went on to score on a grounder by Nadine Marinus.

In the fourth at bat, TTT took a 3-1 lead. With one out, Marije ten Thij singled and Lynn Dollekamp reached on an error on her sac-bunt. After a strikeout, the two scored on a single by Merel Oosterveld, who would strand on third base herself.

Gryphons then left the bases loaded in the fifth inning and saw Tex Town Tigers add another run in the home of the fifth. Gryphons-pitcher Shannon Galea hit lead-off batter Petra van Heijst with a pitch, who then stole second base, advanced on an error and scored on a 2-out double by Myrthe Smid.

Trailing 4-1, Gryphons struck with a 6-run rally in the sixth inning. Sophie Mollee started the rally by leading off with a homerun, then Kiki Draaijer singled and Lucie MarsikovŠ followed with an RBI-triple. No play was then made on a grounder by Kirsten Verbunt and MarsikovŠ scored the tying run when an error was made when Verbunt was caught stealing. Next, Shannon Galea entered the batting order for the second time as pinch-hitter for Ellinor Keepers and singled. Galea was listed in the number 10 slot of the batting order and was used twice as pinch-hitter for (original DP) Keepers, who re-entered once and then was not eligible to return again (which she didn't), meaning Galea remained in the number 9 spot and Gryphons continued the game with nine players. After Galea's single, the bases got loaded when Fabienne van Uden walked. A passed ball then gave Gryphons a 5-4 lead. After a groundout, the bases were re-loaded when Kim Donkers walked, then a single (plus error) by Claudia Kranendonk increased the lead to 7-4.

Gryphons-pitcher Shannon Galea then struckout the side in the sixth, lifted her strike-out total to eleven in the seventh and was supported with a double play to end the game.

Game 2 remained scoreless for five innings. Both teams stranded five runners in that span, which also saw some baserunning mistakes. In the second Gryphons at bat, Sophie Mollee led off with a double and moved on a grounder. But after Lucie MarsikovŠ reached on an error, Mollee was eliminated in a rundown in a stole base-situation. Tex Town Tigers got a scoring opportunity in the fifth. Leonie Winters and Kirsten Vierdag led off with singles. After the two had advanced, a force play was created by walking Merel Oosterveld intentionally. Kirsten Holshof then flied out, but that ended in a double play, as Vierdag was eliminated at second base.
Gryphons then took a 2-0 lead in the sixth. Kim Donkers walked and Claudia Kranendonk singled. Sacrifice bunts by Sophie Mollee and Kiki Draaijer (squeeze) then led to the first run. An error on a grounder by Lucie MarsikovŠ made it 2-0.
Tex Town Tigers reacted with four runs in the home of the sixth inning. Petra van Heijst led off with a walk, then Gryphons-starter Lucie MarsikovŠ followed with her ninth strikeout, but then walked Martina Lackner. Next, a double by Myrthe Smid tied the score. After Leonie Winters walked, Shannon Galea took over the pitching and Lynn Dollekamp entered as pinch-runner. The bases were loaded when Galea walked Kirsten Vierdag and she then gave up a single to Marije ten Thij, that produced two runs and gave TTT a 4-2 lead. With two outs, the bases were loaded again when Kirsten Holshof also walked, but the three runners were left.
In the seventh inning, Amanda Webster relieved TTT-starter Martina Lackner. With one out, she gave up singles to Fabienne van Uden and Yonina Sint Jago, then a sac-fly to Kim Donkers, but ended with a grounder to earn a save.
Line Scores, Box Scores & Play-by-Play
Standings, Schedule & Scores
---

UVV vs. Alcmaria Victrix
At Vleuten, Alcmaria Victrix gave up no runs and so registered two shutout-wins vs. UVV, 6-0 and 7-0. Alcmaria collected 20 basehits in the double-header, including five by Anne Blaauwgeers.

In the opener, Alcmaria opened the score in the first inning when Anne Blaauwgeers singled with one out, advanced on a sac-bunt by Kym Turnell and scored on a double by Maxime van Dalen.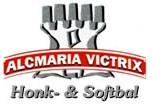 Two runs were added in the third inning. The bases got loaded when Kimberly Jones, Anne Blaauwgeers and Kym Turnell started the at bat with singles. Then two outs followed, but the team scored twice when a throwing error was made on a grounder by NoŽmie Brandjes.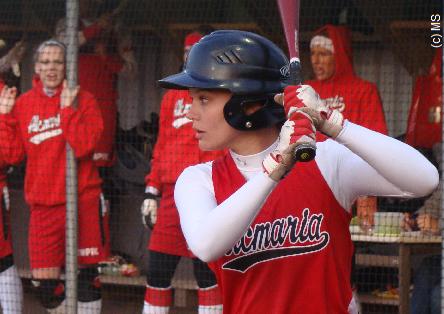 ...Anne Blaauwgeers...
...5 hits, 4 runs...
(© Photo: Marco Stoovelaar)

Alcmaria was then held scoreless in the next three innings by pitcher Brenna Sandberg and left a runner on second base in each of these at bats. Three runs were then scored in the seventh inning by Alcmaria, which scored all its runs with two outs. Anne Blaauwgeers led off with a single and stole second base, then Kym Turnell walked. With two outs, NoŽmie Brandjes doubled in a run and as a throwing error followed, another run could be scored. Moments later, a single by Suzanne Meiring made it 6-0.

UVV collected only three basehits off Femke van Dusschoten, who struckout 13 batters, including six in a row in the fifth and sixth inning. Only one UVV-runner reached third base and the game ended with a strikeout-caught stealing double play.

In Game 2, Alcmaria rallied for four runs in the third inning. Maaike Blaauwgeers reached on an error and advanced on a sac-bunt by Kimberly Jones, then scored on a triple by her twin-sister Anne Blaauwgeers. An error on a grounder by Kym Turnell led to the next run. The bases then got loaded when Maxime van Dalen and Anne Vlietstra singled and two runs were then added on a 2-out single by Suzanne Meiring.

In the fifth, Alcmaria added two runs, but also stranded three runners. Maxime van Dalen and Anne Vlietstra led off with singles, but then the first was forced out on a grounder by NoŽmie Brandjes. An error on a grounder by Suzanne Meiring and a fielder's choice-grounder by Manoa Weijgertse then made it 6-0. After a pitching change and a sac-bunt, the bases got loaded when Femke van Dusschoten walked. She had entered the batting order moments before, as she initially became the rightfielder in the bottom of the fourth inning, replacing pinch-runner Brenda Beers, who in her turn had replaced Kimberly Jones after she was hit by a pitch in the top of the fourth. With the bases loaded, a new catcher was brought in, then the at bat ended with a foul-fly, leaving the bases loaded.

Alcmaria added its seventh run in the sixth inning when Kym Turnell singled, stole second base and scored on a 2-out single by NoŽmie Brandjes.

UVV was held hitless in the first three innings by Malou van Dusschoten. With one out in the fourth, she gave up the first basehit to Brenna Sandberg, then walked Kelly Platvoet. She was then relieved by her sister Femke van Dusschoten, who had just entered the game moments earlier as new rightfielder. When she took over as pitcher, four more defensive changes took place. A groundout and strikeout ended the inning for UVV, which added only one more basehit (a single by Mirjam Boode) in the remainder of the game off Femke van Dusschoten, who ended up as winning pitcher and earned her second win of the day.

Line Scores, Box Scores & Play-by-Play
Standings, Schedule & Scores

(April 30)