Sparks Haarlem, Terrasvogels pool-winners in Enschede
Nederlands

ENSCHEDE (Neth.) - Dutch champion Oolders Omaco Sparks Haarlem and tournament title-defender Hotel Ambassador c.c. Terrasvogels used the long ball on Day 2 of the 30th J.C.J. Mastenbroek Tournament in Enschede and both remained unbeaten, winning their three scheduled games.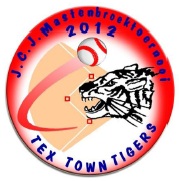 On Day 2 of the tournament, a total of 40 extra basehits were registered by the eight participating teams, including 18 doubles, 7 triples and 15 homeruns. In total, 164 basehits were registered today.
As Sparks Haarlem and Terrasvogels became pool-winners, they will play in the semi-finals on Sunday. Last year, Sparks Haarlem and Terrasvogels met each other in the final.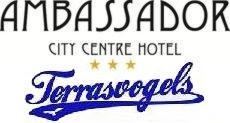 Hotel Ambassador c.c. Terrasvogels collected 10 extra basehits, including six homeruns, in its three games today in which 31 basehits were hit in total.
In its opener against Wesseling Vermins (Germany), Terrasvogels belted four homeruns and won 17-2. Solange Starrenburg (3-for-4) hit the first one with two outs in the first inning to open the score. In the next at bat, a 6-run rally was staged on six basehits, including an RBI-single by Meike Witteveen, 2-run single by Ashli Holland and 2-run double by MarisŤla de Wind. Four runs followed in the third inning when Floor Roest led off with a homerun and Ashli Holland belted a 3-run homerun. Another 6-run rally followed in the fourth and last inning. Dana Horeman, Floor Roest and Lotte Holvast then started with a walk and all scored when Meike Witteveen followed with a grand slam homerun. A double by MarisŤla de Wind (3-for-4) and single by Dana Horeman then accounted for the last two runs in the inning and lifted the lead to 17-1. Pitcher Ginger de Weert gave up only two basehits and saw the German opponent score a run in the third and fourth inning.
In the next game, Terrasvogels won 3-2 vs. Alcmaria Victrix, whom they beat 6-4 in a come-from-behind-victory exhibition game last Tuesday. All runs were scored in the first inning of this 5-inning game. Alcmaria first took a 2-0 lead off starter MariŽlle Vleugels when Anne Blaauwgeers led off with a bunt-single and advanced on a grounder and stole base, before scoring on a bunt-single by Anne Vlietstra. The latter then scored on a 2-out single by NoŽmie Brandjes. Terrasvogels immediately answered with three runs in the home part of the first at bat off Malou van Dusschoten. With one out, Ashli Holland singled and Solange Starrenburg doubled, then Anouk van den Heuvel walked with two outs to load the bases. The bases were then cleared when Dana Horeman followed with a triple to put Terrasvogels ahead 3-2. In the remainder of the game, the pitchers held each other in balance. MariŽlle Vleugels gave up only two more basehits and retired nine of the last 10 batters she faced, while two Alcmaria-pitchers gave up only one more hit to Terrasvogels.
Terrasvogels closed the day with an 11-0 shutout win vs. Olympia Haarlem. The team took charge of the game with a 4-run first at bat, which was highlighted by a 2-run homerun by MariŽlle Vleugels. A passed ball and an error accounted for the other two runs. In the third inning, the next run was added when Floor Roest walked, stole second and scored on a single by Lisa Waasdorp. Terrasvogels then rallied for six more runs in the fourth inning off rookie pitcher Nina Dijkstra, who had taken over from starter Rosanne de Vries. Meike Witteveen led off with a walk, then scored when Ashli Holland hit her second homerun of the day. A walk and two errors then loaded the bases. A single by MarisŤla de Wind, hit by pitch for Floor Roest, force play-grounder by Lisa Waasdorp and single by Meike Witteveen then added four more runs to make it 11-0. Olympia collected five basehits off of two pitchers.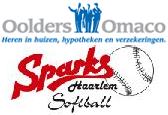 Oolders Omaco Sparks Haarlem hit 12 extra basehits in its three games, including five homeruns.
Sparks Haarlem won 11-5 vs. host Tex Town Tigers in its opener on 14 basehits, including three homeruns. After a scoreless first inning, Sparks Haarlem scored twice in the second inning, thanks to a 2-run single by Chantal Versluis. But then Tex Town Tigers rallied for five runs off starter Kirsten Scheele in the third at bat. With Leonie Winters (hit by pitch) and Marije ten Thij (double) on base, TTT tied the score when Merel Oosterveld tripled. Next, with two outs, they took a 4-2 lead on a 2-run homerun by Nadine Marinus and added a run on an error. The lead didn't last long, as Sparks Haarlem had a 5-run fourth inning on six basehits. First, Celine van Roon singled in a run, then the bases got loaded when Chantal Versluis and Nathalie Gosewehr also singled. A double by Karin Tuk then cleared the bases and gave Sparks Haarlem a renewed lead. A single by Debby Connor gave the team an extra run. In the fifth, Sparks Haarlem had a rare at bat with three back-to-back-to-back homeruns. After Silea Bos led off with a double, Chantal Versluis (who was 4-for-4) hit an one-out 2-run homerun. Nathalie Gosewehr and Karin Tuk (who played for the first time against her former team) then followed with solo-homeruns to make it 11-5.
In its next game, Sparks Haarlem added 12 basehits, including two more homeruns, in a 10-1 win vs. Carrousel (Russia). The team took a decisive 4-0 lead in the first inning. With one out, Nathalie Gosewehr homered, then Areke Spel (who was 3-for-4) doubled and Debby Connor reached on an error. Karin Tuk followed with a 3-run homerun to make it 4-0. In the third inning, Shannah van der Kaaij led off with a triple and scored on a 2-out single by Chantal Versluis. Carrousel then scored its lone run in the fourth inning off starter Rebecca Soumeru, but then Sparks Haarlem rallied for five more runs in the fifth inning when the Russian defense committed four errors. Four hits were hit in this at bat, including an RBI-single by Debby Connor. Carrousel got only two basehits off of two pitchers.
Sparks Haarlem closed Day 2 with an 8-1 win vs. SK Joudrs Praha. The team opened with four runs in the first at bat on five basehits. Debby Connor singled home the first two runs, then a double by Karin Tuk and single by Michelle van Driel lifted the lead to 4-0. Three runs were added in the third inning. Areke Spel led off with a single, advanced on a passed ball and scored when an error was made on a grounder by Debby Connor. Later in the at bat, Shannah van der Kaaij hit a 2-run single. Sparks Haarlem scored its last run of the day in the fourth inning when Areke Spel tripled with one out and scored on a single by Debby Connor. Joudrs then scored its lone run in the bottom of the fourth. With her triple, Areke Spel was 3-for-3 in this game to become the leading hitter of the tournament after Day 2.
Alcmaria Victrix opened the day with a 3-2 win vs. Olympia Haarlem. Initially, Olympia took a 2-0 lead in the second inning when Rosanne de Vries reached on an error and Laura Burggraaf walked with one out. The two then scored when Lisanne van den Berg doubled. But in the remainder of the game, Alcmaria-starter Femke van Dusschoten and her sister Malou van Dusschoten (who pitched the final two innings) kept Olympia under control. After giving an one-out single to Maranca Ham in the third inning, the last eleven batters were retired in order. Alcmaria then turned the game in its favor by scoring three runs in the fourth at bat off Chinese pitcher Ying-Yi Chen, who just had taken over with two out in the previous inning. A hit batter, walk and error loaded the bases, but then a force out at home followed. Anne Blaauwgeers then singled through the middle to tie the score and a force out grounder by Anne Vlietstra gave Alcmaria the lead.
Later in the day, Alcmaria won 15-8 vs. Wesseling Vermins on 16 basehits. The team set the tone for this game with a 6-run rally in the first inning on back-to-back RBI-triples by Anne Vlietstra and Maxime van Dalen, RBI-single by Maiken Rooker, a wild pitch, an RBI-double by Malou van Dusschoten and an RBI-single by Maaike Blaauwgeers. After the Germans scored once, Alcmaria got the run back in the second on a single by NoŽmie Brandjes, then added three runs in the third inning, which were scored on two wild pitches and an error. Trailing 10-1, Wesseling narrowed the deficit to 10-5 by scoring four runs in the home of the third, but Alcmaria immediately took more distance by scoring five runs in the next inning. In the fourth, these runs were scored on 2-run singles by Anne Blaauwgeers and Kimberly Jones and an RBI-grounder by Melissa de Greef.
Olympia Haarlem recovered from the loss vs. Alcmaria by winning 10-0 vs. Wesseling Vermins in its second game. This time, Ying-Yi Chen dominated and threw a No-Hitter in this 4-inning game. The Chinese hurler missed a Perfect Game by walking a batter in the first inning. Olympia was held scoreless in the first two at bats, but then rallied for four runs in the third on a 2-run single by Dinet Oosting, grounder by Maranca Ham and single by Laura Burggraaf. Six runs were then added in the fourth inning on six basehits, including RBI-singles by Courtney Bures and Maranca Ham (2-run) and an RBI-double by Lisanne van den Berg, while two runs were scored on errors.
Tex Town Tigers registered its first win of the tournament by beating SK Joudrs Praha (Czech Republic) 7-3. The home team scored three runs in the first at bat on a sac-fly by Nadine Marinus, triple by Myrthe Smid and single by Martine Lackner. Pitcher Marit van Vulpen then gave up two runs in the home of the first inning, but was supported by more runs from her teammates hereafter. In the second inning, Nadine Marinus hit an RBI-single, then a grounder by Annemiek Jansen accounted for another run in the next at bat. Two more runs followed in the fourth at bat, thanks to an error and a wild pitch. Joudrs then scored another run in the fifth, but lost its second game.
Carrousel (Russia) started the day with an 8-2 win vs. SK Joudrs Praha (Czech Republic) on 10 basehits, including a 2-run homerun by Elena Povarova in the fourth inning, which came after a 6-run rally in the third. The two Czech runs were both scored by Magdalena LoudovŠ, who hit two homeruns.
Final Standings Pool A after Day 2
#
Team
G
W
L
T
P
1
Hotel Ambassador c.c. Terrasvogels
3
3
-
-
6
2
Alcmaria Victrix
3
2
1
-
4
3
Olympia Haarlem
3
1
2
-
2
4
Wesseling Vermins
3
-
3
-
0
Final Standings Pool B after Day 2
#
Team
G
W
L
T
P
1
Oolders Omaco Sparks Haarlem
3
3
-
-
6
2
Carrousel
3
2
1
-
4
3
Tex Town Tigers
3
1
2
-
2
4
SK Joudrs Praha
3
-
3
-
0
Olympia Haarlem
(No. 3 Pool A)
vs.
SK Joudrs Praha
(No. 4 Pool B)
10:00 AM (#13)
Tex Town Tigers
(No. 3 Pool B)
vs.
Wesseling Vermins
(No. 4 Pool A)
10:00 AM (#14)
Hotel Ambassador c.c. Terrasvogels
(No. 1 Pool A)
vs.
Carrousel
(No. 2 Pool B)
11:45 AM (#15)
Oolders Omaco Sparks Haarlem
(No. 1 Pool B)
vs.
Alcmaria Victrix
(No. 2 Pool A)
11:45 AM (#16)
Winner Game 13
vs.
Winner Game 14
1:45 PM (5th/6th place)
Loser Game 13
vs.
Loser Game 14
1:45 PM (7th/8th place)
Loser Game 15
vs.
Loser 16
3:30 PM (3rd/4th place)
Winner Game 15
vs.
Winner Game 16
3:30 PM (final)
(March 31)