2nd DH Holland Series also split; 5th game needed
Nederlands

SANTPOORT (Neth.) - The second double-header of the best-of-five Holland Series ended in another split on Saturday, forcing a fifth and deciding game to be played on Sunday in Haarlem.

In the opener, Hotel Ambassador Haarlem Terrasvogels won 2-1 vs. Oolders Omaco Sparks Haarlem on a 2-hitter by Monica Perry.

Game 2 then ended in a 7-0 shutout for Sparks Haarlem on a combined 3-hitter by Rebecca Soumeru and Kirsten Scheele.

It marks only the fifth time in 28 Holland Series that all games are needed to come to a decision.
---

Game One
In today's opener, Terrasvogels was the most productive team and scored runs in the third and fifth inning.

Winning pitcher Monica Perry retired the first 12 batters in a row. In the fifth inning, her Perfect Game ended when Karin Tuk led off with a single. The American righthander struckout six and threw a 2-hitter against Sparks Haarlem, which led the league this season with 433 basehits, 398 runs scored and a .398 batting average.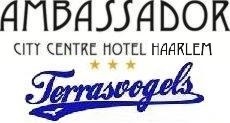 Terrasvogels got on base right away in the first inning when Petra van Heijst and Solange Starrenburg singled with one out off of starter Dagmar Bloeming. But they stranded, as a line out and groundout followed.
In the second inning, Terrasvogels opened the score. With one out, Anouk van den Heuvel doubled, then scored when an error was made on a grounder by Lisa Waasdorp.
The second run was then added in the fourth at bat. Kate Gentile led off with a single. Next batter Yonina Sint Jago then lined out to short stop Chantal Versluis, but an attempt to double up Gentile at first base ended in an error. A single by Anouk van den Heuvel then brought Gentile to second base and she scored when Lisa Waasdorp also singled to make it 2-0. Marije Schoenmaker followed with another single to load the bases. Hereafter, Marisèla de Wind flied out, then Petra van Heijst followed with a line drive into leftfield, but that was caught by Nathalie Gosewehr to end the inning.
In the top of the fifth inning, Karin Tuk became the first baserunner for Sparks Haarlem when she led off with a single. But she was forced out on a following grounder by Virginie Anneveld, who then stranded at first base.
In the sixth inning, with two outs, Chantal Versluis lined a homerun into centerfield to make it a 2-1 score. With two outs in the seventh inning, Virginie Anneveld reached second base on a dropped fly ball. She was replaced by pinch-runner Beau van Gelder, but she was left at second base, as next batter Debby Connor grounded out.
With the 2-1 win, Terrrasvogels also took a 2-1 lead in the best-of-five Holland Series.

...Game 3 is about to start...

...Terrasvogels takes a 2-0 lead in the 4th inning...

...Winning pitcher Monica Perry...

...Losing pitcher Dagmar Bloeming...
(© Photos: Marco Stoovelaar)
---

Game Two
Like a week ago, the roles were reversed in the next game, the fourth of the best-of-five finale.

Sparks Haarlem struck early and rallied for four runs in the first inning. The team then added three runs in the second at bat and led 7-0 before the sixth batter of Terrasvogels got her first at bat of the game.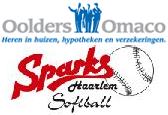 Chantal Versluis, Nathalie Gosewehr and Leigh Godfrey led off the game with three consecutive basehits, resulting in the first run. The bases were then loaded when Karin Tuk walked. Virginie Anneveld followed with another single that made it 2-0 and a sacrifice fly by Debby Connor lifted the lead to 3-0. Next, Shannah van der Kaaij lined the ball into centerfield, where Marisèla de Wind made a great running catch, but it also led to the fourth run.
In the second inning, Chantal Versluis doubled with one out and scored on a following single by Nathalie Gosewehr, which led to a pitching change. Malou van Dusschoten took over and gave up an RBI-single to Leigh Godfrey, then walked Karin Tuk. A double by Virginie Anneveld then lifted the lead to 7-0. Hereafter, Van Dusschoten retired 10 of the next 11 batters and gave up no more basehits or runs. In the fourth, after having retired six batters in a row, she walked Godfrey with one out, but the Australian was then caught stealing moments later.
Just as in the first game, Petra van Heijst and Solange Starrenburg reached base on a single with one out in the first inning. The two stranded, as starter Rebecca Soumeru followed with two strikeouts.
In the next four innings, only Lisa Waasdorp would reach base for Terrasvogels. In the second inning, she singled with two outs. Hereafter, Marije Schoenmaker hit the ball behind first base for an apparent basehit, but 2B Beau van Gelder made a great diving catch to end the inning.
In the fourth inning, Kirsten Scheele took over the pitching. With one out in the fifth, she walked Waasdorp, who advanced on sacrifice bunt by Schoenmaker, but stranded on second base.
And so, the game ended in a 7-0, mercy-rule victory in five innings to tie the Holland Series at 2-2 and forcing a fifth and deciding game on Sunday.

...ESF-President André van Overbeek (left) attended the games...
...At right is Peter van der Aart, chairman of the Organizing...
...Committee of the 2014 ISF Women's World Championship...
...which will be held in Haarlem (Netherlands)...

...Chantal Versluis reaches 3rd base in the 1st inning...
...3B Yonina Sint Jago has no play...
...Moments later, Versluis scores the first run...



...2B Beau van Gelder makes a nice diving catch...
...in the 2nd inning on a hit by Marije Schoenmaker...

...Former National Team-players Suze van Breukelen, Elly Nijhuis...
...and Gerda de Zwaan attended the games in Santpoort...
(© Photos: Marco Stoovelaar)
(October 5)