Terrasvogels comes from behind to win title!
Nederlands

HAARLEM (Neth.) - Hotel Ambassador Haarlem Terrasvogels trailed 2-0 in the fourth inning of the fifth and deciding game of the Holland Series against Oolders Omaco Sparks Haarlem, but then turned the game around by scoring three runs in the fifth at bat. Terrasvogels held onto the 3-2 lead and captured the 15th Dutch championship in club-history and first since 2007. With this, Terrasvogels became the 62nd softball-champion of the country.

A crucial umpire's decision led to two runs for Sparks Haarlem in the fourth inning, but in the next at bat, Terrasvogels decided the last game of the season. With the bases loaded, Kate Gentile drilled the ball into leftfield for a double to bring in two runners, then a following error accounted for the third run. Terrasvogels-pitcher Monica Perry was named MVP of the Series.
---

For the fifth time in the history of the Holland Series all games were needed to crown a new softball-champion. The first time was in 1983 when Terrasvogels needed three games in the then best-of-three to capture the title against DSS. The next Series that went all the way was in 1994 when Twins defeated HCAW 3-2 in a best-of-five. It then again took 10 years for the third Series that needed five games, which was in 2004 when Sparks Haarlem lost the first two games vs. Terrasvogels, but then won the next three to win the championship. In 2010, Tex Town Tigers forced a fifth game by winning Game 4 vs. Sparks Haarlem in the eighth inning, then lost the next day.

Today, both teams got a scoring opportunity early in the game, but the defense prevented runs.

In the top of the first inning, Solange Starrenburg singled with two outs and advanced on a wild pitch from starting pitcher Dagmar Bloeming. She then moved on a single by Robyn Draper, but overran third base and was tagged out. While diving back into the base, Starrenburg sustained a cut in her right arm after hitting a spike of short stop Chantal Versluis. Starrenburg was able to continue the game, but the cut was taped after the game in the hospital.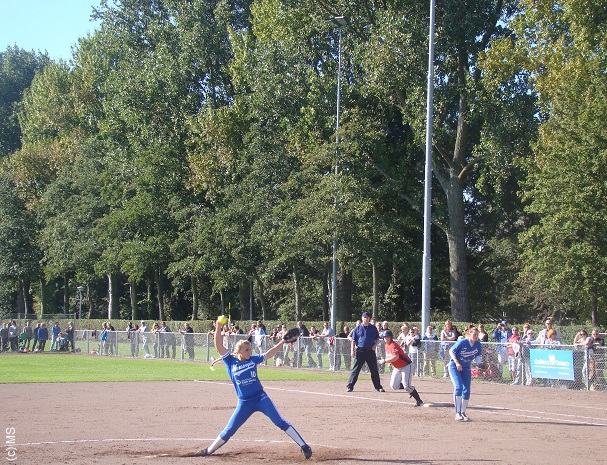 ...With spectators looking on from behind first base and rightfield...
...Series MVP Monica Perry delivers another pitch...
(© Photo: Marco Stoovelaar)

In the bottom of the second inning, Sparks Haalem got the bases loaded off of Monica Perry. Karin Tuk led off with a single, then Debby Connor was hit by a pitch with one out and Shannah van der Kaaij followed with a bunt-single. After an infield-fly accounted for the second out, Tuk tried to score on a passed ball, but was tagged out by catcher Kate Gentile.

Marisèla de Wind and Petra van Heijst both singled with one out for Terrasvogels in the top of the third inning, but stranded. Terrasvogels then left another runner in the fourth inning. Anouk van den Heuvel then singled with two outs, but a grounder followed.

Sparks Haarlem was retired in order in the third inning, but took a 2-0 lead in the fourth at bat, which was preceeded by a controversial call by Home Plate Umpire Peter Vonk. Leigh Godfrey led off with a single, then moved on a sacrifice bunt by Karin Tuk. Hereafter, Virginie Anneveld hit the ball towards the rightfield-foulline. Sparks' Head Coach Juni Francisca, who coached at third base, held up his hands for Godfrey to stop running, as the ball turned foul, as was also noticed by the Terrasvogels-defense and spectactors behind rightfield. However, Vonk resoluty signaled that the ball landed in fair territory and so Francisca waved Godfrey home, while Anneveld ended up with a triple. Moments later, she scored when Debby Connor followed with a single to make it 2-0. Connor's pinch-runner Celine van Roon was then forced out, then an error followed on a force play-grounder by Michelle van Driel that led to runners on second and third base. But Monica Perry then ended the threat by striking out Beau van Gelder.

Beginning with the strikeout, Perry would retire 10 of the last 11 batters she faced, including six with a strikeout.

Trailing 2-0, Terrasvogels turned the game around in the fifth inning with spectacular baserunning. With one out, Marisèla de Wind singled through the middle. Hereafter, Francisca decided to bring in Rebecca Soumeru to relief Dagmar Bloeming, but that didn't work out well. First, Petra van Heijst moved De Wind into scoring position with a sacrifice bunt. Soumeru then walked Solange Starrenburg and hit Robyn Draper with a pitch to load the bases. Next batter Kate Gentile then lined the ball in to leftfield to clear the bases. De Wind and Starrenburg were waved home and when the ball went by leftfielder Nathalie Gosewehr, Draper also was able to score, putting Terrasvogels ahead 3-2. Gentile was credited with a double and advanced to third base on the outfield-error.

After being retired in order in the sixth inning, Terrasvogels got the bases loaded again in the seventh at bat. With one out, Petra van Heijst singled and with two outs, Robyn Draper also singled to put runners on second and third base. A force out was then set up by walking Kate Gentile intentionally, but then inning ended when Yonina Sint Jago lined out to 3B Virginie Anneveld.

The suspense in the attractive and well-visited game remained until the final out. In the bottom of the seventh inning, after seven batters were retired in order, lead-off hitter Shannah van der Kaaij reached on a close play at first base on an infield-hit. Monica Perry then struckout Michelle van Driel and Beau van Gelder (both looking), which brought Chantal Versluis to the plate. The powerful hitter, who was 0-for-3 in the game before this at bat, then hit an 1-0 pitch to her colleague at short, Petra van Heijst, ending the game. Terrasvogels erupted and captured its first championship in six years.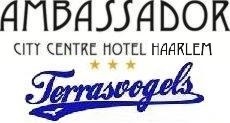 Terrasvogels' Head Coach Marco Molleman became only the third coach in history to capture both an European Cup and Dutch championship-title in his rookie season as Head Coach in the Dutch big league.
An interesting fact in today's game was that Rebecca Soumeru lost her first game of the season. She was 21-0 in the regular season, 1-0 in the Play-Offs and 2-0 in the Holland Series. Today, she came on in a save-situation, but ended up as the losing pitcher. She lost her last game almost exactly a year ago on October 7 when Sparks Haarlem lost Game 3 of the Holland Series vs. Alcmaria Victrix, which then went on to win the championship.
With this, Sparks Haarlem, which also lost the final of the European Cup in August, was left empty-handed for the second year in a row after having dominated in the regular season. Last season, Sparks Haarlem was 41-3, but then lost the final to Alcmaria Victrix, this season, the team finished with a 42-2 record and lost finale to Terrasvogels. Last year, Terrasvogels-pitcher Malou van Dusschoten was a member of the championship-team of Alcmaria Victrix.
In the last four seasons, Sparks Haarlem won a total of 145 games and lost only nine, seven of them against Terrasvogels. After the 2010 season (30-2), Sparks Haarlem struggled in the Play-Offs against Centrals and was almost eliminated. The team then led 2-1 in the Holland Series against Tex Town Tigers, which then won Game 4 to force a fifth game, which was won by Sparks Haarlem.
In 2011 (32-2), Terrasvogels was the lone team to beat Sparks Haarlem, which then encountered no problems in the postseason, sweeping both the Play-Offs and Holland Series.
Last season (41-3), Terrasvogels defeated Sparks Haarlem three times and also added a Play-Off win. Sparks Haarlem won the Play-Offs, then opened with a win in the Holland Series, but lost the next three games against Alcmaria Victrix.
This season (42-2), Sparks Haarlem again lost to Terrasvogels and FysioExpert Olympia Haarlem, then won twice vs. Terrasvogels in the Play-Offs, but then was left empty-handed again in the finale.
For Terrasvogels, today's title came six years, 22 days and 46 minutes after it won Game 3 of the 2007 Series, which then completed a sweep against Sparks Haarlem. Solange Starrenburg and Petra van Heijst then also played for Terrasvogels, while Chantal Versluis, Kirsten Scheele and Rebecca Soumeru were with Sparks Haarlem. Six years ago, Dagmar Bloeming also played in that Series, as one of the pitchers of Terrasvogels.
Terrasvogels won Game 1 of that Series 2-1, then rallied for eight runs in the ninth inning the next day to win Game 2 with a 9-2 score. Game 3 ended in a 7-0, mercy-rule shutout in 4 1/2 innings.
Two of today's three umpires officiated in Game 2 of the 2007 Series, being Peter Vonk and Carolien Stadhouders.

...Official Scorers Fred van der Kade & Ben Goorts...

...Umpires Carolien Stadhouders, Peter Vonk & Patrick Reus...

...Dagmar Bloeming started for Sparks Haarlem...

...Winning pitcher Monica Perry...

...Karin Tuk is tagged out in the 2nd inning...

...Rebecca Soumeru lost her first game of the season...

...Robyn Draper scores the 3rd run for Terrasvogels...

...Kate Gentile slides into 3rd after clearing the bases in the 5th...

...Hundreds of spectators attended the attractive game...

...Time to celebrate...

...An emotional moment during the celebration...
...The players contact their team manager Martin de Jonker...
...and their public address announcer Henk Hoenderdos...
...who were unable to attend due to illness...

...Marisèla de Wind, Ginger de Weert & Yonina Sint Jago: 3x Gold...
...In July, they won the European title with the National Team...
...With Terrasvogels, they won the European Cup Winners Cup...
...in August and the Dutch championship today...

...Hotel Ambassador Haarlem Terrasvogels, the 62nd softball-champion of the Netherlands...
(© Photos: Marco Stoovelaar)
(October 6)