Former umpire, commissioner, UIC Rob Kerkman passed away
Nederlands
IN MEMORIAM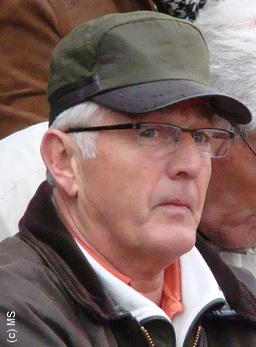 ...Rob Kerkman...
(1946 - 2013)

HAARLEM (Neth.) - Former (international) softball-umpire and commissioner Rob Kerkman, who was an Umpire-in-Chief of the European Softball Federation (ESF), passed away on Wednesday, May 8 at the age of 66 after a battle with a severe illness.

The memorial and cremation ceremony will be held on Wednesday, May 15 at 11:15 AM at Crematorium Westerveld at the Duin en Kruidbergerweg 2-6 in Driehuis.

Robert Kerkman (who was born on December 20, 1946 in Zandvoort) was a well respected umpire by coaches as well as players in women and men softball, both in Dutch and international competition. Rob belonged to a group of recognizable umpires, whose presence showed leadership on the field. He also was one of those umpires, who never attracted attention to themselves, but simply did his job on the field.

Kerkman began his umpiring career in the Haarlem Region in 1984, but immediately showed talent and promoted to national competititions a year later. Within a few years, Kerkman made his debut in the Dutch big league. As a rookie umpire, he found his place between experienced umpires such as Wil ten Bosch, Bert Brebde, Anne de Bruijne, Roel Meijering, Frits Mulder, Pieter van der Ploeg, René Sterkenburg, Jan Vlasveld, Co van de Wateringen and Gré van Wijk.

And so, Kerkman became one of the most experienced umpires himself. He spoke the language of the players and therefore almost never had to eject a player and was frequently called a gentleman umpire. Kerkman showed leadership and became a Crew Chief, when this function was introduced in 1993. He remained a Crew Chief until 1996 and combined his leadership with a good sense of humour, but also companionship, on and off the field. Through the years, Rob always was willing to support his umpire colleagues and pass his knowledge and experiences to new umpires.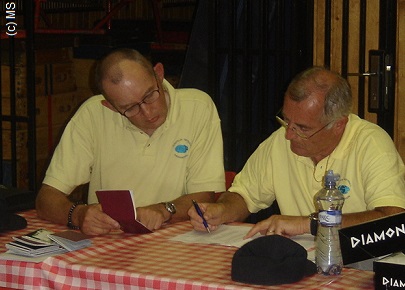 ...Rob Kerkman checks passports with Bert Loggen...
...during the Technical Meeting of the Women...
...European Cup Tournament 2008 in Prague...
(© Photo: Marco Stoovelaar)

Soon after his debut in the highest Dutch league, Kerkman made his international debut. In 1990, Kerkman worked in his first international tournament, which was the European Cup-tournament for women softball in Santpoort (Netherlands). Through the years, he also became well-respected on international fields and events. In the seven years that Rob Kerkman was on the international list, he participated in 16 events, including the ISF Men World Championship in 1992 (Manila, Philippines) and 1996 (Midland, USA). Besides these two global events, Kerkman also was an umpire on one Olympic Qualifying Tournament (1995), one Women European Championship (1992), one Men European Championship (1995), one Women Juniors European Championship (1994), three Women European Cups (1990, 1991, 1993), two Women Cup Winners Cups (1993, 1996), two Men European Cups (1991, 1995) and three Haarlem Softball Weeks (1991, 1993, 1995). Five years after his retirement, Kerkman filled in as umpire in a few games during the Men European Cup-tournament in 2001.

Rob Kerkman retired as umpire after the 1996 season. Since then, he began to observe umpires. He already had done that some years earlier during his active umpiring career, but didn't feel comfortable to make observations of colleagues while he was active himself. Until last year, Kerkman was active as an Umpire Observer for the Dutch Association. Starting in 1995, he also was an umpiring instructor during umpiring courses.

After concluding his active umpiring career, Rob Kerkman served as Umpire Commissioner in 2001-2004. Shortly thereafter, Kerkman became an Assistant Umpire in the Technical Commission of the European Softball Federation and served as such through 2009. He then became an Umpire-in-Chief of the ESF in 2010, a position which he also was to fill in during this season.

While it was known that Rob had become sick recently, his passing came as a big blow to his many friends and colleagues, who were struck by this sad news. Through this, the webmaster of Grand Slam * Stats & News offers his condolences and wishes Rob's family a lot of strength.

(May 12)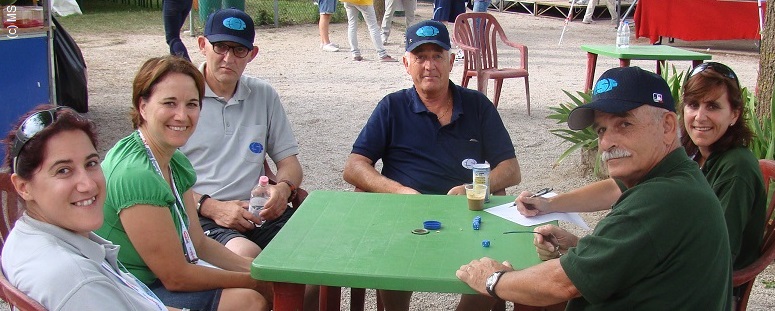 ...Rob (center) with Irene Michielan, Cornelie Chwojka, Bert Loggen, Bob Kessler and...
...Geri Lindberg during a meeting, which took place during the European Women Championship...
...in Ronchi Dei Legionari (Italy) in 2011...
(© Photo: Marco Stoovelaar)