Ton van Koeverden, Tuti Rumai new coaches Pioniers
Nederlands

HOOFDDORP (Neth.) - Ton van Koeverden will be the new Head Coach of the women softball-team of Hoofddorp Pioniers in the 2014 season. Van Koeverden will be assisted by former pitcher Tuti Rumai. Van Koeverden succeeds Berend Mannessen, who is unaivalable to combine the clubcoaching with his activities as one of the coaches for the Dutch National Softball Teams. Mannessen is a member of the coachingstaff of the National Team, which next year wil focus entirely on the World Championship, which will be organized in Haarlem (Netherlands). Besides that, Mannessen is also involved with the Dutch National Youth Teams.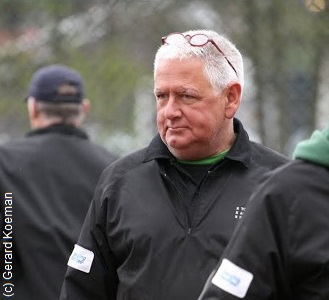 ...Ton van Koeverden...
(© Photo: Gerard Koeman)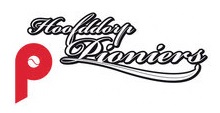 In April of this year, Van Koeverden started his second season as Head Coach of Amsterdam Pirates, which plays in the second highest league ('Overgangsklasse'). But after eight games, Pirates and Van Koeverden separated in May. It was stated that ''Ton was unable to fully combine his coaching task and responsibilities with his regular work and personal circumstances. As the team was suffering from this, Ton decided to step down''.

In 2005, Van Koeverden made his coaching debut in the big league when he was the Assistant Coach at DSC '74 (which is the current Olympia Haarlem). A year later, he took over as Head Coach of DSC '74 and led the team for two seasons, leading them to fifth place in 2006 and shared fourth place in 2007 with Twins, but missed the Play-Offs based on head-to-head results. In 2008, Van Koeverden was the Head Coach of Centrals and finished in seventh place, but secured the big league-spot.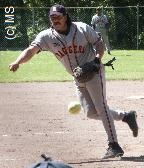 ...Tuti Rumai...
(© Ph: Marco Stoovelaar)

In 2009, he became the Assistant Coach of Leo Buiteman at Euro Stars in the big league. A year later, he led Euro Stars after initially being the Assistant Coach again, but he took over one week before the start of the season. In 2011, Van Koeverden was the Head Coach of big league-team Twins, finishing in sixth place. In October 2011, he was named Head Coach of Amsterdam Pirates.

Ton van Koeverden also has been a member of the coachingstaff of the Dutch National Men Softball B-Team.

Tuti Rumai has been a dominant pitcher for years in the Dutch Men Softball-big league, as well as the Dutch Men Softball Team. The righthander pitched for several teams, but was most successful when playing for Alphians, with whom he won Dutch championship-titles as well as European Cups. In 1993 and 1995, he was named both Best Pitcher and Most Valuable Player of the big league, while playing for Alphians. He also won the Dutch championship with Thamen.

One of the highlights of Rumai's impressive career came on May 9, 2002 when he played for Thamen. On that day, he collected five basehits (one double and four homeruns), scored five runs and have nine runs batted in, helping Thamen win a double-header vs. Kokolishi.

This season, Pioniers finished in fourth place of the First Division (third highest league) to qualify for the championship pool. In that pool, the team finished the season in sixth place, but secured its spot in the First Division for next year.

(October 12)