Sparks Haarlem first to qualify for Holland Series
Nederlands

HAARLEM (Neth.) - Oolders Omaco Sparks Haarlem on Sunday became the first team to qualify for the Holland Series after winning twice vs. Hotel Ambassador Haarlem Terrasvogels. Sparks Haarlem nipped Terrasvogels 1-0 in the opener, scoring the lone run in the first inning, then won Game 2, 10-0 in a Perfect Game by Rebecca Soumeru, highlighted by a grand slam homerun by Karin Tuk.

Reigning champion Alcmaria Victrix, which has to do without several of its regular players, surprised by winning twice with a 3-1 score vs. FysioExpert Olympia Haarlem. With this, Olympia Haarlem was eliminated, while Alcmaria Victrix now meets Terrasvogels coming weekend in the next round of the Play-Offs.

The winner of that best-of-three series will become the second finalist for the Holland Series. The series opens on Saturday in Santpoort with a double-header. When a third game is needed, that will be played on Sunday at Alkmaar.

On a chilly and windy afternoon at the Noordersportpark in Haarlem, the home team registered two shutout-wins to become the first to qualify for the best-of-five Holland Series, which is scheduled to open on Saturday, September 28.

In the opener, it was Terrasvogels that reached base more frequently, but failed to score, while Sparks Haarlem scored its lone run in the first at bat. Hereafter, Terrasvogels created the most scoring opportunities, but was unable to deliver the deciding basehits.

In the first at bat, Terrasvogels got two runners on base with two outs when Robyn Draper was hit by a pitch and Kate Gentile walked, but both stranded. In the home of the first inning, Chantal Versluis led off for Sparks Haarlem with a double. With one out, she could only advance to third base when Leigh Godfrey also doubled. The bases then got loaded when Karin Tuk was hit by a pitch. Moments later, Versluis scored what would be the lone run on a sacrifice fly by Virginie Anneveld. That also moved the other two runners, but they were left at second and third base, as a flyout ended the inning.

In the next four innings, Sparks Haarlem got five batters on base off of Monica Perry with three of them getting into scoring position. In the second at bat, Shannah van der Kaaij and Michelle van Driel led off with singles, but then the first was forced out on a grounder by Manoa Weijgertse A sac-bunt by Chantal Verluis moved the runners to second and third base, but then Perry struckout Nathalie Gosewehr to end the inning.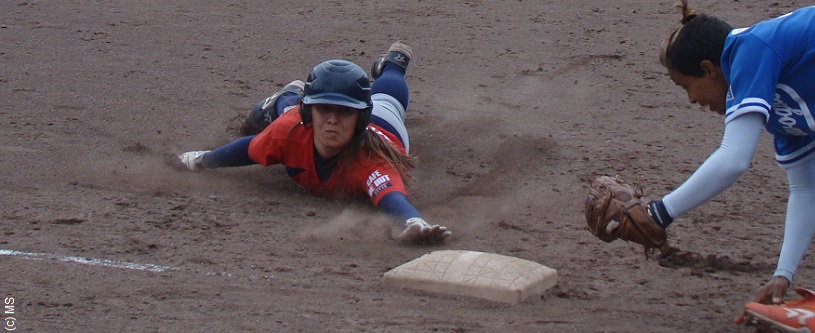 ...Virginie Anneveld steals 3rd base in the 6th inning...
...In Game 1, she was 2-for-2, batted in the lone run and made an unassisted double play...
(© Photo: Marco Stoovelaar)

In the third inning, Virginie Anneveld singled with two outs, but was left behind at first base. In the fourth, Shannah van de Kaaij led off with a single, but Terrasvogels then turned a double play. Perry then retired the side in the fifth at bat, including two strikeouts.

In its first five innings, Terrasvogels got several runners on base, but left eight, including four in scoring position. After stranding two in the first inning, Terrasvogels got its first two batters on base in the next at bat. Anouk van den Heuvel led off with a single and Lisa Waasdorp walked. But after a flyout and strikeout, a force play ended the inning.

In the third inning, Terrasvogels had the bases loaded with no outs. Petra van Heijst led off with a single and Robyn Draper followed with a bunt-single. Next, Kate Gentile drove the ball into leftfield and appeared to leave the field. But it stayed in the park and went over the head of leftfielder Nathalie Gosewehr, who could not catch the ball. And so, Terrasvogels had the bases loaded with no outs. Hereafter, Sparks' 3B Virginie Anneveld made a fine unassisted double play. Yonina Sint Jago grounded the ball towards Anneveld, who then was able to tag out Van Heijst and dove back to the base to also force Draper to complete the double play. A grounder then ended the inning.

After being retired in order by pitcher Kirsten Scheele in the fourth inning, Terrasvogels againg got two runners in the fifth at bat. With two outs, Robyn Draper and Kate Gentile singled, but were left behind again.

Sparks Haarlem got a chance to add an insurance run in the sixth inning. With one out, Virginie Anneveld and Debby Connor singled. After Beau van Gelder replaced Connor as pinch-runner, a double steal was executed while Shannah van der Kaaij struckout. But then a pop-fly ended the at bat.

Kirsten Scheele retired the final seven batters in a row to seal the win.

Was Game 1 an exciting game with several scoring opportunities, Game 2 was one-sided, as Sparks Haarlem won 10-0 and needed only 3 1/2 inning to do so. The game was highlighted by a grand slam homerun by Karin Tuk, while Rebecca Soumeru threw a Perfect Game. The veteran righthander retired all 12 batters she faced in this mercy-rule game.

Sparks Haarlem struck with four unearned runs in the first inning off of Ginger de Weert. The first three plays ended in errors. Chantal Versluis led off and reached second base on a throwing error, then stole third and scored when another throwing error followed. Next, Nathalie Gosewehr reached on a dropped fly ball. She stole second base with one out, then scored on a single by Karin Tuk. Virginie Anneveld followed with another single, then two runs were scored on RBI-singles by Debby Connor and Shannah van der Kaaij to give Sparks Haarlem a quick 4-0 lead.

Five runs were then added in the second inning. Lead-off hitter Beau van Gelder was hit by a pitch and stole second base, then was eliminated on a grounder by Chantal Versluis. After the latter also stole second, Nathalie Gosewehr walked and Leigh Godfrey singled to load the bases. Hereafter, Karin Tuk hit a grand slam homerun on the first pitch she saw. Tuk led the regular season with 10 homeruns to set a new single-season record. With two outs, Debby Connor singled, then scored all the way from first base when Shannah van der Kaaij followed with a triple to make it 9-0.

The tenth run needed for the mercy-rule win was scored in the third inning off of new pitcher Malou van Dusschoten. Beau van Gelder led off with a single, then scored on a following double by Chantal Versluis.

(September 15)