Terrasvogels-announcer/OG-executive Henk Hoenderdos passed away
Nederlands
IN MEMORIAM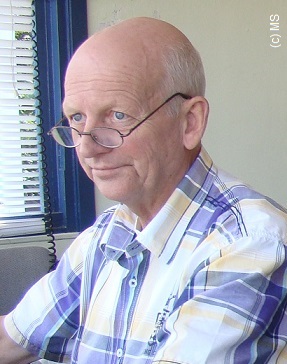 ...Henk Hoenderdos...
(1952 - 2013)

ZWANENBURG (Neth.) - Sad news reached us again on Saturday, December 14, as Henk Hoenderdos passed away at the age of 61. Henk Hoenderdos was affiliated with the softball-side of both Hotel Ambassador Haarlem Terrasvogels in Santpoort and Onze Gezellen in Haarlem.

The memorial service will be held on Thursday, December 19, starting at 2:00 PM at Yarden Crematorium Haarlem, Vergierdeweg 271 at Haarlem.

Henk Hoenderdos was a longtime member of the board at Onze Gezellen, where his wife Tineke played with the main squad in the Dutch big league in the seventies and eighties and their daughter Linda started to play softball. After the 2003 season, Linda transferred to Terrasvogels. In later years, Tineke became the team's scorekeeper.

After having filled in several times in 2009, Henk Hoenderdos became the public address announcer of Terrasvogels in 2010. After completion of that season, Linda retired, but her father remained active with the club and stayed on as 'the voice of Terrasvogels' through this season.

In 2011, Linda played one season for Caserta in Italy, where she won the national championship. Henk and Tineke traveled to Italy several times to see Linda play and also attended the European Cup-tournament in which Caserta participated.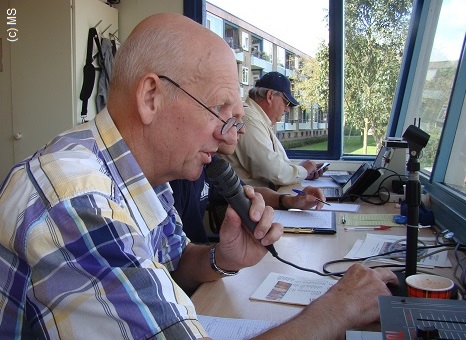 ...Henk Hoenderdos announcing a game of Terrasvogels...
(© Photos: Marco Stoovelaar)

Last year, Henk Hoenderdos was diagnosed with a severe illness, but he remained positive and was able to continue announcing games of Terrasvogels until early June of this year. This season, daughter Linda made her debut as 3B Coach of the team. Unfortunately, he was unable to travel with the team to Montegranaro (Italy) for the European Cup Winners Cup-tournament. Terrasvogels remained unbeaten and won the Cup for the second year in a row. In previous years, Henk attended several European Cup-tournament when Terrasvogels participated.

In September, Terrasvogels clinched the Holland Series and defeated favorite Oolders Omaco Sparks Haarlem to capture its first Dutch championship-title since 2007. After the game, the players called Henk to celebrate the championship with him.

It is the second time in a short period that Terrasvogels suffers a major blow, as on October 18, secretary and team manager Martin de Jonker passed away. The team of Terrasvogels dedicated both the Cup Winners Cup and its championship to Martin de Jonker and Henk Hoenderdos.

The webmaster of Grand Slam * Stats & News offers his condolences to his wife Tineke, his son Dave, his daughter Linda and his son-in-law Daan and wishes them a lot of strength with this big loss.

(December 15)