Hotel Ambassador Haarlem Terrasvogels Sports Team of the Year 2013
Nederlands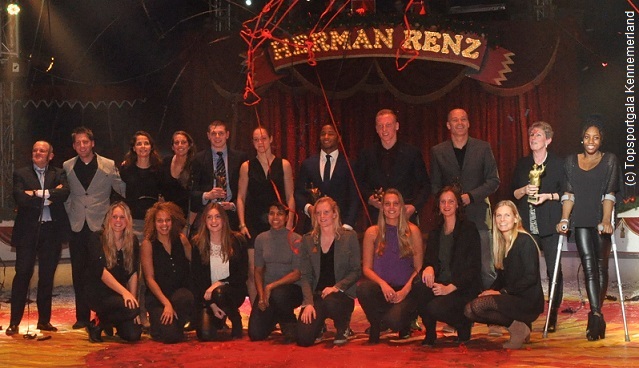 ...The winners of the Topsportgala Kennemerland...
(© Photo: Topsportgala Kennemerland)

HAARLEM (Neth.) - The softball-team of Hotel Ambassador Haarlem Terrasvogels has been voted Sports Team of the Year during the annual Topsportgala Kennemerland. The winners of the best athletes of the Kennemerland-region (Haarlem-area) were announced on Thursday-evening (December 19) during the Gala.

This years Gala was held on a special location. After having staged the event in theaters in previous years, tonight, the tent of Circus Herman Renz was the site for the Gala. On Friday, the famous circus opens its annual Christmas Circus, but tonight, the ring was the stage for the best athletes of the year. Jan van der Meulen was the master of ceremonies.

After Rika Groenendijk was named Sports Volunteer of the Year, the announcement of the Sports Team of the Year was next. Hotel Ambassador Haarlem Terrasvogels, which won the European Cup Winners Cup and the Dutch championship-title, was named winner of the award, which is named after sports pioneer Pim MUlier. Also nominated for the award were Kenamju (men judo) and Bato-Pax Gymnastics (women).

It marked the first time that Terrasvogels won the award in the Kennemerland-region and the second time that a softball-team is named Sports Team of the Year.

Other winners tonight were:
Dex Elmont (Judo, Male Athlete of the Year), Chantysha Netteb (Gymnastics, Women Athlete of the Year), Frank de Wit (Judo, Male Talent of the Year), Do Velema (Judo, Female Talent of the Year), Guido Bonsen (Track & Field, Coach of the Year) and Marc Evers (Swimming, Sports Special of the Year).
(December 19)