World Championship Softball opens in Haarlem in 300 days!
Nederlands

HAARLEM (Neth.) - Over exactly 300 days, the first pitch will be delivered of the 14th ISF Women's World Championship. The site for the global event is the Nol Houtkamp Sportpark in Haarlem (Netherlands).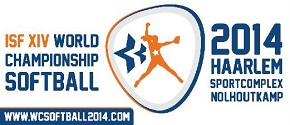 The Netherlands has a long history of successfully organizing internationals events, including European Championships and European Cup Tournaments. In the past, the bi-annual Haarlem Softball Week was an international highlight. In 1986 and 2005, the Netherlands hosted the World Championship Baseball and in 2009, one of the preliminary rounds of the World Championship Baseball took place in the Netherlands when the event was organized in eight European countries. The World Softball Championship 2014 will by far be the most ambitious softball-event ever staged in the Netherlands.
It marks the first time that the World Softball Championship will be organized in Europe. With that, the Netherlands becomes the first European country to organize both a Baseball World Championship and a Softball World Championship.
The event opens on August 15, 2014, which is 300 days from today. The final is scheduled for August 24.
In recent years, the Dutch National Softball Team climbed on the world ranking. It moved from twelfth to eighth place during the World Championship of 2010 in Venezuela, then finished in sixth position on the Championship of 2012 in Canada. Besides that, in July of this year, the Orange squad captured the European Championship-title for the third time in a row and again did it by remaining unbeaten.
,,It is wonderful that we can organize the World Championship'', states Dutch National Team Head Coach Craig Montvidas. ,,It is very important for our sport that we attract the attention of the media.''
In 2014, the Dutch Team hopes to achieve a higher qualification. Montvidas: ,,I'm not looking forward to scores or standings. We play day by day, game by game, inning by inning. When we play with confidence, we are capable of accompish a good result.''
Besides host Netherlands, already qualified for the Championship are Australia, Canada, Czech Republic, Cuba, the Dominican Republic, Italy, New Zealand, Puerto Rico, Russia and the USA.
(October 20)