(Story by Marco Stoovelaar; Photos by Areke Spel & Marco Stoovelaar)

Sparks Haarlem Sports Team of the Year; Awards for Halderman, Kinheim's groundcrew
Nederlands


HAARLEM (Neth.) - The women softball-team of Oolders Omaco Sparks Haarlem has been elected Sports Team of the Year tonight (December 2) during the Tribute to Topsportchampions Kennemerland.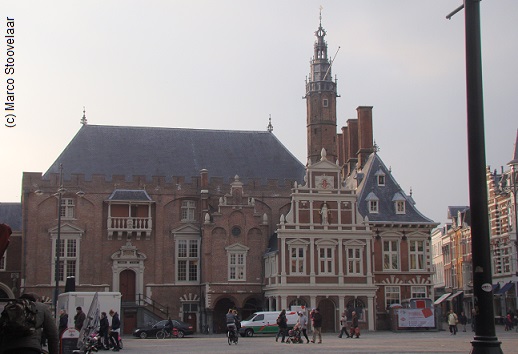 ...City Hall in Haarlem...
(© Photo: Marco Stoovelaar)

Initially, it appeared that there would be no sports honoring this year in Haarlem. Due to a lack of sponsoring, the annual Topsport Gala Kennemerland had to be cancelled. However, as the Municipality of Haarlem and Stichting Topsport Kennemerland are proud of the accomplishments of their atletes, they decided to organize something together. It wasn't a big gala, but the Tribute to Topsportchampions Kennemerland brought the athletes together and the annual Pim Mulier Statues were handed out to the winners.

Sparks Haarlem succeeds Hotel Ambassador Haarlem Terrasvogels, the Dutch softball-champion and winner of the European Cup Winners Cup last year. The event then was held in the tent of Circus Renz, after the Gala had been held in the Philharmonie (theatre) in Haarlem in previous years. In 2012, it was the baseball-team of Corendon Kinheim that was crowned as Sports Team of the Year.

Tonight, the annual election of best athletes in the Kennemerland-area (Haarlem and surrounding) was held in the Gravenzaal at Haarlem's City Hall.

This season, the women-squad of Sparks Haarlem became the first team in history to remain unbeaten. The team not only won all 30 games in the regular season, it then also won its two games in the first round of the Play-Offs and then won three in a row in the Holland Series to win the Dutch championship. In September, the team captured the European Cup Winners Cup in Italy.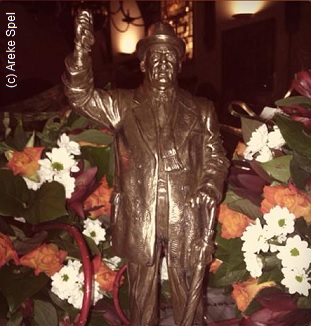 ...The Award won by Sparks Haarlem...
...the statue is named after sports...
...pioneer Pim Mulier...
(© Photo: Areke Spel)

Sparks Haarlem was led by Juni Francisca and Marcel Schippers. They stopped after completion of the season after having coached the team since 2008. In that successful span, the reached the Holland Series six teams and won the title three times. It annually played in an European Cup-tournament and won a trophy four times.

Also nominated for Sports Team of the Year were KHFC (soccer) and Kenamju (judo).

15-year old baseball-player Koen Halderman was honored as Sports Talent of the Year (boys). Halderman plays for the Rabbits Baseball Academy Kennemerland, with whom he won the Dutch junior-championship. He also was a member of the Netherlands AA Team, which won the European title in Germany. Halderman was chosen as MVP of that tournament. Also nominated were Olivier de Jong (fencing) and Ties van der Lecq (badminton). The Sports Talent of the Year with the girls was Tessa Dijksman (cycling), while Esmee Visser (skating) and Puck Veeze (skiing) were also nominated.

The Award for Male Athlete of the Year went to Dex Elmont (judo), while Birgit Ente (judo) was the Female Athlete of the Year and Maarten Arens (judo) Coach of the Year.

There was more success for our sports tonight, as Sjaak Beljaards, Hans de Nieuwe and Herman Muller were named Volunteers of the Year. The three form the groundscrew of Corendon Kinheim and prepare the baseball-field in the Pim Mulier Stadium for all home games of the team. They also are part of the groundscrew of the bi-annual Haarlem Baseball Week, which was held again this year in July.

(December 2)