(Story & Photos by Marco Stoovelaar)

Club-executive Bert Wessels passed away
Nederlands

IN MEMORIAM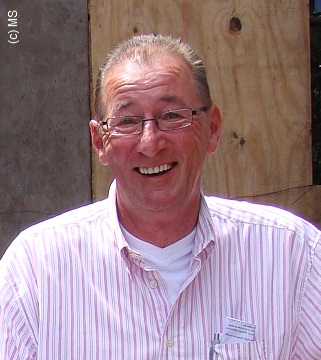 ...Bert Wessels...
(1947 - 2014)

HAARLEM (Neth.) - Bert Wessels, who was a club-executive for Onze Gezellen and Terrasvogels, has passed away on Saturday, November 1 at the age of 67. With his passing, the Dutch softball-world had lost a passionate club-executive, who always vented his thoughts when necessary, but did everything for the clubs he was associated with, as well as the players. Besides being active in softball, Bert also had a long connection with basketball.

The memorial and funeral ceremony will take place on Friday, November 7 at 12:30 PM in the auditorium of Crematorium Haarlem, located at the Vergierdeweg 271 in Haarlem. After conclusion of the memorial ceremony, the funeral ceremony will be held at the nearby Begraafplaats Sint Jozef at the Vergierdeweg 456. Later in the afternoon, from 2:30-4:15 PM, there will be a get-together at the clubhouse of Onze Gezellen at the Van der Aartweg 16 in Haarlem.

Albertus Hindrikus (Bert) Wessels, who was born on May 13, 1947, had a long career in baseball, softball and basketball. He has been active as coach in both baseball and softball at Onze Gezellen, where he met he future wife Ineke Sloot, who played softball for Onze Gezellen in the Dutch big league and Netherlands National Team.

Within this Haarlem-based club, he was the founder of a basketball-department and he went on to organize outdoor-basketball-tournaments on squares throughout Haarlem, the so-called 'square-basketball'. For his many activities in basketball, Bert was named Honorary Member of Onze Gezellen Basketball.

Bert Wessels also went on to organize youth sports camps in Haarlem.

Later, Wessels became a member of the board at Onze Gezellen, then became also intensely involved with Terrasvogels, where his daughter Nicole played for eleven seasons in the big league, playing at second base, becoming a solid defensive player of both Terrasvogels and the National Team.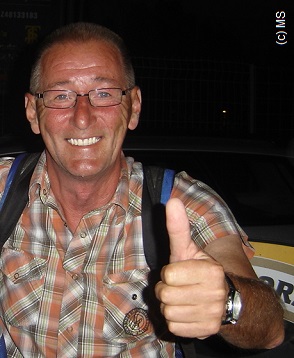 ...Bert Wessels during the...
...2008 European Cup in Prague...
(© Photos: Marco Stoovelaar)

Bert Wessels was the Chairman of the Board of Terrasvogels from 2006 through December 2009. From 2005 though 2009, he was the General Manager of the main softball-team, arranging everything for the team, its players and staff. Bert took care of the foreign players and during this period, he also traveled with the team to the various European Cup Tournaments. During those trips and in the 2005-2009 period, Bert worked closely and intensively together with Martin de Jonker, the other hard worker of Terrasvogels, who was the Team Manager, club secretary and much more. Bert and Martin also worked together when both were associated with Onze Gezellen. There, and also at Terrasvogels, the two were joined by Henk Hoenderdos, who also was very active in various positions and was the P.A. Announcer the last years at Terrasvogels. Unfortunately, both Martin and Henk passed away shortly after each other last year. Martin on October 18, Henk on December 14.

When he was the club's chairman and general manager, Bert succeeded in attracting a main sponsor for the big league-softballteam of Terrasvogels, when Iber Lengua Taal & Cultuur became the main sponsor in 2009. Iber Lengua was the main sponsor from 2009-2011 and still is a big subsponsor of the club, as it prints the free information-bulletins, which are issued at all home games of Terrasvogels since the 2011 season.

While at Terrasvogels, Bert frequently shared duties with Martin, taking care of the game officials, such as umpires, official scorers and commissioners. Bert and Martin formed a great and productive duo. Besides being part of several committees and the board of the club, handling all affairs of the teams, they also jointly took care of preparing hamburgers at home games.

Bert was a very pleasant person, mostly with a bright smile on his face. He had his own opinion about what was happening in the softball-world and he let you know. But he did everything for the clubs he was active for, Onze Gezellen and Terrasvogels.

Due to a severe illness, Bert only attended a few home games of Terrasvogels in Santpoort in the last few years. With Bert's passing, Onze Gezellen and Terrasvogels again have to say goodbye to a beloved member of their club. Early this year, Terrasvogels also bid farewell to former pitching coach Bram van der Werf (who also conducted pitching practices at Onze Gezellen) and last year, the club not only lost Marin and Henk, but earlier in the year also former Head Coach Teun van den Berg and former baseball-player Jersey van Doornspeek.

The webmaster of Grand Slam * Stats & News offers his condolences to Bert's wife Ineke, daughter Nicole, sons Jeroen and Paul and other family and wishes them a lot of strength with this big loss.

(November 3)