Terrasvogels named Sports Team of the Year (again)
Nederlands

IJMUIDEN (Neth.) - Hotel Ambassador Haarlem Terrasvogels has been voted Sports Team of the Year 2013 in the Municipality of Velsen. The announement was made on Friday, April 4 during the annual Sports Gala of Velsen, which was hosted by Frank Snoeks, commentator of NOS Studio Sport and took place in Thalia Theater in IJmuiden.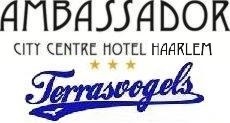 In December, the softball-team also was voted Sports Team of the Year in the Kennemerland Region. The team won both titles for its successful 2013 season in which it won the European Cup Winners Cup and captured the Dutch championship-title.
During the presentation on Friday, Snoeks mentioned the emotional season of Terrasvogels. Secretary/Team Manager Martin de Jonker, announcer Henk Hoenderdos and former coach Bram van der Werf, who passed away in the off-season, were remembered.
Terrasvogels Head Coach Marco Molleman was nominated for Master of the Year, but that award went to Simone Geel-Herlaar.
Matthijs Büchli (cycling) was named Male Athlete of the Year and Linda Bolder (judo) Female Athlete of the Year.
Former track & field runner Olga Commandeur won the career award.
(April 4)