Coaching legend Bram van der Werf passed away
Nederlands
IN MEMORIAM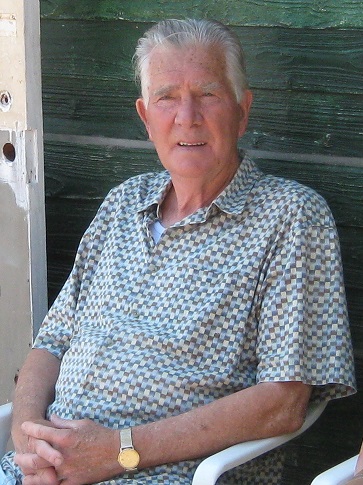 ...Bram van der Werf...
(1930 - 2014)

SANTPOORT (Neth.) - The Dutch softball-world has lost one of its pioneers, as Bram van der Werf passed away on Wednesday, January 8 at the age of 83. The former pitching coach of the Netherlands National Women Softball Team and Terrasvogels was severely ill for quite awhile.

The memorial service for Bram van der Werf will take place on Wednesday, January 15 at Crematorium Westerveld, Duin en Kruidbergerweg 2-6 in Driehuis. The ceremony begins at 2:30 PM. It is requested to those attending the ceremony to bring one flower for Bram.

When you talk about pioneers and legends, Bram van der Werf truly belonged to that group. He not only instructed players, he also inspired them.

Van der Werf, who played soccer at Terrasvogels, got involved in softball quickly, shortly after the club from Santpoort started to play softball. His wife Lenie is one of the founders and was the first pitcher when the softball-team started playing in 1958. She also coached youth-players and on one day, she asked her husband to assist her during one of the practices. He did and the rest is history, as it was the beginning of more than 50 years involvement in coaching softball. ,,And I have loved every minute of it'', Van der Werf stated frequently.

For Terrasvogels, it marks the third time in a short period that it has to say goodbye to a distinguished member, as Secretary/Team Manager Martin de Jonker passed away on October 18 and Public Address Announcer Henk Hoenderdos passed away on December 14.

Bram van der Werf always enjoyed training and coaching players and especially youth players. When he first starting training and coaching, he quickly got very interested in pitching. He traveled to the United States to learn more about pitching mechanics from wellknown coach John Stratton of the famous Raybestos Brakettes and he gained a lot of knowledge simply just looking at pitchers. Van der Werf also learned fundamentals from Ralph Raymond, another legendary coach, who also was involved with the Brakettes and the American National Team. Bram van der Werf became the first-ever Dutch coach who specialized in pitching and became the leading pitching coach in Dutch softball and probably even Europe.

Van der Werf had an eye for detail. When observing a player, and of course especially a pitcher, he immediately noticed when something wasn't done correctly. Even in more recent years, after having retired as a team-coach, he always was standing behind the backstop to look at pitchers. And he quickly picked up details. Van der Werf then often turned to the respective pitcher to give her advice. And whoever it was, Bram's advices were always respected.

Van der Werf was always available to assist with practices. He lived besides the site of Terrasvogels and when (youth) players came to the field, they often asked him to give additional practices. Van der Werf never could say 'no'.

At Terrasvogels, Van der Werf was involved with almost all teams for some 40 years, from youth to seniors. He coached teams, conducted practices, organized sports activities and always was busy improving the softball-skills of the Terrasvogels-players. His teams often captured local, regional and national championship-titles.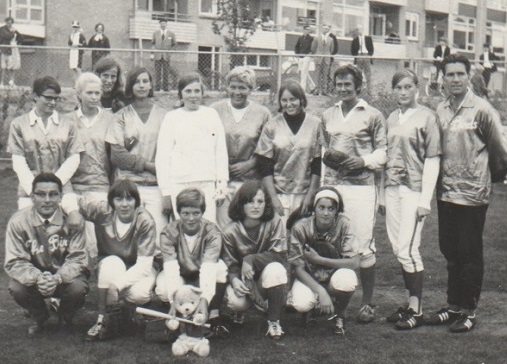 ...Terrasvogels promotes to the big league in 1966...

It didn't take long for players, young and old, to call him 'Uncle Bram', a nickname which he kept until the end. He remained 'Uncle Bram' for most of these players throughout their careers and beyond.

His coaching skills, detailed advices and eye for details made him a perfect choice to instruct players and pitchers of the National Youth Team. For more than 20 years, Van der Werf was one of the coaches of the 'Young Orange'-team. He initially was the team's Head Coach in 1975 and 1976, but he didn't like that and resigned. ,,I'm not the right person to be head coach, I just want to work with players'', he said in an interview with Dries de Zwaan in the Haarlems Dagblad newspaper in 2000. Van der Werf liked teaching and instructing more and from 1977 on, he was the team's pitching coach until 1995. In 1983, he was invited by the Swedish Federation to conduct a pitching clinic in Stockholm.

Van der Werf combined his duties as pitching coach of the Junior Team with being the pitching coach of Terrasvogels and also added the same activities for the National Team some years later. In 1979, he became the pitching coach of the national team, assisting then-head coach Nol Houtkamp. Van der Werf also was the pitching coach in later years for head coaches Teus Morren, Don Wedman and Diane Schumacher until 1987. He also was involved for several years in the so-called Softball School, which was located in Zwanenburg and staged weekly practice sessions for talented pitchers in the winter months in the eighties and nineties.

After the 1999 season, Bram van der Werf retired as pitching coach of Terrasvogels after 34 seasons. He was with the team as pitching coach when it promoted to the big league in 1966, assisting Teun van den Berg, who passed away on March 4 last year at age 88. Van den Berg and Van der Werf were a successful duo from 1966-1979, capturing the Dutch championship-title four times with Terrasvogels. After Van den Berg stepped down (he returned for one more season in 1986), Van der Werf continued as pitching coach for following head coaches Hans Janssen, Don Wedman, Charles Urbanus, Gerjanne Treuren and Rob Walgien. The latter, he assisted for seven seasons. In his tenure as pitching coach, Terrasvogels won the Dutch championship 12 times, won nine European Cup and one Cup Winners Cup. Van der Werf's pitchers belonged to the top in the Dutch competition, as well as in Europe. One of his most successful pitchers was Els Koks, who was named Best Pitcher of the Dutch league six times and was named Best Pitcher during an European Cup-tournament nine consecutive years while pitching for Terrasvogels under the leadership of Van der Werf. Other successful pitchers in those seasons were Christian Oudendijk, Marinka Stuvel and Jacqueline van der Vlugt. Seven of his pitchers were named Best Pitcher of the Dutch league twelve times between 1975 and 1999. Besides Christian Oudendijk and Els Koks, they were Fredy van Offeren, Annet van Opzeeland, Inez Hollander, Joyce Smit and Laura van den Berg. All played for the National Team.



| | | |
| --- | --- | --- |
| | | |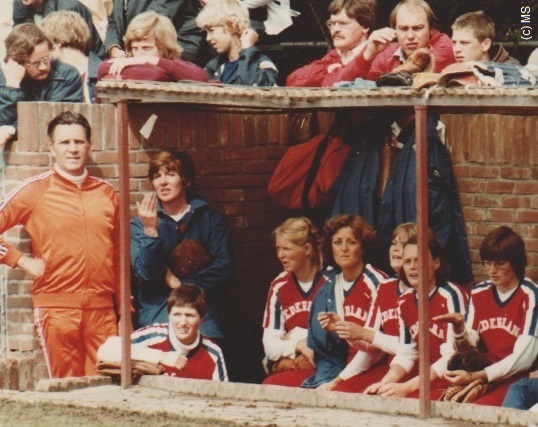 ...During the first Haarlem Softball Week in 1980...

Bram van der Werf was well-respected and much liked by everyone. When he resigned as a team-coach in 1999 after 40 years, many of his players (former and current) attended a reception. The walkway behind home plate was renamed 'Bram van der Werf Pad' and he was given a trip to the USA for his many contributions. During that special day, he received several mentionings. Former players Diana Verhoef, Marjan de Vries and Linda Landwehr called him 'the motor of Terrasvogels'. Others named him 'the driving force behind Terrasvogels-softball'. Most called him then and thereafter 'a living legend'.

While Bram van der Werf was not involved anymore in game-coaching after the 1999 season, he remained active as pitching coach. Van der Werf attended practices, kept on giving advices ,,to whoever wanted to listen'', as he said. He gave instructions to later pitchers of Terrasvogels, who also went on to play for national teams, and also (youth) pitchers of Onze Gezellen in later years. Van der Werf always attended home games of Terrasvogels and he remained focused on pitching. When standing besides him behind the backstop, he would tell you what a pitcher was doing wrong. ,,I just see those things, I can't change that, and I want to tell that. A small thing can change a lot'', he then frequently said. After the game, he would then also inform the respective pitcher.

In his years as pitching coach, Van der Werf participated in many international events. With the Dutch Juniors, these events initially were friendly tournaments during Easter in Italy or the Czech Republic, but also included the first-ever Junior World Championship in Edmonton (Canada) in 1981. Van der Werf also was with the team during World Championships in following years in Fargo, Oklahoma City (both USA), Adelaide (Australia) and Normal (USA), plus the first three European Championships since 1991.

With the National Softball Team, Van der Werf was in Stratford during the World Championship in 1974 and participated in the first Haarlem Softball Week in 1980. He also was with the team during the World Championships of 1982 in Taiwan and 1986 in New Zealand, plus the World Games in 1984 in London. With the Orange squad, he participated in the first four European Championships in respectively Rovereto (Italy), Haarlem (Netherlands), Parma (Italy) and Antwerpen (Belgium), where the Dutch team captured four consecutive European titles. He also was a member of the coaching staff when it won the silver medal during the European Championship of 1986, which also was held in Antwerp (Belgium).

With Terrasvogels, he participated in 20 European Cup-tournaments from 1978-1999 and also traveled with the team several times to Italy for practice camps before the start of a new season. In following years, he attended several more of these European Cup-events as a spectator, including traveling with his wife to Moscow when Terrasvogels participated there in the Cup Winners Cup Tournament in 2004. In 1998, Van der Werf was named Honorary Member of Terrasvogels. He was also decorated by the Royal Dutch Baseball and Softball Association.

Bram van der Werf was a truly Dutch softball-legend. 'Ome Bram' will be missed by all of us in the Dutch softball-family.

The webmaster of Grand Slam * Stats & News offers his condolences to Bram's wife Lenie and other family and wishes them a lot of strength with this big loss.

(January 10)
| | |
| --- | --- |
| | |
| | |
| --- | --- |
| | |

(photo credits: head shot © Josť Hardenbroek; photos Haarlem Softball Week 1980 & World Games 1984 © Marco Stoovelaar; all other photos came from the personal archive of Bram van der Werf and are published with permission)