(Story & Photo by Marco Stoovelaar)

Nick Braakman to coach HCAW in 2015
Nederlands


BUSSUM (Neth.) - Nick Braakman is the new Head Coach of the women-softballteam of HCAW in 2015. Braakman succeeds Lloyd Todman. Braakman agreed to coach the team in October.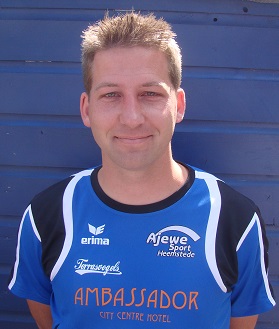 ...Nick Braakman...
(© Photo: Marco Stoovelaar)

In the last few seasons, the softball-team of HCAW climbed back to the top. This year, the Bussum-based club played in the 'Overgangsklasse', the second highest Dutch division. In 2003, HCAW relegated from the Dutch big league. In the highest division, the team had several very successful seasons, capturing Dutch championship-titles and European Cups. The team then relegated again to a lower division, but since a few years, the team is on the way back to the top.

This season, HCAW was thought to be a contender for one of the top-positions in the 'Overgangsklasse'. After completion of the first half of the season, HCAW ended in a tie for fourth place with Roef!. The top-4 of the league qualified for the Championship Pool, meaning a one-game play-off was needed. HCAW shutout Roef! 2-0 and therefore played in the Championship Pool in the remainder of the season. In this second half, HCAW ended in fourth place behind Twins, Tex Town Tigers and Amsterdam Pirates. Tex Town Tigers went on to qualify for next years Golden League, which will be the highest division next season. In 2015, a new Dutch National Softball League will make its debut. The Golden League will be the new Dutch big league, the Silver League will become the second highest division.
The past two seasons, Nick Braakman was the Assistant Coach of Marco Molleman with the big league-squad of Hotel Ambassador Haarlem Terrasvogels. Last year, he won the Dutch championship-title with Terrasvogels, as well as the European Cup Winners Cup. In the past, Braakman has been active as one of the coaches of the Netherlands National Juvenile Softball Team, with whom he won the European Championship in 2008. In 2012, Braakman was the Head Coach of the women softball-team of Hilversum Hurricanes in the First Division.
In 2015, Braakman will be assisted by David Mulder, who this year was one of the coaches of De Zuidvogels, which captured the championship-title in the Third Division A. Former big league and National Team-pitcher Sonja Pannen will return as Pitching Coach. This season, she also instructed the pitchers of both the main squad as well as the youth teams.
In the last few weeks, HCAW announced that it has added four new players to its roster for next season. Coming from Amsterdam Pirates are pitcher Lara Hoekstra, 1B/OF Monique Melissant and OF/1B Milot van Doesburg, while pitcher Anouk Sassen is coming to Bussum from DSS, with whom she made her big league-debut this season.
(November 12)