(Story by Marco Stoovelaar; Photo by Hoofddorp Pioniers)

New coaching-trio named for Hoofddorp Pioniers
Nederlands


HOOFDDORP (Neth.) - Hoofddorp Pioniers has announced its new coaching-staff for the women softball-team of the club on November 12. Three coaches will lead the team during next season's games and/or practice sessions.

...Dè Flanegin, Glennsig Polonius, Tuti Rumai...
(© Photo: Hoofddorp Pioniers)

Tuti Rumai, who also was a member of the coaching-staff this season, returns next year. He will be joined by Dè Flanegin and Glennsig Polonius. This season, the Pioniers-team was led by Luigi Anasagasti and Rumai.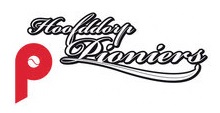 In the 2014 season, Hoofddorp Pioniers started the season in the First Division B. In that pool, the team finished the first half of the season in fourth place with a 12-10-2 record. By finishing in the top-4, the team qualified for the Promotion Pool, being joined by the top-4 of the First Division A. In this Promotion Pool, Pioniers closed the season in third place, 12 points behind leader Zwijndrecht.
Dè Flanegin was a longtime player of the baseball-team of Pioniers. The first baseman/outfielder/designated hitter set an all-time record for playing the most game in the Dutch big league for a single team. He also played softball with the Pioniers-men team, which this year won the Dutch championship-title.
Glennsig Polonius also has a long career, especially in softball and he is a member of the Netherlands Men Softball Team.
Tuti Rumai was a well-respected pitcher, who played for several years in the Dutch big league and the Netherlands Men Softball Team. The righthander not only was a power-pitcher, who struckout a lot of batters, he also was a powerhitter. Rumai was named Best Pitcher and Most Valuable Players several times, while also earning awards for hitting the most homeruns.
(November 12)