(Story by Marco Stoovelaar; Photos by Marco Stoovelaar & Rein Merkx)

Jeroen Swers new Head Coach of Roef!
Nederlands


MOERGESTEL (Neth.) - Jeroen Swers will be the Head Coach of the women softball-team of Roef! next season. On November 17, the club from Moergestel announced that Swers has been named its new Head Coach. The Belgian succeeds Jeroen van de Wiel, who resigned after completion of the season. Van de Wiel has led the team the last five years and guided it to the second highest division ('Overgangsklasse'). His Assistant Coach Nicolas Vlyminckx also stopped.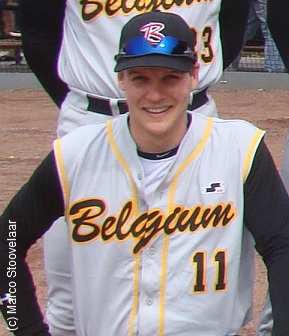 ...Jeroen Swers...
(© Photo: Marco Stoovelaar)

Roef! also announced that it has added 19-year old Belgian player Ennia Ballardini to its roster for next season. This season, she made her debut in the Dutch big league, playing for Gryphons, with whom she played in ten games. In Belgium, she played for Royal Greys the last six seasons.

This season, Roef! was a contender for one of the top-4 spots in the 'Overgangsklasse' from the beginning with Twins, Tex Town Tigers, Amsterdam Pirates and Mr. Cocker HCAW. After completion of the first half of the season, Roef! shared fourth place with HCAW, meaning a one-game play-off was needed, as the 8-team league would be split in a top-4 and bottom-4 for the second half of the season. Roef! lost 2-0 and therefore ended up in fifth place, meaning it played the remainder of the season in the bottom-5. In that group, Roef! finished in first place, two points ahead of Euro Stars. The two best teams of the top-4 went on to play in a promotion pool for next years Golden League, which will be the highest division in the new Dutch National Softball League. This new big league will exist of only six teams with the addition of the Holland Talent Team (the Dutch Junior Team), but whether that team indeed will be added as a seventh team will be decided later.
Jeroen Swers is no stranger in coaching softball. In recent years, the 28-year old Swers coached the women-squad of Brasschaat Braves in the highest Belgian league. This year, he was the Team Manager of the Belgian Junior Softball Team during the European Championship in Rosmalen (Netherlands).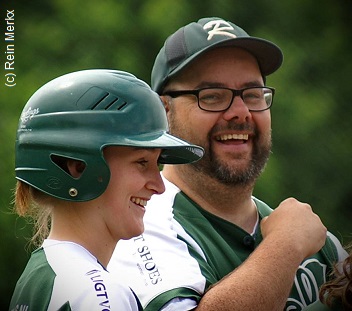 ...Retiring Coach Jeroen van de Wiel...
...In the front is player Gini Ketelaars...
(© Photo: Rein Merkx)

Swers played baseball for Tongeren Sharks, but when he moved from the Belgian province of Limburg to Antwerp, he started playing for Deurne Spartans. There, he also started to play softball, combining it with baseball.

After the 2010 season, Swers retired as baseball-player, but continued playing softball for Brasschaat Braves. This season, he won the Belgian title with Brasschaat. Swers also played in the Dutch big league softball for Spikes, with whom he won the bronze medal on the first-ever European Super Cup Tournament in Prague (Czech Republic) in 2012.

Swers also participated in European Cup-tournaments in 2009 (Deurne Spartans), 2011 and 2014 (both Brasschaat Braves).

With the Belgian National Men Softball Team, Jeroen Swers participated in the European Championships in 2008, 2010, 2012 and 2014.

On August 2 of this year, Swers was a member of the Belgian Team that played against the Netherlands Women Softball Team on the site of Catch in The Hague (Netherlands). In this game, Swers was the leftfielder , doubled and scored four of the 10 Belgian runs in a 10-0 shutout-win. This was the second game for the Dutch squad during the Eleven City Tour to prepare for the World Championship later in the month in Haarlem (Netherlands).

(November 17)