(Story & Photo by Marco Stoovelaar)

Norman Ames will coach Golden League next season
Nederlands


HAARLEM (Neth.) - Norman Ames has been named the new Head Coach of the womenteam of DSS. Ames confirmed the appointment himself today (November 27). At DSS, Ames succeeds Werner Angermann, who resigned after the season. Nick Tieman will return as Assistant Coach. It will mark the first that Ames will coach a women softball-team.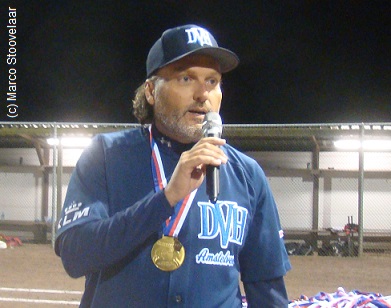 ...Norman Ames...
(© Photo: Marco Stoovelaar)

This season, DSS returned to the Dutch big league after winning the title in 2013 in the 'Overgangsklasse'. DSS can look back to a fine return in the highest division. Despite winning only eight games in the regular season, the team finished in sixth place. With that, DSS had to play in the Qualifying Round for the Golden League, which will be the new big league in 2015. In the 10-game, six-team pool, DSS dominated and won seven of its games to finish in first place and qualify for the highest division in the new season. Besides DSS, Alcmaria Victrix and Tex Town Tigers also qualified. They will join the top-3 of this season Oolders Omaco Sparks Haarlem, Hotel Ambassador Haarlem Terrasvogels and FysioExpert Olympia Haarlem.

In a strange twist of events, UVV, which ended in fourth place in the regular season to reach the Play-Offs for the first time, will not play in the highest league in 2015. UVV lost the first round of the Play-Offs and therefore also had to play in the Golden League Qualifying Round. In this group, UVV ended in a tie for third place with Tex Town Tigers, then lost an one-game play-off game, meaning it will play in the Silver League next season.
Norman Ames has a long career in men softball. He played himself in the Dutch big league softball for Pingu´ns and EHS, then went on to coach EHS, with whom he won the Dutch championship-title. Ames was then named Manager of the Netherlands Men Softbal Team, with whom he participated in the European Championship in 2005.
The last few years, Ames was the Head Coach of the men softball-team of DVH. In August of this year, he led DVH to winning the European Super Cup, which was hosted by the club from Amstelveen. In the regular season, he finished in fourth place with DVH in the First Division B, twelve points behind division-champion Hoofddorp Pioniers, which went on to capture the Dutch championship-title.
Earlier this year, Ames was named Head Coach of the national men softball-team of Great Britain, a position he also will continue in 2015.
(November 27)