(Story by Marco Stoovelaar; Photos by Marco Stoovelaar & Amsterdam Pirates)

Amsterdam Pirates will play with new team in 2015
Nederlands


AMSTERDAM (Neth.) - The women softball-team of Amsterdam Pirates will start the new season with an almost entire new squad. Fourteen of the players, who were on the roster this season, left, while both coaches also will not return.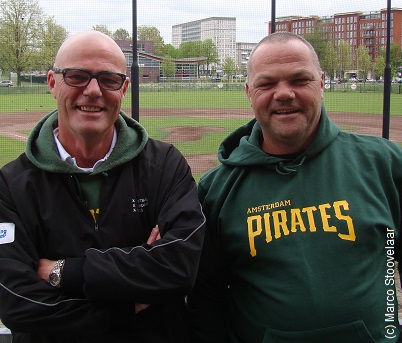 ...Coaches Rob & Johan Korpel...
(© Photo: Marco Stoovelaar)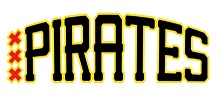 Pitcher Anna-Bé Bartels, Ella Krommendijk, who was the leading hitter of the team, and Jeske Meewisse, who was named the team's MVP, all will play in the Golden League next season for Hotel Ambassador Haarlem Terrasvogels.

Kelly Koeman and Annemiek de Rover also will play in the highest division in 2015, as they joined DSS.

Eight other players will play in the Silver League, the second highest division. Monique Melissant, Lara Hoekstra and Milot van Doesburg will play for HCAW, while Suzanne Poelgeest and Maxime Scheffer opted to play for Almere '90. Donna Hartman and Michele van Waveren will be wearing the shirt of UVV in the new season, while Shannon Hetem returned to Onze Gezellen. Nadine van Roode (Ban Topa) also opted to leave the club.

...Jeske Meewisse...
...MVP 2014...

...Ella Krommendijk...
...Best Hitter 2014...
(© Photos: Amsterdam Pirates)
This season, Amsterdam Pirates was one of the contenders to finish in first or second place in the second highest league ('Overgangsklasse'). The team frequently switched places in first place with Twins, while they got company from Tex Town Tigers and Roef!. Towards the end of the first phase of the season, Tex Town Tigers went by Amsterdam to finish in second place, while Twins took first place. Amsterdam ended in third place with an 18-10 record, but that was enough to qualify for the Top-4, who met each other in the second half of the season. Twins, Roef! and Pirates were joined by HCAW. In this second phase, it was Twins that dominated and went on to finish in first place, while Tex Town Tigers also had a strong finish and ended in second place. With that, Twins and Tex Town Tigers went on to play in the Qualifying Pool for next season's Golden League, which then will be the new highest division. And it was Tex Town Tigers that went on to secure a spot in the 6-team Golden League, meaning the squad returns to the highest division in 2015. As Amsterdam failed to reach the top-2 in the second half, it will play in the Silver League next year, which then will be the new second highest division.

Initially, it appeared that Head Coach Johan Korpel would remain with the team, while it was reported that most of the players also would stay. Johan's brother Rob Korpel was the Head Coach in 2013, but this season acted as Assistant Coach, due to work commitments. Johan, who joined the team during the 2013 season as assistant was in charge this season. Shortly after completion of the season, Johan resigned, while several players opted to transfer to another club.

Rob already had announced that he wasn't returning, as he has a personal policy of coaching no longer than three years with one club. Rob had joined Pirates as an Assistant Coach in 2012, which he initially also was in the 2013. In May of that year, he took over as Head Coach and was joined by his brother, who became the new Assistant Coach. This season, the brothers switched positions. Recently, Rob joined Centrals to become part of their coaching staff in 2015.

Next season, Amsterdam Pirates will promote most players of its second team to become the new first squad that will play in the Silver League. Jan Kouwenhoven, the coach of Amsterdam Pirates-2, will move with the team to become the new Head Coach of the main softball-squad of the club, succeeding Rob Korpel. Players of the junior-squad of the club then will form the new second team.

(November 29)