Roster Dutch Softball Team for World Championship announced
Nederlands

HAARLEM (Neth.) - Dutch National Softball Team Head Coach Craig Montvidas has announced his roster of 17 players for the upcoming 14th ISF Women's World Championship, which will be held August 15-24 at the Nol Houtkamp Sportcomplex in Haarlem (Netherlands). It will mark the first time in history that the World Championship is organized in Europe.

All players were personally informed by Montvidas on Wednesday-evening, July 30.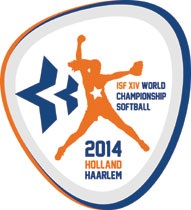 The Dutch roster is compiled of experienced players, who have been active in the Dutch big league and the National Team for several years. Eight players have been selected who play for Oolders Omaco Sparks Haarlem. Dutch reigning champion Hotel Ambassador Haarlem Terrasvogels has four players in the National Team, as has FysioExpert Olympia Haarlem. One player comes from Alcmaria Victrix.
Four players had to be cut from the preliminary roster. They all will remain on the National Team 'overall' roster and were named 'alternate'. Besides that, they will remain with the team during the World Championship as 'non-roster players'.
The biggest surprise is the cut of veteran pitcher Rebecca Soumeru. The righthander pitcher of Oolders Omaco Sparks Haarlem was sidelined with an injury during the off-season and first months of the regular season. She returned to action on June 7 when she pitched two innings in relief against Alcmaria Victrix. Soumeru appeared in five regular season games, then traveled with the National Team to Illinois for their second American Tour of the year. During the trip, she pitched in several games.
Rebecca Soumeru was the veteran player on the team and was first selected for the national squad in 2001. She became a regular player for the Orange squad in 2003 and since then has appeared in all tournaments the team has played, including the Olympic Games of 2008 in Beijing (China), three World Championships (2006, 2010, 2012) and seven European Championships. Last season, she was named Best Pitcher of the Dutch big league after finishing with a 21-0 record.
In the upcoming days, the Netherlands Softball Team will play its final series of games to prepare for the World Championship. This '11 City World Championship Promo Tour' opens next Friday, August 1 at 7 PM at the site of Giants in Hengelo. There, the Orange squad meets the German National Team.
The Dutch Team opens the World Championship on Friday, August 15 against the USA.
The roster for the World Championship looks as follows:
Pitchers
Dagmar Bloeming (Oolders Omaco Sparks Haarlem), Femke van Dusschoten, Ginger de Weert (both Hotel Ambassador Haarlem Terrasvogels) and Lindsey Meadows (FysioExpert Olympia Haarlem).
Catchers
Dinet Oosting (Olympia Haarlem), Nathalie Timmermans and Karin Tuk (both Sparks Haarlem).
Infielders
Virginie Anneveld, Chantal Versluis (both Sparks Haarlem), Anne Blaauwgeers (Alcmaria Victrix), Merel Oosterveld (Olympia Haarlem) and Britt Vonk (Terrasvogels).
Outfielders
Jessie van Aalst (Terrasvogels), Nathalie Gosewehr, Saskia Kosterink, Areke Spel (all Sparks Haarlem) and Eva Voortman (Olympia Haarlem).
Coaching Staff
Craig Montvidas (Head Coach), Karen Marr (Pitching Coach), Tracy Bunge (Coach) and Berend Mannessen (Coach).
Supporting Staff
Paul Boonstra (Team Manager), Marco Stoovelaar (Media Officer), Ingrid Holstege (Physical Therapist), Lisette Hagen (Physical Therapist), Peter & Joanne Schuler (Liaison Officers) and Elmy van Tok (Video Analyst).
(July 30)