(Story by Marco Stoovelaar; Photos by European Softball Federation & Marco Stoovelaar)

Gabriel Waage succeeds André van Overbeek as ESF-President
Nederlands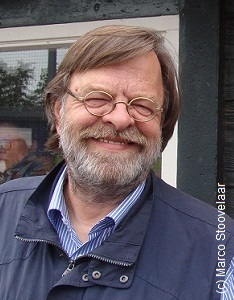 ...André van Overbeek...
(© Photo: Marco Stoovelaar)

BELGRADE (Serbia) - Gabriel Waage of the Czech Republic has been elected as new President of the European Softball Federation (ESF) during its annual joint ESF-CEB Congress on Saturday (February 4) in Belgrade, the capital of Serbia.

Waage becomes the ninth ESF-President (including two interim-presidents) and succeeds Dutchman André van Overbeek, who had led the ESF as its President in the past eight years. With that, Van Overbeek ended the regulation period of two terms and was not eligible for re-relection.
At the Congress of the European Baseball Confederation (CEB), Didier Seminet from France was elected as new President, succeeding Jan Esselman, who had led the CEB since 2013.
More coverage of the CEB Congress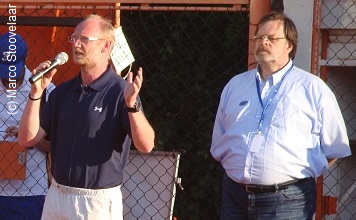 ...Gabriel Waage and André van Overbeek...
...during the Opening Ceremony of the 2013...
...European Softball Championship in...
...Prague (Czech Republic)...
(© Photo: Marco Stoovelaar)

Gabriel Waage is involved in the ESF since 2004. He first was the Vice-President for Development and later became Vice-President for Competitions. The last four years, Waage was the 1st Vice-President. Waage's contributions include introducing live play-by-play at all European competitions in 2011, which was a major step forward. Later, live-streaming of final games was added, which made softball more popular and attracted more fans. Also, the position of Communications Director was created. Since 2002, Waage is the President of the Czech Softball Association, while he also is a member of the Czech Olympic Committee.

Gabriel Waage was the lone candidate for the Presidency. After being elected, Waage stated: ,,I want the ESF to become a strong brand, which everybody wants to be a part of. The ESF is here for the National Federations, we always want to be easily approachable and ready to assist with whatever the National Federations may need. And I think the time is right to think about boosting our development with a full-time executive position. The ESF has lately kicked off a number of promising projects. The establishment of such a position would help maintain and speed up the progress of these projects.''
ESF Presidents
Period
President
1977-1985
Bruno Beneck (Italy)
1985-1991
Theo Vleeshhouwer (Netherlands)
1991-1993
Enrico Bertirotti (Italy) (interim)
1993-1994
Annie Reinenbergh-Heusschen (Belgium)
1994-1995
Enrico Bertirotti (Italy) (interim)
1995-2003
Jos Gieskens (Netherlands)
2003-2009
Mike Jennings (Great Britain)
2009-2017
André van Overbeek (Netherlands)
2017-current
Gabriel Waage (Czech Rep.)
Also elected for the ESF Executive Council were Ami Baran (Israel) as Secretary-General, Eddy Van Straelen (Belgium) as Treasurer, Youri Alkalay (Bulgaria) as 1st Vice-President and Petra Arends (Netherlands), John Austin (Ireland), Daniela Castellani (Italy), Mette Nissen-Jakobsen (Denmark) and Kristian Pälviä (Sweden) all as members.

Baran was re-elected and Van Straelen was re-confirmed. Alkalay succeeded Waage as 1st Vice-President. Of the remaining five members, Austin and Nissen-Jakobsen also were re-elected. Arends, Castellani and Pälviä were all elected into the Executive Council. They succeed Jesic Dejan (Serbia), Gilbert Tobback (Belgium) and Alkalay, who was named 1st Vice-President.
(February 4)