(Story by Marco Stoovelaar; Photos courtesy of Netherlands Baseball and Softball Hall of Fame)
IN MEMORIAM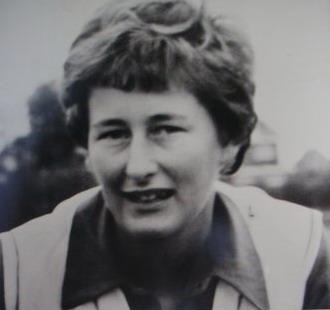 ...Els Smit-ter Meulen...
(1940 - 2020)...
(© Photo: Neth. BB/SB Hall of Fame)

Former softball-player and Hall of Famer Els Smit-ter Meulen passed away
Nederlands

OUD-BEIJERLAND (Neth.) - Els Smit-ter Meulen, who was a pioneer in Dutch softball and was elected to the Netherlands Hall of Fame, passed away on Sunday, January 12 at age 79.

The memorial service was held on Saturday, January 18 at Crematorium Hoeksche Waard in Heinenoord.

Maria Elisabeth (Els) Smit-ter Meulen was born on May 11, 1940 in Haarlem. It was in Haarlem that Els Smit-ter Meulen started to play softball in the early fifties at HHC, which in March 1991 merged with Sparks. In 2001, the current Sparks Haarlem was created after a merger with SC Haarlem.

During World War II, physical education teacher Jules Kammeijer from Haarlem introduced a baseball-variant for women. During these difficult years, baseball was played in regular season-games as much as possible by men. To also give women the possibility to play sports, he adjusted the baseball-rules. He introduced shorter distances between the bases, let pitchers throw underhand. After the War had ended, he saw the same sport being played by American and Canadian soldiers, who called it softball. In following years, softball got more popular and several clubs were founded. Most of them in the Haarlem-area. Amongst these clubs was HHC in July 1950.

Els ter Meulen, who mostly played in the outfield, immediately showed to be a talented player, as she was selected for a youth team to represent the city of Haarlem. In following years, Els ter Meulen was selected for the Netherlands National Softball Team. She played in the representative team from 1955 through 1967. Initially, these were predecessors of the National Team, compiled for just one or two games and mostly with players from one club. In the sixties, the first National Teams were selected.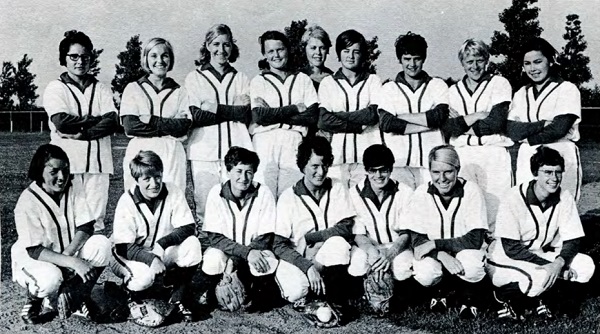 ...The Netherlands Softball Team in 1967...
...Back row: Maureen Hoyer, Toos Snater, Pien Immer, Betty Veenstra,...
...Nel Huneker, Ludy Handgraaf, Mary Boekhout, Janke Nijdam & Mary Groen...
...Front row: Lies de Wilde, Diny Zwaneveld, Els ter Meulen, Marja v.d. Veldt,...
...Saskia de Jong, Ineke v.d. Veldt & Suze van Breukelen...
(© Photo: Netherlands Baseball & Softball)

In August 1967, the Netherlands National Softball Team was invited to come to the USA. Els ter Meulen, who was not married yet at that time, was one of the players. Also on the Dutch roster in 1967 were wellknown players as Ineke Mulder-van der Veldt, Ludy van Mourik-Handgraaf, Betty Veenstra, Janke Nijdam, Suze van Breukelen, Mary Boekhout, Saskia de Jong and Maureen Hoyer.

The team, which played as Holland All Stars, played a series of games at Stratford, Connecticut (USA) at the site of the wellknown Raybestos Brakettes at Raybestos Memorial Field.

The Netherlands also participated (as a non-contender) in the ASA Women's Major Fastpitch National Tournament. In a field of 19 participatings teams, who played for the National Championship-title, the Netherlands was the lone foreign team. In the tournament, the Netherlands Team played two games and lost both, but Els ter Meulen was named Best Outfielder for these games.

The American title was won by the Brakettes, which then included legendary pitchers Joan Joyce and Donna Lopiano. In the 1967 season, Joan Joyce was 19-0 with an 0.14 ERA and 282 strikeouts, while Donna Lopiano was 21-0 with an 0.20 ERA and 227 strikeouts. Wellknown Ralph Raymond was one of the coaches of the Brakettes, which also represented the USA as its National Team during several international events, including the World Championship.

In July 1985, Els Smit-ter Meulen is one of twelve persons to be elected into the Netherlands Baseball and Softball Hall of Fame for her contributions in the early years of the sport of softball in the Netherlands. She was one of two living members from that class. The other is baseball-pitcher Herman Beidschat. Other members of the 1985 class include Bill Arce, Dick Baas, Albert Balink, Dick Beets, Piet Besanger, Ron Fraser,Henk Keulemans, Isašk Notebaard, Evert van Tuyl and Gerard Voogd.

The webmaster of Grand Slam * Stats & News offers his condolences to the family of Els Smit-ter Meulen and wishes them a lot of strength with this loss.

(January 17)